Herrera begins legal process to oust Jew from office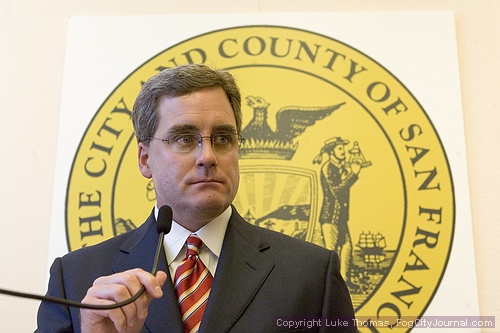 City Attorney Dennis Herrera is seeking Supervisor Ed Jew's removal from office after finding overwhelming evidence against Jew's claim that he is legally domiciled
in the district he represents.
Photo(s) by Luke Thomas
By Tamara Barak

June 18, 2007
The San Francisco City Attorney this morning announced that he has initiated the legal process to remove embattled Supervisor Ed Jew from office.
"This is not a decision we have come to lightly," City Attorney Dennis Herrera said at a morning news conference at San Francisco City Hall.
Herrera said the city attorney's office had given the supervisor four weeks and three extensions to provide evidence that he lives in the Sunset District, which he represents. Jew has not provided proof of residency and has refused to meet with city investigators, Herrera said.
"This is unfortunate and I take no pleasure in the fact we have reached this point, but the residents of District Four deserve a legally elected representative that legitimately represents their interests," Herrera said.
"In seeking Supervisor Jew's removal from office, I am acting to remedy a crisis in governmental legitimacy that is unprecedented in San Francisco's modern history," Herrera added.
Herrera said he would petition California Attorney General Jerry Brown on Tuesday to allow Herrera's office to sue for the supervisor's removal in state court. Jew will have 15 days to respond to Herrera's petition.
Jew's attorneys have been served with the notice this morning.
Herrera said today that while Jew was evading the city attorney's questions, investigators were amassing hundreds of pages of "overwhelming evidence" that the supervisor does not live in the Sunset District.
Jew's purported residence on 28th Avenue had been vacant between July 11, 2006 - 30 days before he filed his declaration of candidacy - and May 2007, when news reports first raised questions about the supervisor's residency, Herrera said.
City attorney investigators based their findings on utility bills, tax returns, checking accounts, vehicle registrations, credit reports and interviews with nearly three-dozen neighbors.
"We ferreted out the facts and we are taking action," Herrera said.
Jew never provided documents that would contradict the city attorney's office's conclusion that his primary residence is in Burlingame, Herrera said.
"If I had to prove where I lived, I could pull my wallet out of my breast pocket right now. It shouldn't be that difficult," Herrera said.
Herrera said he is also meeting with San Francisco Mayor Gavin Newsom this week and will bring up Newsom's option of suspending Jew for official misconduct.
Jew's supporters say the rookie supervisor is being unfairly targeted. At a rally Friday, several backers suggested he is the victim of racism. Herrera today called such allegations "an inflammatory stoking of the flame."
"I think that is an argument with no basis in the facts of he law. It does everyone a disservice," he said.
Jew spokesperson Barbara Meskunas told Fog City: "We're delighted that they kicked it out of City Hall, to a place where it will hopefully get an unbiased and non-judgemental investigation of the charges."
"He [Jew] would never have gotten a fair hearing either before the Ethics Commission, or the Board of Supervisors, or anywhere else in City Hall," Meskunas stated.

San Francisco District Attorney Kamala Harris on June 12 charged Jew with nine felony counts including perjury and election fraud. He surrendered to Burlingame police on Tuesday.
Both Herrera's office and the district attorney's office began their investigation of Jew May 18, immediately after the FBI's public corruption unit executed search warrants on the supervisor's properties.
The FBI is reportedly investigating $40,000 in cash Jew allegedly accepted from a group of businessmen having permit problems. Jew denies wrongdoing.
Luke Thomas contributed to this report.
Copyright © 2007 by Bay City News, Inc. -- Republication, Rebroadcast or any other Reuse without the express written consent of Bay City News, Inc. is prohibited.
####