Newsom announces transportation plans
after MacArthur Maze collapse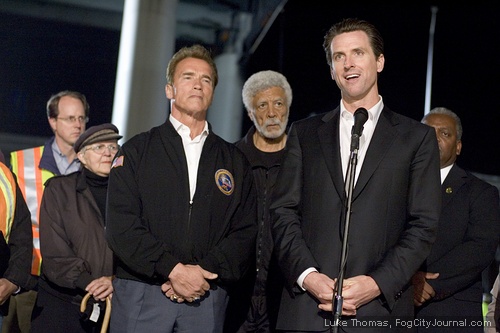 Mayor Gavin Newsom is joined by Governor Arnold Schwarzenegger and Oakland Mayor Ron Dellums at the site of the destroyed section of the MacArthur Maze freeway interchange system.
Photo(s) by Luke Thomas
By Elizabeth Daley

April 30, 2007
San Francisco Mayor Gavin Newsom announced he will be working with city and regional transit officials to ensure transportation needs of the region are met, following a fiery crash that collapsed 250 yards of the MacArthur Maze approaching the San Francisco Bay Bridge Sunday morning.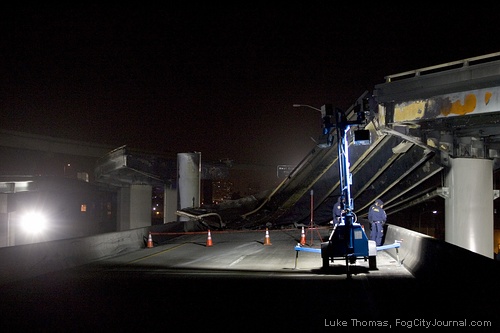 Newsom reported officials from the San Francisco Municipal Transportation Agency and the San Francisco Police Department will be working together through a Department of Operations Center that has been activated to monitor traffic and deploy resources as needed.
Newsom said assistance may include parking control officers and police officers to assist with access and egress on the San Francisco Bay Bridge.
Newsom reported that tonight, steps will be taken to promote additional casual carpool arrangements that will leave from Beale Street between Folsom and Howard streets.
Today and throughout the week, Newsom reported the city would support local transit agencies with extra vehicles and staff.
As part of the emergency declaration, the state will reimburse the local public transportation agencies including Bay Area Rapid Transit, AC Transit, Santa Clara Valley Transportation Authority and San Francisco Municipal Transportation Agency, the $2.5 million it will cost to give rides away for free today.
However, the economic impact the collapse may have on the city of San Francisco is not yet known.
"This accident will cause some inconvenience, but I want to make it clear that we will do everything we can to ensure that San Francisco's civic, business and cultural institutions continue to operate without interruption. We have systems in place to prepare for challenges such as this and these systems are responding to the situation at hand efficiently and smoothly," Newsom said in a statement.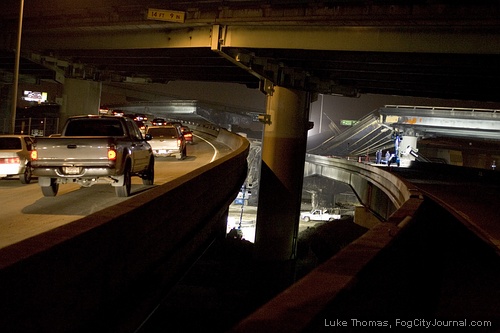 Copyright © 2007 by Bay City News, Inc. -- Republication, Rebroadcast or any other Reuse without the express written consent of Bay City News, Inc. is prohibited.
####