Association moves to protect historic Presidio
from monied self-interest
"This precious historical site must be protected...
from incompatible structures and uses
that would destroy its integrity forever"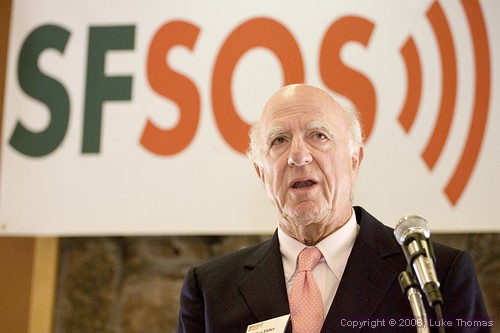 Billionaire Republican Gap, Inc. founder Donald Fisher's proposal to build a museum to house his personal art collection on public land in the historic Presidio, has come under fire from the Presidio Historical Association.
Photo by Luke Thomas
By Maya Strausberg
January 10, 2008
In a move to stop the building of a new 100,000 square foot structure, the Presidio Historical Association has requested the Presidio of San Francisco be considered for Most Endangered Historic Site status.
The request was submitted Tuesday to the National Trust, which is creating its 2008 list of the country's 11 Most Endangered Historic Places. In August, the Presidio trust requested a proposal from billionaire Gap Inc. founder Donald Fisher, 80, to build a memorial museum to house his personal art collection at the Presidio's Main Post.
"This precious historical site must be preserved for future generations and protected from incompatible structures and uses that would destroy its integrity forever," said PHA President Gary Widman.
The Presidio was recognized by Congress as a National Historic Landmark District, the highest historic designation that can be given in the U.S. This designation is given to a collection of structures and the surrounding lands that have nationally important historical integrity. The 1996 Presidio Trust Act calls for the "preservation of the cultural and historic integrity of the Presidio for public use."
"The design ... is absurdly inappropriate," landscape architect Lawrence Halprin said of Fisher's proposed structure. "It would ruin the unique architectural character of the Presidio."
According to the Presidio Trust, Fisher and his wife would pay for the construction and operations of the memorial museum, which would house works by Andy Warhol, Frank Stella, Gerhard Richter and Ellsworth Kelly among others.
"The presence of a major cultural institution, such as the one proposed by the Fishers, would be an important catalyst for attracting other vibrant, public-serving uses to the Main Post," said Craig Middleton, Presidio Trust Executive Director. "The Trust envisions the Main Post, once the ceremonial and administrative center for a military community, as the cultural and civic center for this unique national park."
Board of Supervisors President Aaron Peskin, a staunch preservationist, recently stated his vociferous opposition to Fisher's proposal and said he would aggressively work to oppose the destruction of public lands at the hands of private self-interest.
"All options are on the table," Peskin told Fog City Journal in December.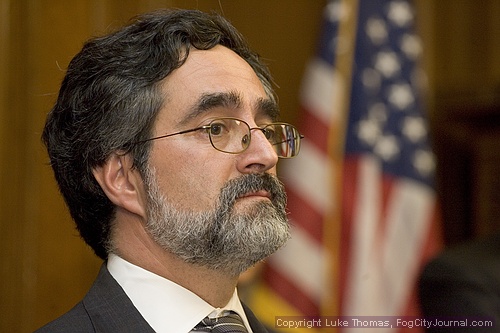 San Francisco Board President Aaron Peskin
Luke Thomas contributed to this report.
Copyright © 2007 by Bay City News, Inc. -- Republication, Rebroadcast or any other Reuse without the express written consent of Bay City News, Inc. is prohibited.
####