Public safety a hot issue for some San Francisco candidates
By Brent Begin, Bay City News Service
November 6, 2006
SAN FRANCISCO (BCN) - With at least four competitive races for the San Francisco Board of Supervisors on Election Day, many voters are looking to candidates with an eye on combating the city's surge in violent crime.
The city's homicide rate, a total of 75 in 2006, is on pace to match the ten-year-high of 2005, city agencies are scrambling to quell a surge in gang violence and supervisors are passing legislation that would mandate policing strategies.
No event seemed to embody the political implications of public safety more than last week's near tragic shooting at the annual Halloween party in the city's Castro neighborhood. While the 10 people injured in the attack are expected to live, the shooting still highlighted a District 8 controversy.
Alix Rosenthal, a challenger to incumbent Supervisor Bevan Dufty, immediately criticized the handling of the event, which had been scaled back this year.
"Policing is reactionary, that was one of the problems I saw with Halloween in the Castro," Rosenthal said. "Police were standing around waiting for something to happen and then they reacted."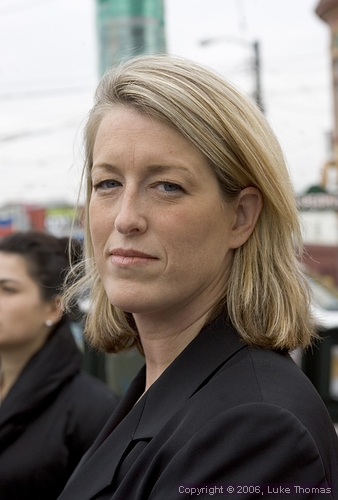 Alix Rosenthal
Photo(s) by Luke Thomas
Dufty, who was shocked and disappointed following the shootings, responded that violence prevention is a vital duty of public office that he takes very seriously.
"As a supervisor, I think my work in the arena of the public proves my record," Dufty said of public safety. "It's not really a campaign issue for me. You can ask my constituents about my record."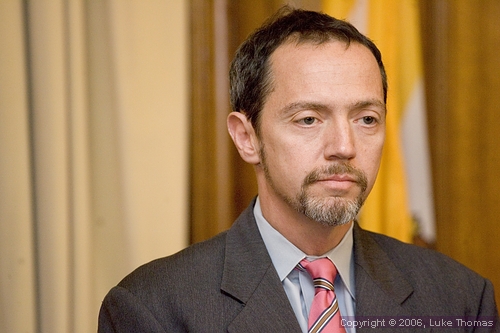 Supervisor Bevan Dufty
Mayor Gavin Newsom called criticism over the Halloween event "shameful" and then put together a task force to decide what would happen in the Castro next Halloween.
Newsom has played a major role in the supervisor races, endorsing Dufty, District 4 candidate Doug Chan and District 6 candidate Rob Black. He also entered the political ring with a last-minute veto of popular legislation that would have made police foot patrols mandatory throughout the city.
Chan, a former police commissioner vying for the empty Sunset district seat, immediately supported Newsom's move.
"The job of keeping our neighborhoods safe is better left in the hands of police professionals, not politicians," Chan said in a statement.
"As supervisor I will make public safety my number one priority and start with recruiting, hiring and training ... so that we will have more patrols in the neighborhoods."

Doug Chan
But some supervisors are campaigning on the opposite side of the mayor's policies. Chris Daly, incumbent supervisor for District 6, is a staunch supporter of the foot patrol legislation. He has also been critical of the mayor's funding requests for the criminal justice system.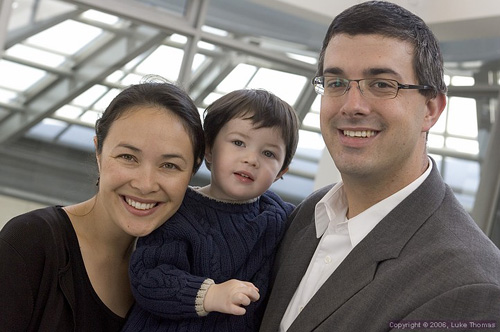 Supervisor Chris Daly and family.
Daly's main challenger Rob Black, who is endorsed by Newsom and the Police Officers Association, says he supports more foot patrols and community policing initiatives, which is one common thread for challengers and incumbents alike.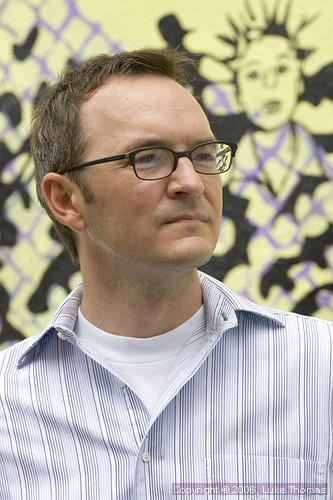 Rob Black
Rosenthal also hopes to improve relations between police and civilians. She said that during the Halloween event she was surprised by the friendliness of the San Francisco Patrol Special Police, a group of officers appointed by the police commission. They were proactive and spoke with revelers before anything went wrong, she said.
"That's community policing, getting cops out of their cars," Rosenthal said.
Copyright © 2006 by Bay City News, Inc. -- Republication, Rebroadcast or any other Reuse without the express written consent of Bay City News, Inc. is prohibited.
####