Supes condemn Savage hate speech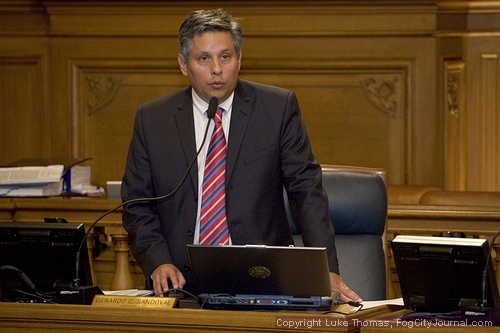 A resolution condemning hate language used by radio personality Michael Savage
was passed unanimously today by San Francisco lawmakers.
Supervisor Gerardo Sandoval sponsored the resolution.
Photo(s) by Luke Thomas
By Caitlin Cassady

October 2, 2007
All 11 members of the San Francisco board of supervisors voted today for a resolution condemning radio personality Michael Savage for using defamatory language against the immigrant community.
The resolution, introduced by Supervisor Gerardo Sandoval, not only condemned the language used by Savage, but reiterated San Francisco's commitment to being a tolerant, respectful city. Savage made defamatory remarks about college students who were involved in a weeklong fast in San Francisco's Civic Center Plaza from July 2 to July 9 to urge Congress to pass an immigration reform bill.
Savage said in a radio program on July 5 that the demonstrators should "fast until they starve to death,'' according to the resolution.
His words outraged the latino community and set off protests in San Francisco.
The resolution states that the board deems Savage's comments as "symbolic of hatred and racism,'' both of which are not tolerated or endorsed by the city and county.
Luke Thomas contributed to this report.
Copyright © 2007 by Bay City News, Inc. -- Republication, Rebroadcast or any other Reuse without the express written consent of Bay City News, Inc. is prohibited.
####