Herrera calls on tiger attack survivors
to preserve cell phone evidence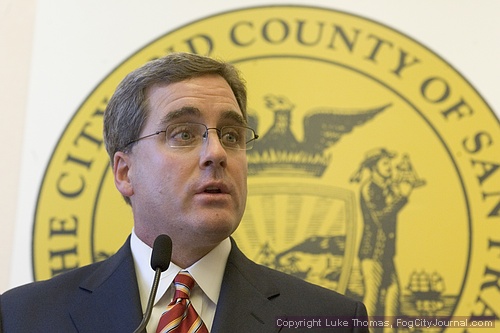 City Attorney Dennis Herrera penned a letter to defense attorney Mark Geragos yesterday requesting Geragos' clients Paul Dhaliwal, 19, and Kulbir Dhaliwal, 23, to preserve potential cell-phone evidence related to the tiger mauling death of Carlos Sousa at the San Francisco Zoo on Christmas Day.
Photo by Luke Thomas
By Ari Burack
January 5, 2008
The San Francisco City Attorney has asked the lawyer for the two surviving victims of the recent tiger attack at San Francisco Zoo to instruct them not to tamper with any of their possessions currently being held by police as part of a criminal investigation into the incident.
A letter from City Attorney Dennis Herrera sent Friday to high-profile attorney Mark Geragos, who reportedly has agreed to represent San Jose brothers Paul Dhaliwal, 19, and Kulbir Dhaliwal, 23, also proposes a simultaneous inspection of the brothers' car and cell phones by experts hired by Geragos and experts from the city attorney's office.
Herrera said the digital content of the cell phones might help reconstruct what happened at the tiger exhibit, where the brothers' friend Carlos Sousa Jr., 17, was fatally mauled, and at the Terrace Cafe, where the brothers reportedly ran to escape the tiger and where the tiger followed them and was fatally shot by police.
Without naming either the brothers or Sousa, Zoo director Manuel Mollinedo said Wednesday that he believed Tatiana, a 350-pound Siberian tiger, had been provoked somehow into leaping over the tiger exhibit's wall and attacking the three young men.
Both brothers survived the attack with claw and bite wounds. Herrera said he had learned police asked the brothers for permission to examine images and other contents of their cell phones, and were rebuffed.
"Your clients refused to cooperate with this request," Herrera wrote. "Consequently, no one has examined this potentially critical evidence."
Herrera also cited media reports of evidence in the brothers' car of possible alcohol consumption.
"We trust that you will immediately agree to preserve all of your clients' personal property that may be returned by the police and guarantee that the contents of the phones and car are not destroyed or altered in any way," Herrera said.
Geragos was not immediately available for comment on whether he would agree to the request.
Copyright © 2007 by Bay City News, Inc. -- Republication, Rebroadcast or any other Reuse without the express written consent of Bay City News, Inc. is prohibited.
####