COURT JESTERINGS
With h brown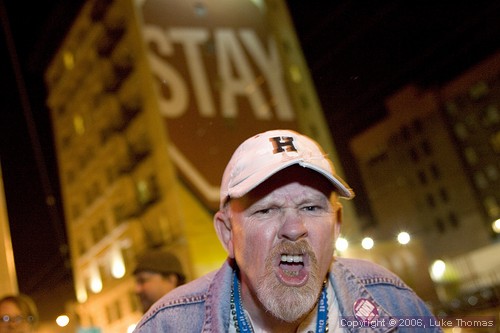 Photo(s) by Luke Thomas
Court Jester sets the Tourkgate record straight
February 8, 2007, 1:52 p.m.
"Print something that's not true and I'm sure you'll be sued for libel"
(Eric Jaye threatens Luke Thomas)
"Everything you have heard is true"
(Gavin Newsom)
That's a lot of leave way. I was thinking about these lines as I walked with Eileen Left through the cool early Sunday air in U.N. Plaza's Farmer's Market on my way to get a paper. Only porn publications could publish the things that we'd heard had been happening behind the windows of the Mayor's office that were brightly lit at 6:30am. From 200 yards, you could easily see the figures moving to and fro. What were they doing up there?
'Mayor moonlights at Kink.com to pay Tourk tab'
A source who works in the Hall said that when they went to do some late work (9:30pm) there 3 days later, the parking slots reserved for the Mayor were crammed and more vehicles (mostly luxury sedans) had spilled over into supervisoral staff parking - "It's usually the opposite."
Slaving like a PG&E crew over a major gas leak or a big tom cat covering a particularly large heap of steaming doo, the hastily assembled Mayor's special operations team were obviously doing 24/7 duty.
Hollywood level damage control
God damn, these sentences are getting longer. But, there are so many sins to recount and so much maneuvering and so little space. I was wondering who the hell might be up there at this day and hour as Eileen and I strode through the plaza to reach the paper vendor who sets up under the statue of the conquistador. Eileen spoke as I purchased my Sunday Chronicle: "You saw 'Wag the Dog', right? (she's excited but still dividing her attention as she chooses fresh onions and mushrooms). How much is this costing and who's paying for it?"

That's what Eileen Left was asking as she bought fresh chicken eggs with the shit attached and smelled the tomatoes for a morning omelet. It had been a long 72 hours since the Mayor and his staff had begun calling each other and the press, liars. The long legged blonde mused as to who might be pulling 24/7 duty.
'SF Mayor arrested in liquor store heist!'
("Have you seen my legal bills!?!")
Eileen: "They've hired Eric Jaye the torpedo, and Sam Singer, who spins webs like a spider, is involved. They have Chris Lahane who taught America that a few blow jobs shouldn't bring down a sitting U.S. president. John Burton was on hand (to announce that one could recover from a cocaine addiction once that clot breaks free from the tumor of the Newsom mayoralty?). They've got a contract with Mimi Silbert.
It's crazy. Singer's supposed to be representing Alex Tourk but he's made a living working for the people who want Alex and this story buried. Tourk's gotta be in shock to let Singer speak for him, or let Steven Kay negotiate a deal for him that is for a shorter period of time than if he'd applied for unemployment compensation. He should be suing for a variety of damages.
Get it while you can, Alex. The Balboa Café or an equivalent property would be nice."
Jester: "He's not thinking clearly. Hell, I've had the same experience. Word on the street is that the guy loves his wife. He's not thinking straight or he'd remember how this same lineup made a deal with Tony Hall, promising just compensation, then made him sue them at every step of the way. And, smirked and laughed while they teamed up to humiliate him on SFGTV."
"That bus driver looks just like Mayor Newsom!"
(was too … moonlighting Mayor wears new hat)
Eileen: (stands with her groceries watching the lighted windows behind the Mayor's balcony some 200 yards away - purses her lips and crosses her arms as she speaks)
"Pay attention here. Toss in Jim Sutton and Kay and you have an all-star damage control lineup that must make at least $500 an hour round the clock. They could easily be billing a hundred grand a day.
'Mayor joins bi-sexual escort service'
Jester: (slices a bit of a peach and replies)

"I don't doubt you, but why spend so much? If it comes out that he's a coke head too and that there was an abortion or more and more, this could last for months and cost millions."
Eileen: (nods)
"They've brought in John Burton to represent reformed coke heads if that comes up. They'll be wanting to make a sizable contribution to Delancey House for letting Gavin line-jump the other cons and junkies and have special sessions with the director. Silbert couldn't say 'no' to special privileges for the Mayor (weekend only sessions - what is he, Mel Gibson?) … Mimi gets a bundle in contributions every year from the people trying to save Gavin's bacon. It must be a bitch for people like that to have to compromise their standards to accommodate a spoiled brat like Gavin.
(glances over at him)
But, to answer your question, keep in mind that the people in there spinning this have other clients with up to 20 billion dollars in local construction, consulting and legal work, at stake. A billion is a thousand million. This is chump change to keep a mayor in place who'll do anything you want. They admitted spending around 6 million in his campaign against Gonzalez. The Care not Cash campaign cost several million. With the minority interests in the Getty businesses, they must have 12 to 15 million into his career."
She was right as usual. But, it's such a hugely complex situation to cover for one drunk. I decided to focus on the first character who always shows up to protect the Swells investment in the avatar who is Gavin Newsom.
That would be Eric Jaye
As an investigative journalist in this town, you know you're onto something if Eric Jaye comes to visit your top brass and tries to get you fired.
Several editors who have long since left the Examiner, told me that during the '03 mayoral race, Jaye made regular visits to the executive suites of that enterprise, … trying to get Adriel Hampton fired.
His sin? Even handed coverage of the Newsom vs Gonzalez contest.
Recently, Dan Noyes blogged about watching Jaye and other co-horts enter ABC 7's digs to try and get him to back off of his critical coverage of the Newsom administration.
Even Jon Shurkin, mild mannered publisher of Sfist which has always been mostly pro-Gavin, found himself and his staff being attacked in his very own chat forum by a disguised, mayoral press secretary Peter Ragone (who lied about it as he does about everything else) … attacking Sfist, Rita Hao and the publication for allowing criticism of Newsom to be posted.
Jaye admitted to the threat to Luke Thomas that opened this column. Whether he had anything to do with Murphy's theft of Luke's interest in the Sentinel is not known. It certainly seems to follow the boy's modus operandi. Point is, Jaye and his ilk don't just ask for a fair shake. They go after a person's livelihood and reputation.
But, let's flesh this thing out. I've been up most of the night reading stories from here there and all the way to Jay Leno who's been crushing Gavin's nuts nightly in his monologue (let's see Jaye get Jay Leno fired). Giving context briefly is more than I can do, but I'll go for an overview.
"You don't pull the mask off the Lone Ranger, You don't step on Superman's cape."
(and, you don't challenge a stubborn Brit)
The fall of Gavin Newsom story belongs to Luke Thomas and his Fog City Journal. This is only fitting because Newsom's supporters have done everything they can to destroy Thomas. And, still are. This Tourkgate is not the first of the naturalized American's (has British/American dual citizenship so's he can vote here) … not his first run-in with the Downtown interests that created and maintain the avatar Mayor we call Gavin Newsom.
Thomas was never Newsom's enemy. Like me, he considered Gavin a nice, jocular fellow with perhaps a bit of an inferiority complex who was moved around like a chess piece by his big money supporters.
Luke first incurred Jaye's wrath not too long after he entered into a co-ownership partnership with Pat Murphy and the Sentinel. Luke was the rage of the San Francisco political community for his world class photography work. He still is that, but if he hadn't also been a hell of a computer whiz, he'd have nothing to show for his investment in the Sentinel.
That"s because Thomas always wrote his own unedited copy, and a time or two he was critical of Gavin Newsom. Unlike Murphy, who wrote 100% negative hit pieces on Daly and 100% favorable copy for Newsom, Thomas remained independent. The ever eccentric Sentinel creator, Murphy, grew cold and distant, finally changing all passwords and shutting Luke out of the site of which he was 50% owner. To this day, Murphy and the Downtown interests who guided Murphy's theft have never offered Thomas a dime.
The point here is that Newsom's handlers tried to destroy Luke's livelihood. They weren't satisfied to debate or negotiate. They went to raw power and destruction. Just as they did with Tony Hall (think before you make a deal with them, Alex, they made a deal with Tony and double-crossed him too - cheaper than making any agreed upon payouts) … they made a deal with Tony Hall and have tried to destroy him since.
Look what they did to Gerardo Sandoval. Same thing and it was always for the same reason. Because they didn't like it when each sought the truth. They seek to send a message by leaving the corpse of honest journalism to rot in the plaza before the Room 200 balcony. Generally speaking, only people with no family, friends or possessions, big balls or small minds, criticize Jaye's clients.
Hall wanted to find out why most of his budget on Treasure Island was being paid out in consulting fees to a shell corporation controlled by one of Gavin Newsom's top fund raisers. Gerardo Sandoval wanted to find out who was sending out literature decorated with swastikas calling him a nazi and an anti-Semite.
Thomas' 'sins' hadn't been as egregious or threatening, but these guys don't have a low gear. They decided they'd destroy him financially by squeezing him out of the Sentinel.
Bad idea. Thomas was back online with a site superior to the old Sentinel within a couple of weeks and his power and scope have increased daily since.
Thomas immediately took off the kid gloves with the Mayor who's thugs had tried to destroy him and that's a way to lose advertising from developers doing business with the City. He also began following the rumor about 'orgies in Room 200'.
Which brings us back to Tourkgate and why Luke was the one to break the story. Why he wasn't afraid to ask Ruby Tourk if she'd like to go on record and deny the rumors that had swirled around San Francisco's City Hall for months.
Imagine our surprise
(Forgive me for how long this piece is. I'm trying to tie together at least 50 articles I've read from other half-assed publications telling half of the truth … trying to get a clearer look at the Mayor's damage control team and their tactics.)
Here comes the rain
Outside, I mean. Peaceful and welcome.
We're only about half our usual seasonal rainfall. The two points I'm trying to get across with this column are that Luke Thomas broke this story and two, to present the faces of the damage control team Downtown put together to address the crisis and some of the tactics they use. I'll present more details as the pool of blood broadens.
Ahhh, sweet rain...

h. brown is a 62 year-old keeper of sfbulldog.com, an eclectic site featuring a half dozen City Hall denizens. h is a former sailor, firefighter, teacher, nightclub owner, and a hard-living satirical muckraker. Email h at h@ludd.net.

####
Editor's Note: Views expressed by columnists published on FogCityJournal.com are not necessarily the views or beliefs of Fog City Journal. Fog City Journal supports free speech in all its varied forms and provides a forum for a complete spectrum of viewpoints.