Beyond Sex: Believing the Mayor
and All His Men and Women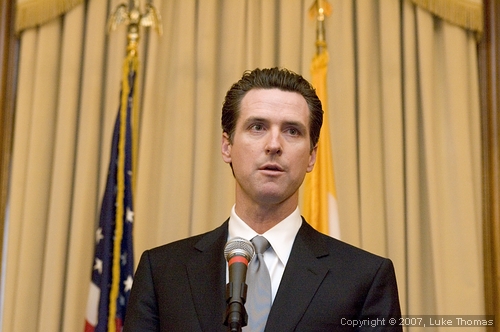 Mayor Gavin Newsom at a press conference Thursday to confess to an illicit affair with former staffer Ruby Tourk, wife to Newsom Campaign Manager Alex Tourk. Alex Tourk resigned Wednesday after confronting Newsom on the affair.
Photo(s) by Luke Thomas
February 2, 2007, 2:16 p.m.
The Gavin Newsom "sex" scandal is not about sex. It's about the credibility of the entire Newsom administration. They have created a bubble of hypersensitivity, denial, and even revenge.
Across the country, people are trying to understand our focus on this personal soap opera. And while some San Franciscans do care about the moral issues involved, the ones closest to the matter are more perturbed by other, thorny issues.
It's been an open secret that City Hall is quite the meat market. Well, maybe not during Feinstein's time. But we have to wonder about the environment in Room 200. Unfortunately, sleeping with subordinate employees forces questions about power and coercion.
With no statement from Ruby Tourk, any definitive conclusion about consensuality is premature. When we asked Ms. Tourk in early December about the deafening whispers, she denied everything and clammed up. She became incensed and told the mayor's inner circle.
Within minutes Luke Thomas, Editor-in-Chief of Fog City Journal, got a hostile phone call from Eric Jaye, Newsom's campaign strategist. Jaye threatened Thomas with a libel/slander lawsuit if he published anything on the matter. It was like begging for the term "Rubygate."
Two days later on December 6, Ms. Tourk and Thomas departed for Morocco as part of a goodwill delegation Thomas helped organize. It was said Ms. Tourk was covering the trip for Benefit magazine.
Not only did Ms. Tourk excoriate Thomas at the start of the trip, she was elusive, avoided events and stayed largely in her hotel room. We couldn't figure out why she was really there, and the mayoral circle certainly wasn't letting on. No story ever appeared in the magazine.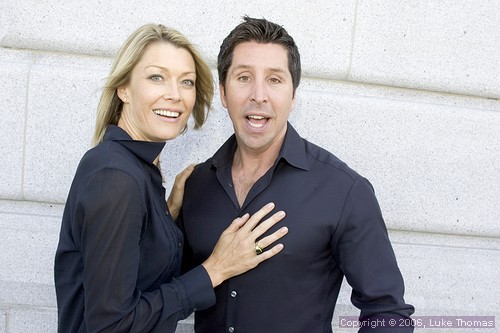 Ruby Tourk with Benefit magazine founder Tim Gaskin
Meanwhile, we were horrified that Alex Tourk was, seemingly, unaware of the situation during all that time. If we had a real moral quandary, it was in trying to mind our own business.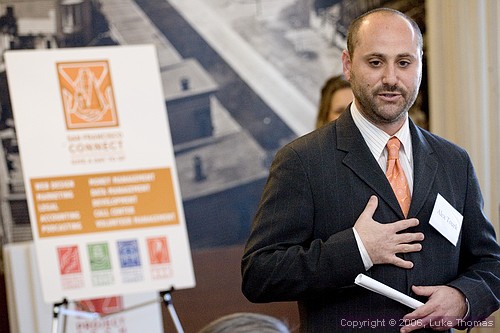 Former Deputy Chief of Staff and Newsom 2007 Campaign Manager Alex Tourk
Dan Noyes of Channel 7 also couldn't help notice how thin-skinned this administration is.
"If you ask them a question that's unpleasant, they try to portray you as being unfair and personal," Noyes told us. "But that's not the case. I've been a journalist for 25 years and it's never personal, it's just a story."
About a year ago, when Noyes was covering the turmoil at the Office of Emergency Services, Newsom and his press secretary Peter Ragone demanded a private meeting with Channel 7's news director and general manager - a meeting to which Noyes was pointedly not invited. The demand for control over the press backfired. "We aren't going away," says News Director Kevin Keeshan at the bottom of his current blog.
It might seem obvious to the rest of us, but threats and denials shake an administration's credibility. Should we believe future denials?
There are other, even more salacious rumors we have said nothing about. But then we learn that Ms. Tourk helped relay pro-business lobby voting instructions from the mayor's office to commission presidents, and that she wasn't the only married woman on his roster. Going through the motions of getting the administration's denials on this stuff gets pretty tiresome.
Again, the credibility issues are about leading the city. Don't dismiss this as being about sex. If the mayor's office were to deny that Taxi Commissioner president and commissioners were fired in order to keep Heidi Machen as Executive Director, what should we believe?
This deflating of credibility colored our acceptance of any statement by Peter Ragone when he denied posting on political chat boards under an alias.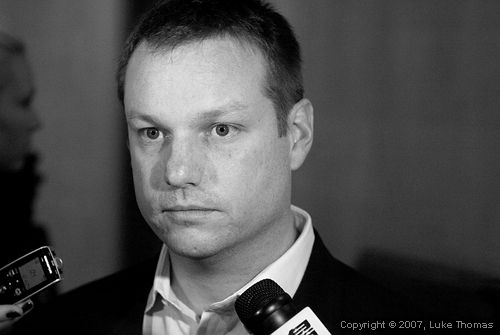 Newsom Press Secretary Peter Ragone
It gives us sympathy for all the nettlesome figures given the cold shoulder by Room 200. It affects how we hear the news that computers were removed from a childcare center in the tough Double Rock neighborhood in the Bayview -- once the photo op was over.
It makes us question how honest the mayor is about following public will, if he won't abide by the passage of Prop I by appearing at Board of Supervisors meetings.
It makes the protesters in chicken suits seem almost noble in their cause to get him to appear.
We see fundraisers and mayoral appearances on Newsom's calendar. When we see him, we will try to respect his privacy, regardless of dependencies, co-dependencies, or personal issues. But can we believe what he or his handlers say on things that really matter?
####