The CrackBerry Chronicles
With Elaine Santore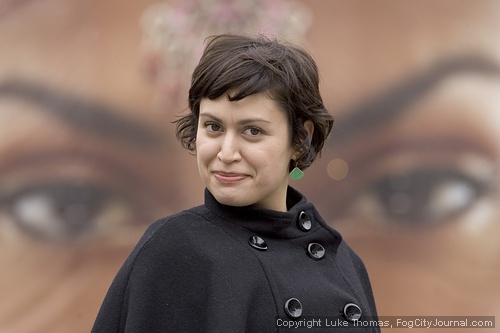 Photo(s) by Luke Thomas
July 9, 2007
25 is the new 40: Josh Wolf for Mayor
A great man once said, "I'm so mad right now, I can run for mayor." I'm assuming Josh Wolf woke up one day with the same feeling, and more power to him. For those of you living in a cave, Josh Wolf threw his hat into the San Francisco Mayor's race on July 4.
My first reaction? "He's too short." I saw Josh at the Progressive Convention, and he's shorter than I am. (So I'm shallow. Deal with it.)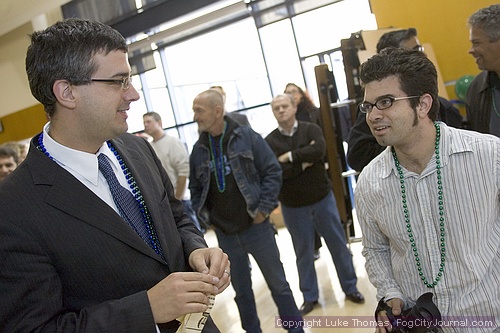 Josh Wolf (right) with Supervisor Chris Daly at the 2007 Progressive Convention
Around the time I learned Wolf was considering a bid for mayor, I also found out he was blogging for CNet's Mediasphere. Not the best for one's indie cache, but I can't hate. He's a 25-year-old blogger ex-con with a degree in Psychology, and lucky to have a job at all. Wolf's been hardened from his stint in jail, but is, as the Bay Guardian's G.W. Schulz says, Wolf is "...like the consummate Boy Scout, but with badges that feature political slogans and old crustcore bands instead."
When I was growing up, I can remember Oprah Winfrey preaching, "Life begins at 40." Supposedly, I'm going to reach a level of clarity and inner peace on my 40th birthday. My generation doesn't have that kind of luxury. Big Brother said his goal was to "make a lot of money by the time I'm 25." Well, BB's Sweet 25 came and went, and the good news is that he's not 26.
I'm 24.5 years old. Journalism isn't considered a respectable (read: lucrative) profession. My ambitions get little or no respect from my peers and elders alike. I try to explain my "career path" and people cock their heads to the side and ask, "So, how much does it pay? Do you get paid? How do you expect to support yourself as a writer? Are there jobs out there?"
In the beginning, I fancied myself a fashion writer, and had grand aspirations towards writing for Vogue, Elle, or Harper's Bazaar. However, I fell into the rabbit hole that is San Francisco politics, and now I don't want to leave. Maybe it has something to do with my penchant for drama.
Meanwhile, I watch while some of the best journalists in the City collect pink slips, or hop off the Ferris wheel to pursue more stable careers as consultants and copywriters. I suppose that's something to fall back on, and a sensible alternative, if you believe in that kind of thing.
I know I mentioned "Almost Famous" in last week's column, but I can't help but be reminded of the scene where William Miller turns to Penny Lane and tells her, "I have to go home." Penny looks at him and says, "You are home."
Most days, my life resembles a traveling circus of political rock stars, and I'm just the kid journalist they let on the bus.
Anybody who criticizes Wolf for milking his 15 minutes of fame doesn't understand today's new crop of journalists. While our predecessors cut their teeth as news interns, and climbed the ranks as reporters and editors, those opportunities are now few and far between and, frankly, not worth the effort.
For our generation, selling out to the man and cashing in isn't just encouraged, it's a matter of survival. The key to success is distinguishing yourself from the pack, and expanding your brand to the realm of celebrity. Josh decided to use his celebrity to run for mayor. Not because he thinks he'll win, or because he's the best candidate, but because the progressive movement is his home, and he's not going to be leaving anytime soon.
Mayor Villaraigosa's scandal: look familiar?
Big Brother and the LA kids have all the fun. On July 3, Los Angeles Mayor Antonio Villaraigosa announced he was separating from his wife of 20 years. Villaraigosa also confirmed rampant rumors he was involved in a relationship with Telemundo 52 reporter Mirthala Salinas.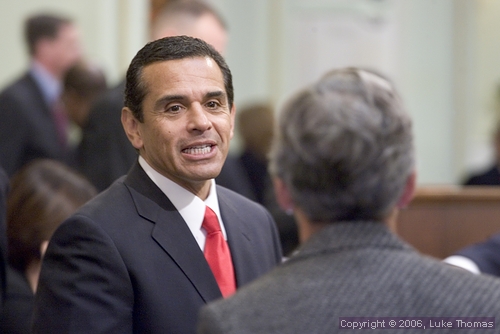 Mayor Antonio Villaraigosa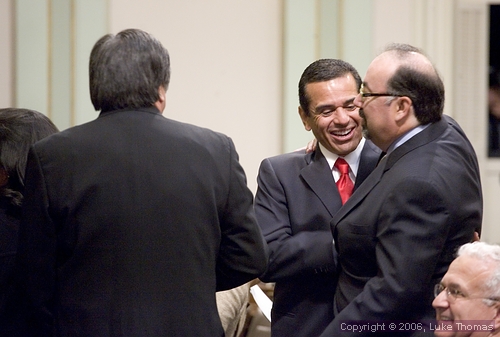 Dude, watch your wife, er, wallet!
Mayor Gavin Newsom and Villaraigosa are expected to run against each other for the California 2010 gubernatorial election, and I couldn't help but notice some similarities.
Check it:
| | |
| --- | --- |
| Mayor Gavin Newsom | Mayor Antonio Villaraigosa |
| Admitted to having an affair with Ruby Rippey-Tourk, wife of campaign manager and best friend, Alex Tourk in February 2006. The Tourks are now separated. | Had a separate affair with his good friend's wife while on the campaign trail in 1994, which led to that couple's divorce. |
| Ex-wife, Kimberly Guilfoyle, is the host of Fox News' "The Lineup." | After announcing separation from his wife of 20 years in June 2007, Villaraigosa admitted to having a relationship with reporter Mirthala Salinas, a reporter for Telemundo 52 in Los Angeles. |
| News of affair originally broken by journalist/photographer Luke Thomas. | News of the Villaraigosas' separation scooped by blogger/photographer Luke Ford. |
| Rumored to have covered up an aborted, unplanned pregnancy. | Currently dodging rumors that Salinas is pregnant. |
| Rippey-Tourk granted paid leave by the City after the affair. | Producers at Telemundo placed Salinas on leave after news broke of their relationship. |
| Before dating Newsom, Guilfoyle dated Gavin's ex-BFF and business partner, Billy Getty. | Before dating Villaraigosa, Salinas dated his friend, State Senate speaker Fabian Nunez. |
| Had wedding reception at Getty manse in Pacific Heights. | Left behind wife and kids in the mayoral manse, the Getty House. |
Take a good look at these two. You might be voting for one of them in 2010 and it's going to get increasingly difficult to tell them apart.
CrackBerry Blind Item
Which mayoral hopeful said the following?
"She just pulled a Sarah Low Daly and said I can't run for mayor."
####