The CrackBerry Chronicles
With Elaine Santore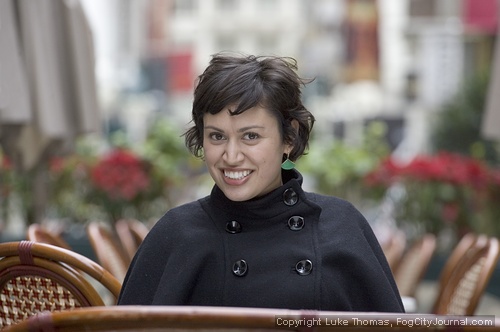 Photo(s) by Luke Thomas
July 16, 2007
Hush, crickets!
Most sincere apologies for my tardiness; it's been a slow news day for anybody NOT obsessed with District 4 Supervisor Ed Jew. Katharine MchPhee's "Over It" would best express my feelings on the entire Ed Jew scandal. Or as my crew would say, "Ov's."
First off, in the hustle and bustle of last week, we failed to report former District 9 Supervisor Tom Ammiano aide, Angela Calvello's, first day as Clerk of the Board of Supervisors.
By all reports, Angela is de-lovely inside and out, and completely deserving of her new post. Congrats, Angela!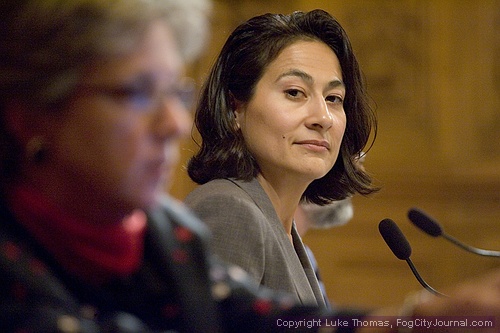 Newly appointed Clerk of the Board, Angela Calvillo
Not so extraordinary machine politics
As Chris Daly mentioned in today's Daly Blog, the San Francisco Chronicle spotlighted "Five extraordinary Iranian Americans" in Sunday's paper. Posing on the cover of the Chronicle's glossy magazine is the Mayor's Office of Community Programs Liaison, Ahsha Safai.
It is no secret to us, or the Chronicle, that Safai has indicated his interest in the 2008 District 11 Supervisor race. It should come as no surprise to y'all that the pro Newsom/ Pelosi/ Feinstein/ Swells/ establishment/ machine politics editorial board would want to feature Safai now, and let the world know who they'll be pimping in the race.
More importantly, the race also includes Daly aide/district activist, John Avalos, and Human Rights Commissioner, Cecilia Chung, both politically progressive and anti-machine candidates.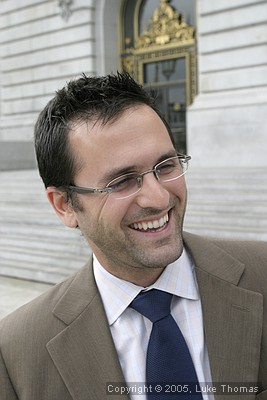 Ahsha Ali Safai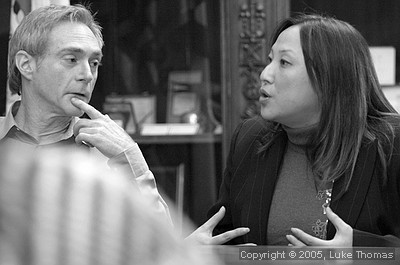 Cecilia Chung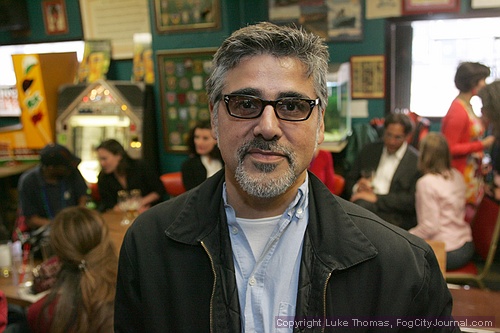 John "Good Guy" Avalos
Best line from Daly's blog:
"Safai jumps off the front page of the Chronicle's glossy Sunday magazine wearing a thousand-dollar pinstripe completed with a greased-back, Newsom-esque coif and pose."
I must admit, when I first met Safai, the first thing I noticed was the Gavin don't 'do. Maybe OD'ing on hair gel is a minimum qualification for working in the Mayor's Office?
And here's where the Chronicle gets exposed once again. Check out the staged photo of Safai shoveling debris whilst wearing a pair of shiny Italian shoes, and while holding a cell phone to his ear. Notice the clear line in the debris where Safai begins shovelling?
Hey, I don't do manual labor at all, so I've gotta give the man props for maintaining a fashionable appearance while giving the impression of serving his community. Personally, I'd prefer to see Safai talking/texting on a BlackBerry Curve and wearing an ensemble that better coordinates with the shovel, but I hate to nitpick. I hope homeboy didn't scuff his shoes or get a splinter.
Greased-back hair? Check. Designer suits? Check. Feigned interested in the community? Check. You sure this dude isn't the bespectacled Newsom stand-in I've seen around town? Hmmm…
Both Daly and Beyond Chron were quick to point out that District 5 Supervisor Ross Mirkarimi wasn't even mentioned in the article. Wtf? The Chron gets a poop sandwich for that oversight, but, wait, Mirkarimi's not on the establishment payroll!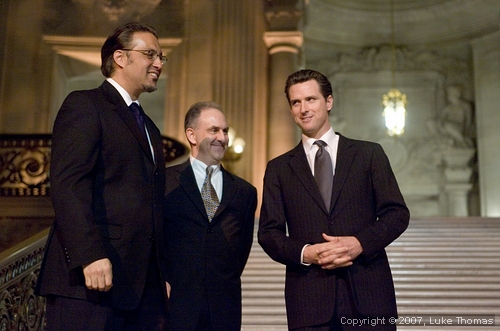 Supervisor Ross Mirkarimi, Cameron Douragby, and Mayor Gavin Newsom
at this year's Norouz celebration in City Hall.
####