The CrackBerry Chronicles
With Elaine Santore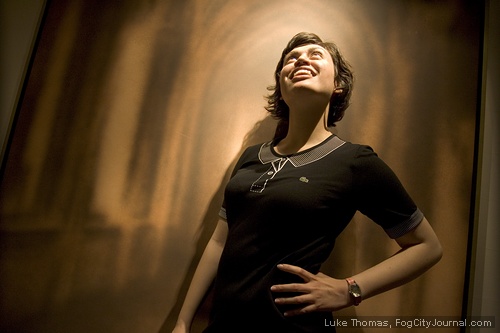 Photo(s) by Luke Thomas
September 3, 2007
"Someone's knocking at the door, someone's ringing the bell"
Normally I try to leave the Supervisor Ed Jew dramz out of my columns (even though I love anybody who secretly reps the 650 like I do), but this tidbit was too juicy for me to resist.
Following Friday's mayoral debate after party , mayoral candidate Grasshopper Alec Kaplan retreated back to his purple cab and swung by the Sunset district residence of Supervisor Ed Jew. Kaplan, who is homeless, is looking for a place to live. He figured that since Jew was probably in Burlingame, he should be able to squat there.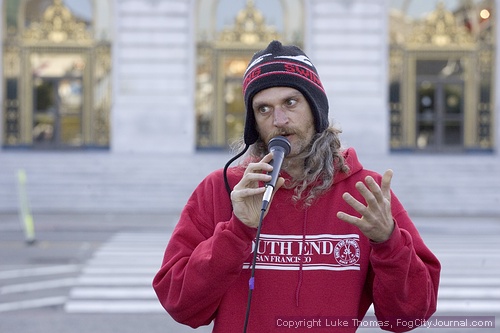 Mayoral candidate/wannabe Sunset resident, Grasshopper Alec Kaplan.
At 3:00am, Saturday, Grasshopper parked his van in Jews's Sunset residence driveway. Like any good squatter, he made sure to ring the doorbell first. To his surprise, somebody turned the lights on, but no one came to the door.
Three hours later at 6:00am, Kaplan awoke to the sound of Jew and his wife standing outside the house, calling the police. Kaplan, not wanting to get arrested, peeled off before the cops arrived.
This isn't the first time Kaplan's tried to crash at Jew's house; the Bay Guardian's Sarah Phelan reported that Kaplan removed the numbers from Jew's house on July 23.
Of course, Kaplan didn't approach Jew's house without doing a little research beforehand. He interviewed some of Jew's neighbors to find out if the supervisor did, in fact, live at the 28th Ave. residence. According to Kaplan, neighbors say Jew has been spending more time in recent weeks at the Sunset residence.
Kaplan, who had his permit to operate a taxicab yanked by Heidi Machen and Jordanna Thigpen following a number of complaints from passengers, now wants to challenge Mayor Gavin Newsom to any physical activity of Newsom's choice.
"Newsom doesn't exist," Kaplan told Fog City by phone. "He doesn't show up to the mayoral debates so as far as I'm concerned he needs to prove that he exists. I want to challenge Newsom to any physical activity of his choice to prove that he exists."
Kaplan, a regular swimmer at The South End Rowing Club, is openly challenging Newsom to a freestyle swimming race in the frigid Bay.
Message to the San Francisco Chronicle: Somebody give Grasshopper a job! He's doing some serious investigative reporting here. Maybe y'all should make Matier & Ross camp outside Ed Jew's house for a week. Us Weekly makes its interns camp outside celebrity homes. M&R could use the scoop.

Let 'em in.
Trend of the Week
Here's a look I call "The Fog City Journal."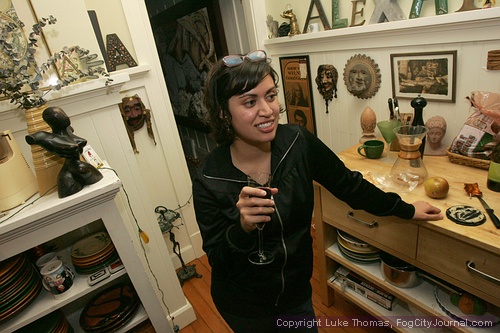 Elaine Santore rocks the Fog City Journal.
Formerly known as "The Luke Thomas," this look can be achieved by wearing a pair of reading glasses as a headband. Works best when the lenses are prescription, as opposed to frames with non-prescription lenses, or frames without lenses.

Happy Labor Day!

Happy Labor Day
CrackBerry Blind Item
Which straight-talking would-be mayor said the following in response to Eric Jaye's "barnyard animal" comment?
"Now there's a real slime pig. Now there's a guy that should really know a lot about animals. He's been eating the shit for a long time, and shoving it out."

####