The CrackBerry Chronicles
With Elaine Santore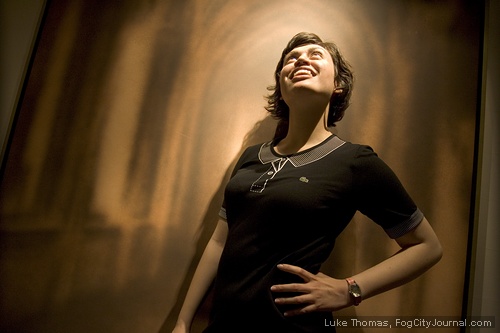 Photo(s) by Luke Thomas
October 29, 2007
Last-minute Halloween costume ideas
On Saturday evening, I attended a birthday party and Halloween celebration at Element Lounge. I nixed my original idea to be "Messy Britney" (cheap wig, stained dress, fug boots, and cheetos), and went as Scarlett Johansson in Lost in Translation because I found a cute pink wig at the last-minute. I made sure to carry a toy microphone to accurately mimic the karaoke scene.
Of course, my costume was nowhere near as impressive or creative as BFF Aaron's: "I'm Gavin/Satan. Sexy Gavin with horns. I'm wearing suspenders even though he doesn't, but whatever nobody even knows who he is besides a creep, anyway." Actually, I don't think anybody in Lincoln, NE, knows who Gavin is, which adds a whole other level of hilarity.
Whatever you end up doing this year for Halloween, Fog City Journal advises you to stay safe and well accessorized.
Halloween debate in the Castro
Breaking away from the norm, Friday's mayoral debate took place at the Castro station during rush hour. The high-traffic venue resulted in increased visibility, and it also gave the candidates an opportunity to strut their stuff for a new audience in the last weeks before voters go to the polls. Mayoral candidates Michael Powers of the Power Exchange and showman Chicken John Rinaldi popped their Friday-afternoon debate cherries by answering questions with the other candidates.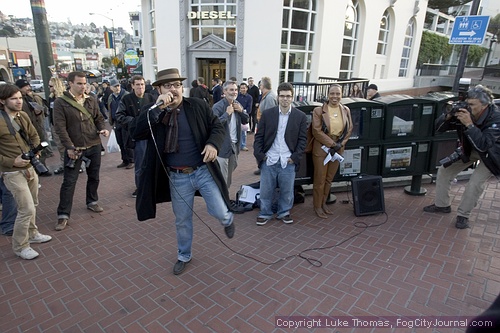 Chicken John Rinaldi stops dancing around the issues.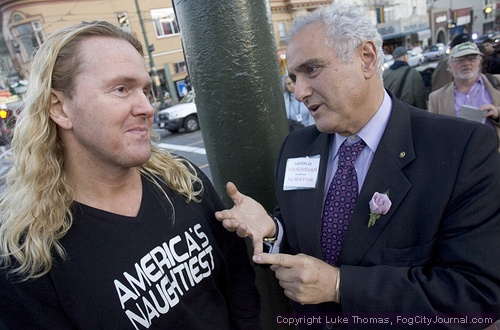 Republican BFF's Michael Powers and Harold Hoogasian.
The debate centered on Halloween, and the canceling of Halloween in the Castro. Josh Wolf pointed out that Halloween was cancelled, but that suburbanites and assorted Bridge and Tunnel folks would still show up looking for a party, anyway.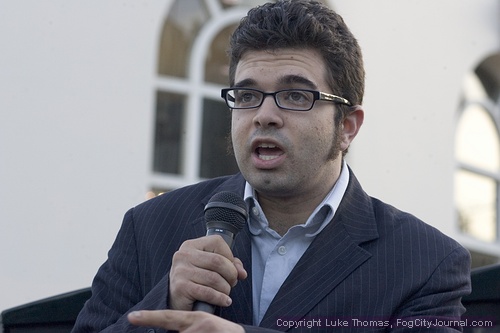 Candidates Collaborative maestro Josh Wolf
Chicken busted out the "Anybody but Gavin" platform he's been hiding for the past couple months. But I'm not pulling a JoJo by saying it's too little too late, because the current political climate is in dire straits and needs something, anything, to impassion an increasingly disengaged electorate. The city has an impressive voting bloc of artists and creative minds that's gone untapped for months.
On Wednesday, Chicken posted a letter to the San Francisco Chronicle on his website. Here's favorite quote:
"You've asked me to weigh in on the issues, but let's be honest. You don't care what I think about homelessness. Your newspaper has become a tabloid. Journalism is replaced with some hero-worship fan-boy/girl crap for our rock-star mayor. The cult of celebrity complete, you now throw the other candidates a bone so it all looks fair. So it looks like it's balanced journalism."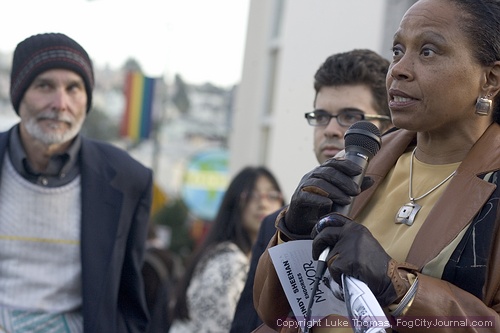 Candidates George Davis, Josh Wolf, and Ahimsa Porter-Sumchai.
The star of Fog City Journal's Letters to the Editor, Police Commissioner David Campos, attended the debate. Luke Thomas jokingly asked Campos, "Are you a real progressive?" I followed by asking him, "Do you have your progressive membership card?" (Personally, I think issuing membership cards and inventing a secret handshake could easily solve progressive infighting.)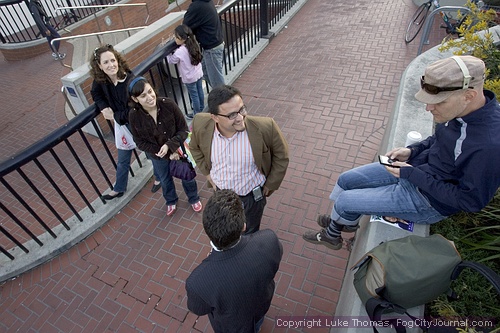 Karen Babbitt, Elaine Santore, Police Commissioner
and District 9 Supervisor candidate David Campos, Josh Wolf and Adam Aufdencamp.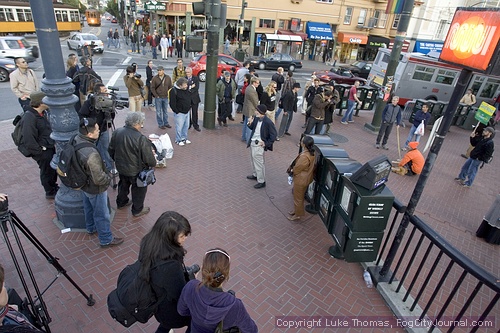 The Halloween debate draws onlookers, concerned citizens, political junkies, and press.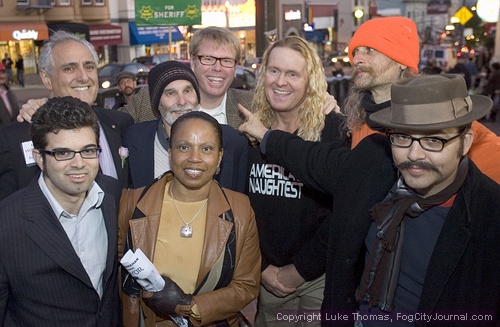 Yearbook Photo: Josh Wolf, Harold Hoogasian, George Davis, Ahimsa Porter-Sumchai,
Ted Strauser, Michael Powers, Grasshopper Alec Kaplan, and Chicken John Rinaldi.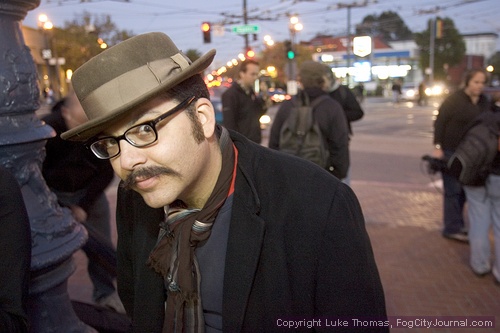 Chicken John Rinaldi brings his political A-game. Finally.
Anti-war rally
On Saturday morning, thousands gathered for an anti-war rally in Civic Center Plaza. One group of protestors first staged a die-in and blocked traffic for 5-10 minutes, then proceeded to Dolores Park. Thankfully, there were no arrests or injuries reported. Supervisor Tom Ammiano, Assemblyman Mark Leno, Senator Carole Migden and congressional candidate Cindy Sheehan were featured speakers at the event..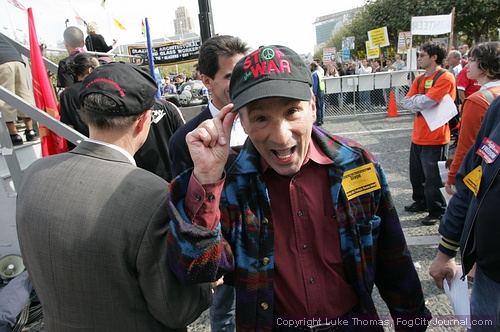 Supervisor Tom Ammiano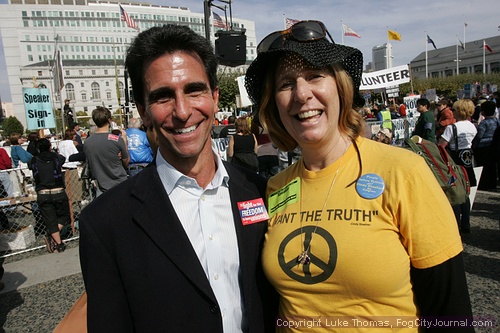 Assemblyman Mark Leno and Cindy Sheehan. Leno wanted to make it clear
that although he considers Cindy Sheehan a friend, he will not be supporting her to replace
double-talking war appropriator Speaker Nancy Pelosi as San Francisco's congressional representative. Shucks, Mark, we think Cindy would truly represent San Francisco anti-war values.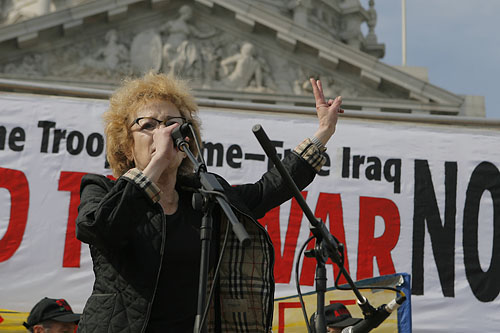 District 3 Senator Carole Migden
Photo by John Han
Mayoral candidate Quintin Mecke took a page out of the Chicken John handbook and arrived with a posse of 400 zombies dancing to Michael Jackson's classic "Thriller." Being Filipino, I still prefer the Cebu Provincial Detention and Rehabilitation Center version, but props to the Q for Mayor team for adding some much-needed jazz-hands and fabulousness to the campaign season.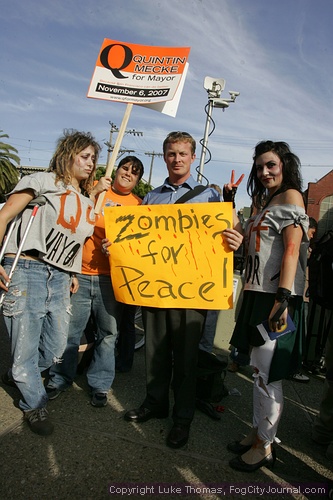 Mayoral candidate Quintin Mecke with his harem of zombies.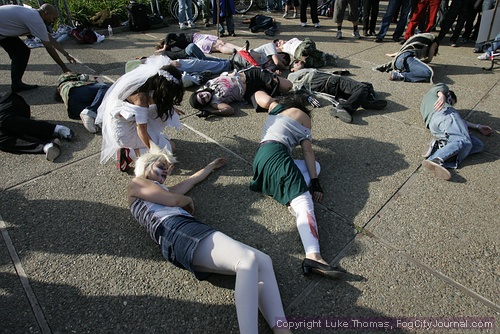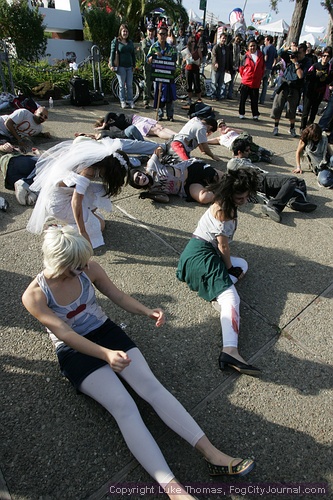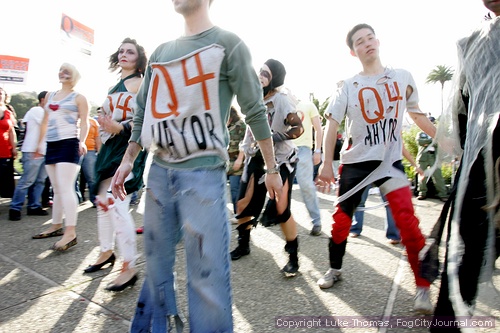 Zombies thrill the crowd.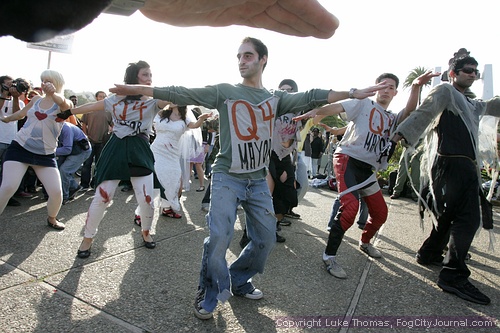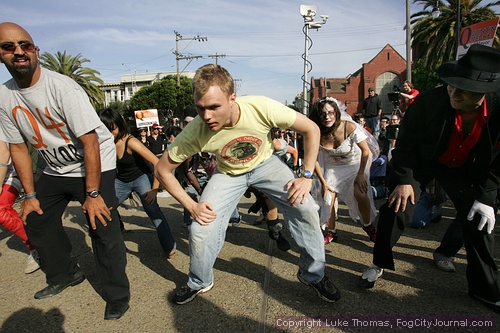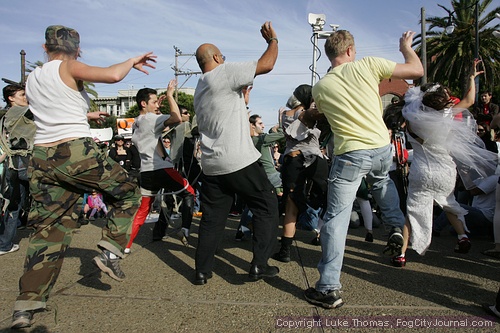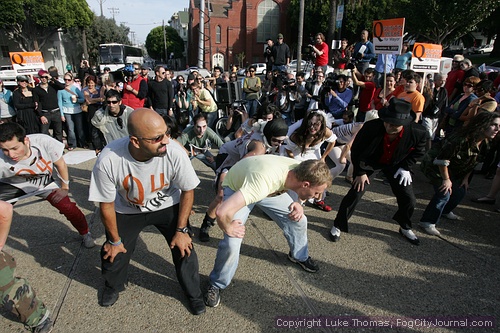 "Which way are we going?"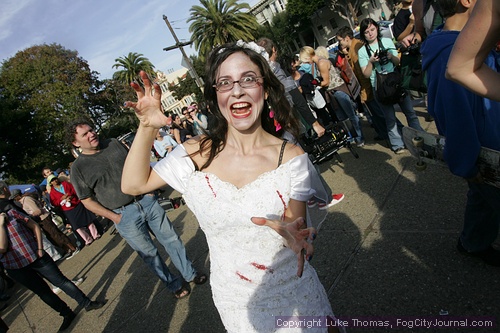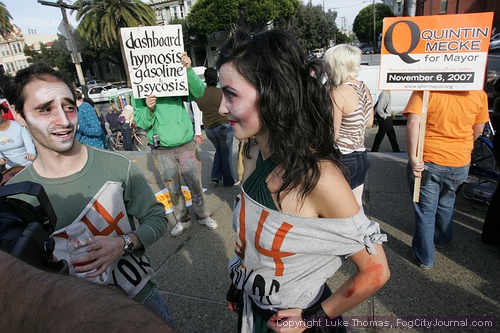 Announcements
After Friday's debate, Luke Thomas, Josh Wolf, Len Harrison, and I attended Ally Johnson's 8th birthday party. Happy Birthday, Ally!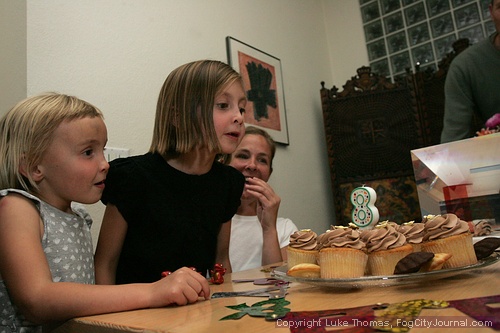 Katie, Ally, and Tina Johnson.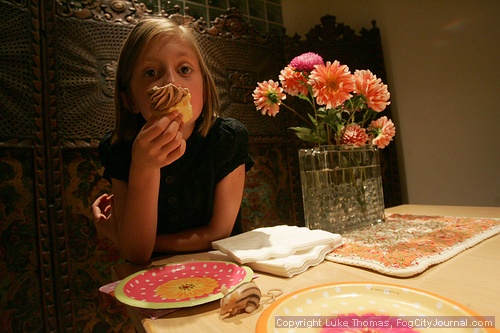 Cupcakes!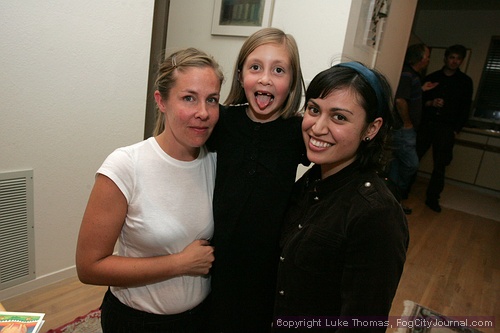 Tina Johnson, Ally Johnson, and Elaine Santore.
I'm pleased to announce Erika McDonald and John-Marc Chandonia gave birth to a beautiful baby girl on Sunday.. Congrats, Erika and John-Marc!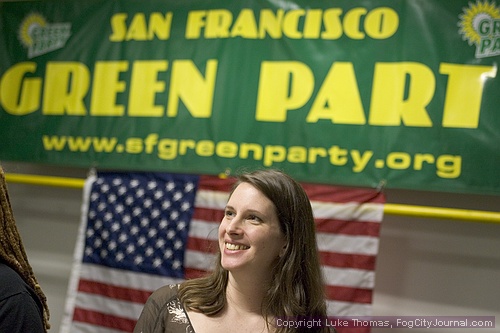 Erika McDonald at the State Green Party Convention in May.
CrackBerry Blind Item
Which dark-horse mayoral candidate was asked not to campaign anywhere near a rival candidate during the anti-war protest? C'mon, kids, there's plenty of room for everybody in the progressive sand box!

####