The CrackBerry Chronicles
With Elaine Santore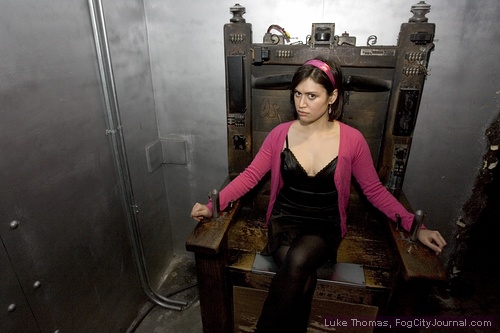 Photo(s) by Luke Thomas
January 22, 2008
Ross-o-holics (not so) Anonymous
District 5 Supervisor and reluctant heartthrob Ross Mirkarimi hosted his monthly art opening in his office Friday night. This month's featured artist is Gregory Bartning, a local photographer. The series of (mostly) nude photographs feature members of Trapeze World.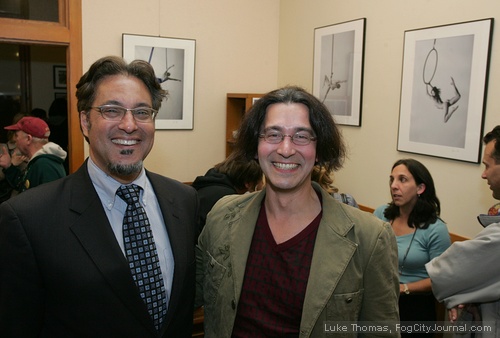 Supervisor Ross Mirkarimi with this month's featured artist, Greg Bartning.
Although the party was in Bartning's honor, he spent the evening snapping photographs of partygoers looking at his photographs, which can be found on his blog. He's also available for weddings, pregnancies, family portraits and headshots.
The usual band of rogues and thieves filled Mirkarimi's office, excited for the opportunity to gossip and sip free wine (editors of MyOpenBar, take note!). There were some new faces, too.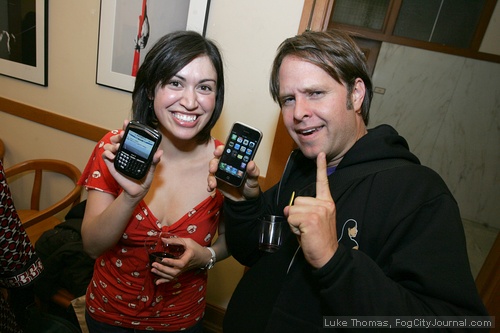 Whose gadget is #1? Elaine Santore and Andy Blue have a BlackBerry vs. iPhone debate.
Big thanks to Mirkarimi for hosting yet another successful gathering of brilliant political minds and glamorous hangers-on. And a special shout-out to volunteer Charlotte Mayang for doing such a wonderful job tending bar, and for being so adorable and fabulous.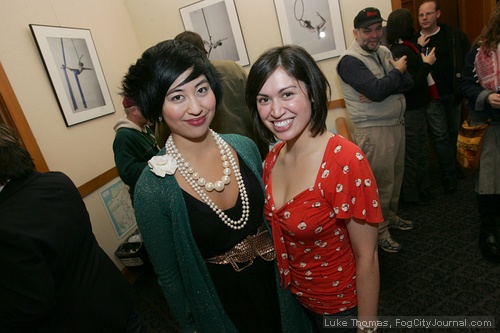 Volunteer Charlotte Mayang and Elaine Santore.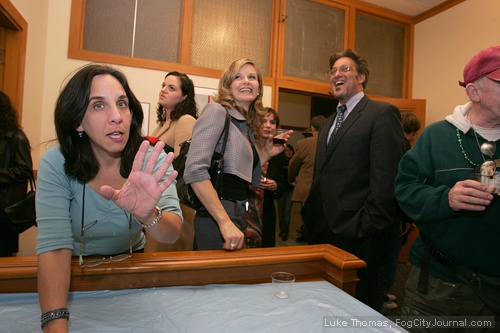 Sue Vaughan has something to say. Preach!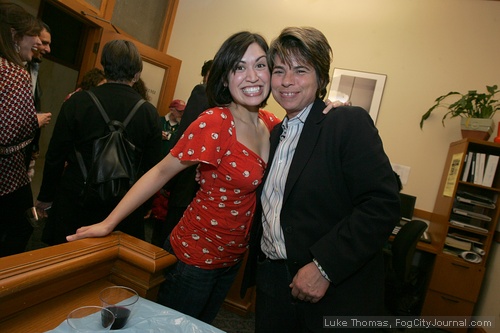 Elaine Santore and Colleen Crowley.
Greetings from the Tenderloin
Part-time Fog City Journal contributor and full-time gaslighter h brown gave his palatial Tenderloin estate a feng shui makeover last week.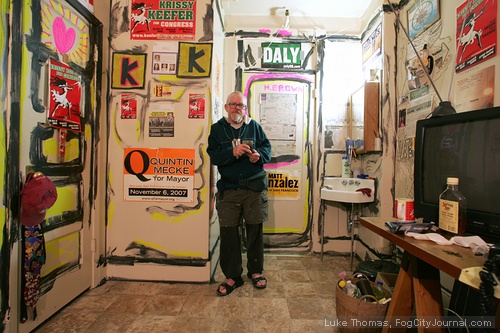 h brown at his Tenderloin estate (south wing).
Wallpaper: custom. Whiskey: Traveler's Liquors, 22 7th St. San Francisco.
Wardrobe: stylist's own. Interiors by h brown for Bulldog Digs, LLC.
Brown purged the clutter from his living space because it became difficult for him to retrieve his collection of cocktail napkins scrawled with ladies' phone numbers. And it was blocking the entrance to his hot tub.
He also came to the conclusion that his interior design wasn't luring members of the opposite sex into his love shack.
As FCJ publisher and Brown pal Luke Thomas would say, (insert British accent) "We can't have that!"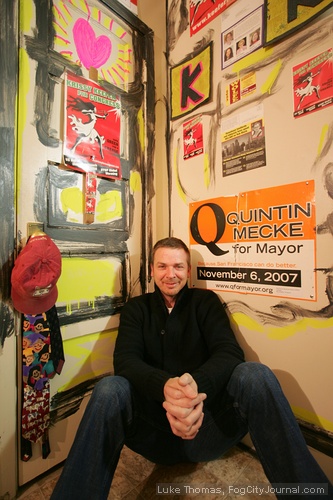 Fog City Journal publisher Luke Thomas.
Sweater: Club Monaco, 865 Market Street #110.
Jeans: AB Fits North Beach, 1519 Grant Ave.
According to several reports, Brown began painting the walls of the estate but stopped because he refused to move his collage of vintage campaign posters. Impractical? Yes, but that's the price one pays for political addiction.
Bill O'Reilly and Geraldo Rivera wax poetic over tiger mauling
On Friday's edition of Fox News' O'Reilly Factor, Bill O'Reilly and Geraldo Rivera discussed the tiger mauling case at the San Francisco Zoo.
O'Reilly couldn't get over the fact Paul and Kulbir Dhaliwal were drunk and stoned at the time of the mauling. He kept repeating "Drunk and stoned!" and "The drug beef!" over and over again.
Nevermind that Tatiana was shot, a young man died, and Dhaliwal brothers were mauled. Somebody was on drugs! Beyond the drugs, O'Reilly didn't know much else about the case.
Here's a portion of O'Reilly's "interview" with Rivera (O'Reilly doesn't really interview anyone, he barks at them and asks questions without listening).
Bill O'Reilly: "What about the drug beef?"
Geraldo Rivera: "Well, that doesn't… You know, the fact they had marijuana in their systems is not a crime as far as I'm concerned."
O'Reilly: "In their car, I think they found it."
Rivera: "A minimum amount. San Francisco. I don't believe that…"
O'Reilly: "San Francisco, right? Officials of San Francisco might have put it in the car."
Rivera: "Or be smoking it…"
O'Reilly: "Just kidding out there – Nancy Pelosi!"
Rivera: "They love you there."
O'Reilly: "Oh, me."
Fox News is more (unintentionally) entertaining than Bravo sometimes.
Hillary Clinton doesn't need Anna Wintour
Last fall, Sen. Hillary Clinton was scheduled to appear on the February cover of Vogue. Celebrity photographer Annie Leibovitz was scheduled to shoot the cover. However, Clinton backed out of doing the shoot because she and her advisors feared she would look "too feminine."
But as Women's Wear Daily points out, Clinton had no qualms about programming herself to cry in public during the New Hampshire primary. (It feels!)
Vogue editrix Anna Wintour responded to Clinton in February's editor's letter:
"Imagine my amazement, then, when I learned that Hillary Clinton, our only female president hopeful, had decided to steer clear of our pages at this point in her campaign for fear of looking too feminine. The notion that a contemporary woman must look mannish in order to be taken seriously as a seeker of power is frankly dismaying." [Ed. Note: Duh! Look at Kamala Harris.]
Over the course of the campaign, Clinton's been harshly criticized for her apparent fashion missteps. The same criticism could be directed at a male political candidate but let's face it: it's easier for men to wear a suit and tie and look presentable. A male candidate must be exceptionally unattractive, overweight, or aesthetically challenged to receive any negative feedback, but even then it's not a big deal.
Well, unless he's running for Mayor of San Francisco. But that's an entirely different story.

Kanye West, "Everything I am"
I never could see why people'll reach a
Fake ass facade that they couldn't keep up
You see how I creeped up
You see how I played a big role in Chicago like Queen Latifah
--
####