The CrackBerry Chronicles
With Elaine Santore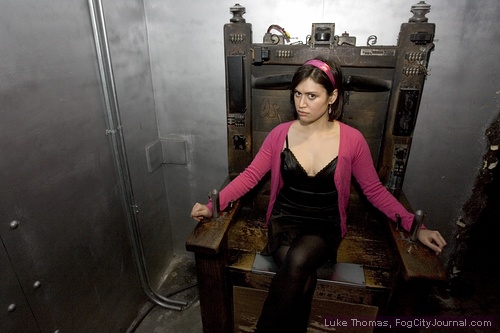 Photo(s) by Luke Thomas
January 28, 2008
Is Jennifer Siebel preggers?
Angelina Jolie wasn't the only actress creating pregnancy rumors this weekend. San Francisco First Lady in waiting Jennifer Siebel made an uncharacteristically voluptuous appearance at Crustacean's Ten Year Anniversary in Beverly Hills Saturday night.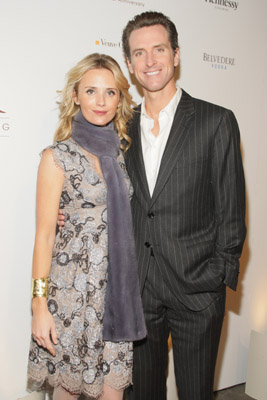 Jennifer Siebel and fiancé Mayor Gavin Newsom.
Chris Polk for WireImage
Fog City Journal's resident pregnancy expert (aka CrackBerry's mom) surveyed Siebel's printed dress and her strategically placed scarf, and came to the conclusion that the actress is very much in the family way.
Can we say shotgun wedding?
The San Francisco blogosphere has been abuzz about a possible Gaviffer spawn since the couple announced their engagement on New Year's Eve.
What do you think?
Birthday blues
Ask not what your Supervisor can do for you; ask what your Supervisor can do for your birthday.
Fog City Journal publisher Luke Thomas braved the pouring rain Friday afternoon for an unplanned trip to City Hall. Supervisor Chris Daly had called Thomas into his office under the guise of a major scoop.
"This had better be worth it, Chris," Thomas said as he entered Daly's office, camera bag in hand and rainwater forming pools at his feet.
In a clever ruse concocted by CrackBerry and Daly, Thomas arrived to his birthday surprise that included a deliciously moist cinnamon-vanilla pound cake baked by Daly using his grandmother's recipe.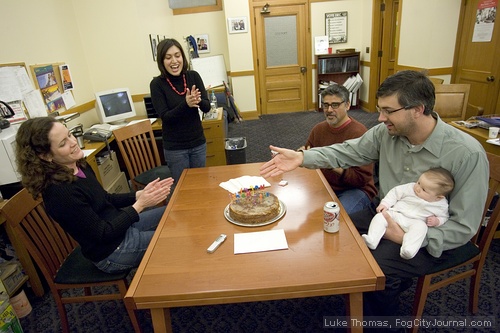 Karen Babbit, Elaine Santore, John Avalos, Supervisor Chris Daly,
and Grace Eolen Daly serenade birthday boy publisher Luke Thomas.
For the man who has everything sometimes the typical birthday card or e-card just won't suffice. That's why Daly spokesperson Rachel Redondiez and CrackBerry penned a birthday proclamation in Thomas' honor.
Redondiez collected signatures from several available Supervisors in City Hall and presented the certificate to the scoop-loving shutterbug.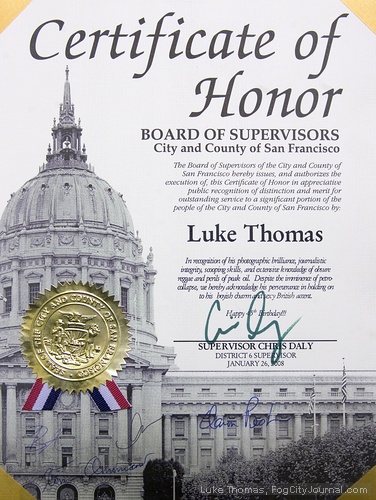 "In recognition of his photographic brilliance, journalistic integrity, scooping skills,
extensive knowledge of obscure reggae, and perils of peak oil.
Despite the imminence of petro-collapse, we hereby acknowledge his perseverance
in holding onto his boyish charm and sexy British accent.
Happy 45th Birthday!!!!"
Chris Daly: The New Quentin Kopp?
While enjoying Luke Thomas' birthday cake, the conversation shifted from birthdays to (what else?) San Francisco politics.
Although most of the conversation was off-the-record, Chris Daly with baby Grace in hand, speculated about his role as City Hall whistle-blower and unofficial mayoral watchdog.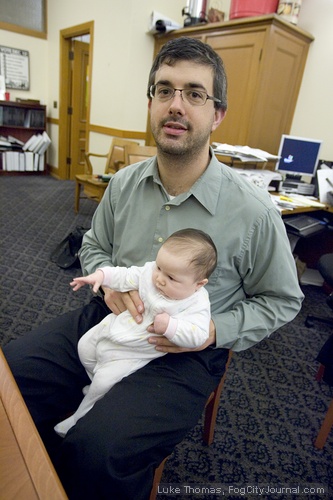 Supervisor Chris Daly and his adorable Progressive daughter, Grace Eolen.
"I'm like Quentin Kopp because nobody likes me and I'm right most of the time," Daly said.
Obama receives Kennedy family endorsement
Senator Edward M. Kennedy made a rare public reference to his late brothers JFK and RFK while officially endorsing Sen. Barack Obama for the Democratic nomination for president.
The Massachusetts senator compared Obama's youthful message of hope to John F. Kennedy.
"There was another time when another young candidate was running for President and challenging America to cross a New Frontier," Sen. Kennedy said.
Kennedy addressed Obama's critics, including former president Bill Clinton, who claim Obama is too young and inexperienced to take over the White House.
"I know that he's ready to be President on day one," Kennedy said. "And when he raises his hand on Inauguration Day, at that very moment, we will lift the spirits of our nation and begin to restore America's standing in the world."
Former first daughter Caroline Kennedy also announced her support for Obama, citing her two daughters as inspiration.
"I am happy that two of my own children are here with me, because they were the first people who made me realize that Barack Obama is the President we need," she said.
This is a key endorsement for the Illinois senator, who continued his campaign's momentum with an exciting win in South Carolina last week.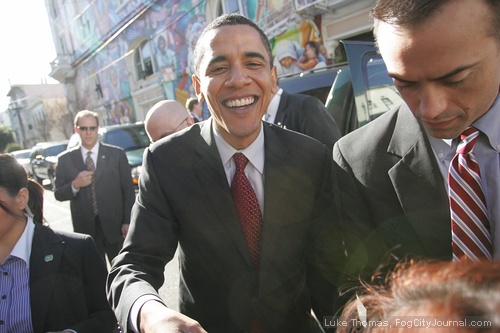 Sen. Barack Obama
CrackBerry Blind Items
Which San Francisco Chronicle columnist received an irate after-hours phone call from Mayor Gavin Newsom?
Which citywide elected Progressive is eyeing a possible run against Newsom appointee Carmen Chu in November?
####