The CrackBerry Chronicles
With Elaine Santore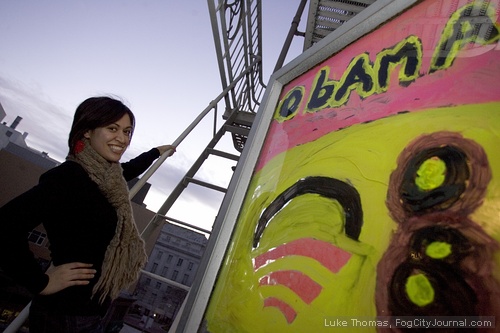 Photo(s) by Luke Thomas
February 4, 2008
Any given Sunday
Between Super Tuesday, Fashion Week, and the Sarkozy wedding, I almost forgot all about Super Bowl XLII. I only watch the Super Bowl for the ads and most of those are on MySpace, anyway.
Bob Brigham, Fog City Journal publisher Luke Thomas and I gathered at h. brown's palatial Tenderloin estate to watch the underdog New York Giants defeat the undefeated New England Patriots.
Thomas "bet the farm" on the Giants, even though he has no farm to bet. Brown, on the other hand, predicted a Patriots blowout. Of course, I showed up late because I spent the first half of the game getting my hair cut at Oxenrose.
h. brown was in top form, and I was greeted by a brightly colored "Obama 08" sign painted onto h's window. From the inside, it looked like "Amado 08."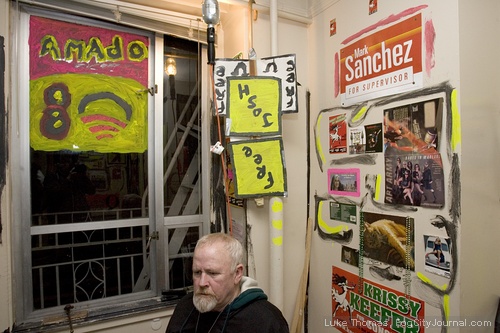 h. 'Hemingway-esque' brown poses beneath his latest creation, Amado '08!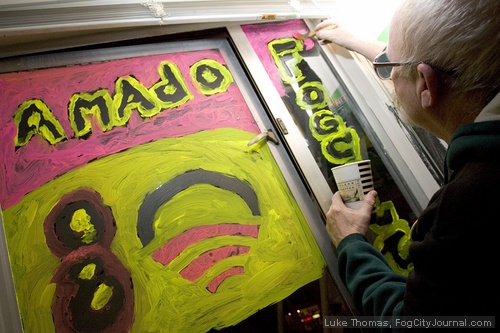 As usual, h brown tried to convince us that he intended
to incorrectly spell FogCityJournal.com.
The boys also spent a good portion of the game watching various Barack Obama endorsement videos, including the latest key endorsement by Maria Schriver.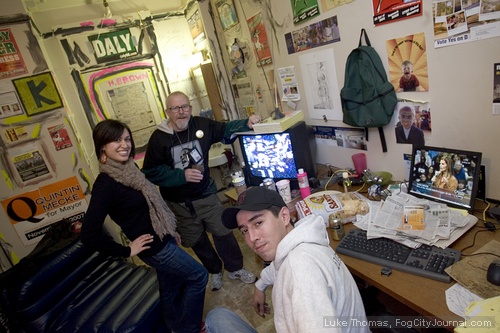 Football fans Elaine Santore, h brown, and Bob Brigham
listen to California First Lady Maria Shriver's glowing endorsement
of Sen. Barack Obama during Superbowl XLII.
They played me the "Yes We Can" video because they didn't know who any of the celebrities were. Sad.
I recognized about ninety-five percent of the celebrities, except for the no-names I'd never seen before or the has-beens whose names I couldn't remember.
The rest of the game was spent posing for photos on the fire escape, next to the Amado '08 sign. It was amazing.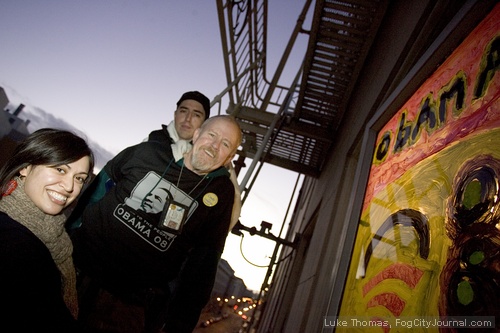 Thankfully we all left before h. had an opportunity to properly insult us. Church on the move!
Ted Kennedy brings Obama Show to Oakland
Sen. Ted Kennedy continued his campaigning efforts Friday for Sen. Barack Obama. Approximately 1,400 Obama supporters packed into Oakland's Beebe Memorial Cathedral to hear the Massachusetts senator speak.
Rep. Barbara Lee of Oakland introduced Kennedy onstage. Lee was the first member of Congress to endorse Obama.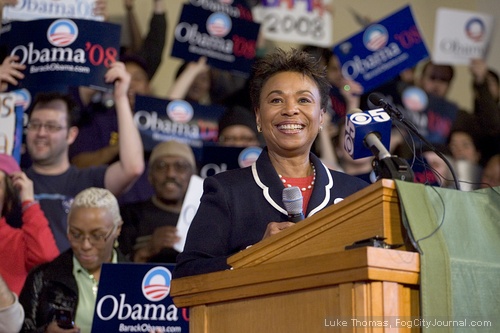 Rep. Barbara Lee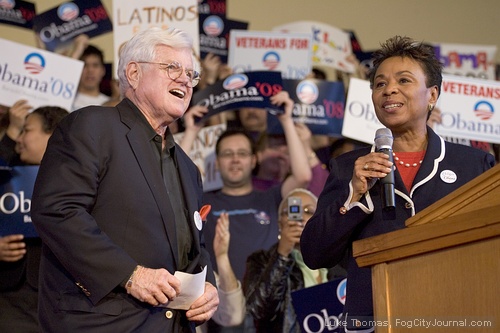 Sen. Ted Kennedy
A commanding presence, Kennedy rallied the crowd to support Obama because he believes the Illinois senator can create the type of change the United States needs to move forward.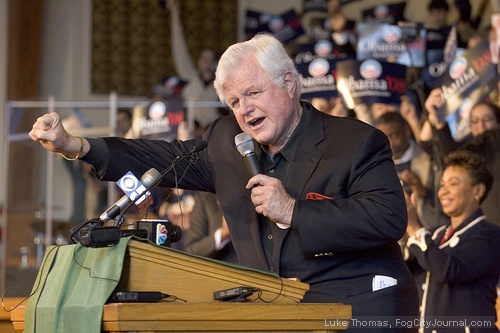 "In all the time I've served in the United States Congress, we have an election just of enormous importance and consequence. Perhaps the most imporant election of my lifetime," Kennedy said.
Other members of the Kennedy clan who have endorsed Obama include Sen. Kennedy's son, Patrick, and Robert Kennedy widow Ethel Kennedy.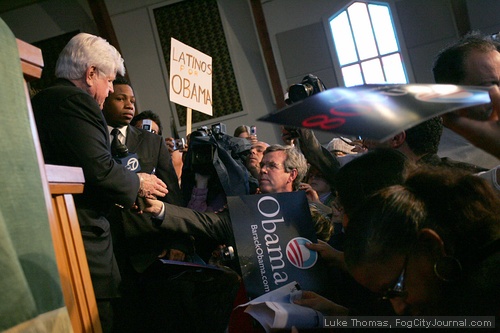 Sen. Ted Kennedy responds to a question from ABC-7 political reporter Mark Mathews.

Laura Nyro's Save the Country.
The song was later sampled by Kanye West in The Glory.
"I got fury in my soul
Fury's gonna take me
To the glory goal
In my mind I can't study war no more"
Hope and Change
Meanwhile, Obama continues to capture the imagination of a nation seeking change.
Most recent key Obama endorsements include:
Sen. Ted Kennedy

California First Lady Maria Schriver

Caroline Kennedy

Ethel Kennedy

Sen. John Kerry

Moveon.org

SEIU

Los Angeles Times

La Opinion

San Francisco Chronicle

San Francisco Bay Guardian

Fog City Journal (Duh!)

Asian Week

Grateful Dead (check out the Dead's reunion GOTV concert tonight at the Warfield)
Happy Birthday, Karen Babbitt!
Our Super Bowl fest paled in comparison to Fog City Journal friend, political junkie and all-around hot bitch Karen Babbitt's birthday bash on Friday night at Temple Bar.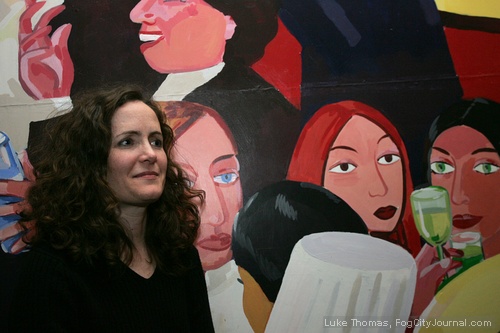 Birthday girl Karen Babbitt.
The worlds truly collided when Karen invited her political friends and non-political friends to gather in the same bar. I chatted with Marc Salomon and Pat Monk about the latest City Hall drama.
Marc told me my vintage leopard-print purse was a "Michela bag," referring to District 2 Supervisor Michela Alioto-Pier. He even handed me a pair of sunglasses to complete the look.
There are no photos of that anywhere.
But there are plenty of photos of h brown, Bob Brigham, Luke Thomas, Karen, Sasha, and I posing next to the mural painted by h's pal, Charlie Lennon.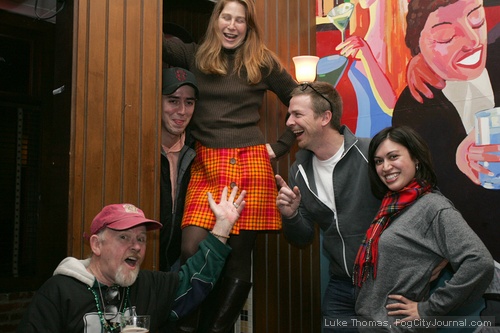 h brown, Bob Brigham, Sasha, Luke Thomas, and Elaine Santore.
Photo by Karen Babbitt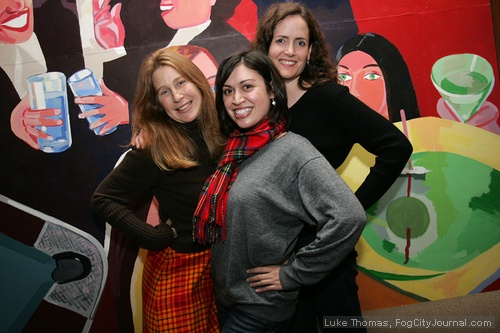 Charlie's Angels: Sasha, Elaine Santore, and Karen Babbitt.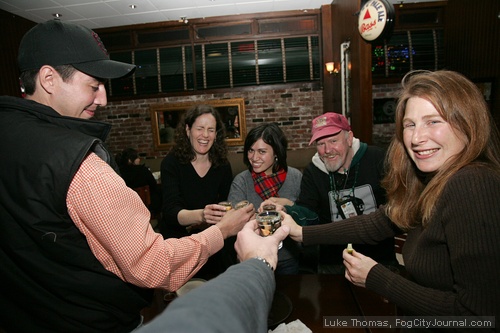 Cheers!
Jennifer Siebel baby bump update
FCJ publisher Luke Thomas emailed Jennifer Siebel for comment on last week's CrackBerry column regarding her rumored pregnancy.
Siebel, who normally responds to FCJ inquiry in a timely manner, has not as yet responded.
All together now: Hmmm...
--
####