All Gerardo Sandoval wants for Christmas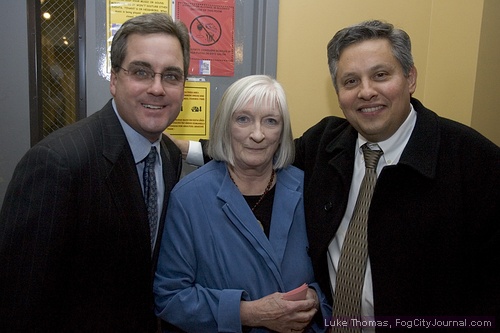 Supervisor Gerardo Sandoval with City Attorney Dennis Herrera
and DCCC member Gerry Crowley at the Harvey Milk Club vote yesterday.
Photo(s) by Luke Thomas
December 12, 2007
Supervisor Gerardo Sandoval is everywhere these days, and not just in the pages of Fog City Journal.
First we saw him at SF Bicycle Coalition's Winterfest (random), then he was spotted at the San Francisco Women's Political Committee Holiday Party (really random), and now he's attending Harvey Milk Club Meetings on the regular (kinda sketch).
Not that Sandoval doesn't look like a man with an active social life, but inquiring minds want to know: Is he running for office? Will Mayor Gavin Newsom appoint him to something? As Fog City Journal reported in August, Sandoval endorsed Newsom but not much has come of it…. Yet.
At last night's Milk Club vote, Sandoval jokingly asked FCJ's editor and publisher, Luke Thomas, "I see you everywhere. What are you running for?" To which Thomas responded, "That's funny, I was just about to ask you the same question."
Sandoval's comeback: "Ask me in January."
What do you think?
####