Mayoral candidate arrested at City Hall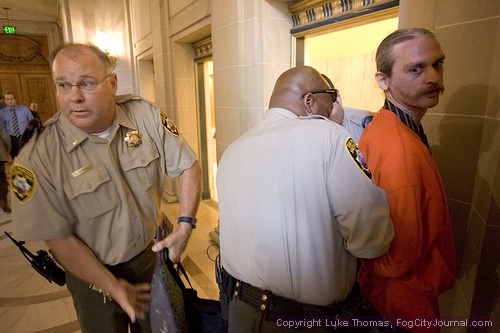 San Francisco sheriff deputies detained and arrested Grasshopper Alec Kaplan
at City Hall today following an alleged violation of a stay away order.
Photo(s) by Luke Thomas
By Luke Thomas
September 18, 2007, 9:00 p.m.
Mayoral candidate Grasshopper Alec Kaplan was detained and arrested at San Francisco City Hall during the regularly scheduled Board of Supervisors meeting today, and charged with violating a stay away order and resisting arrest.
Kaplan's arrest occurred during public comment, when citizens address the board.
Judge Garrett Wong ordered the stay away order September 14, following Kaplan's arraignment on two counts of misdemeanor trespassing at Supervisor Ed Jew's Sunset District residence.
The stay away order stipulates Kaplan must stay 300 yards away from Jew at all times, except when attending meetings at City Hall. Wong ordered Kaplan to sit in the back of board chambers during board meetings but did not address committee meetings or public comment considerations.
Kaplan, who was sitting in the back of board chambers during the entire meeting, was approached by several sheriff deputies when Kaplan got up off his seat to get in line for public comment.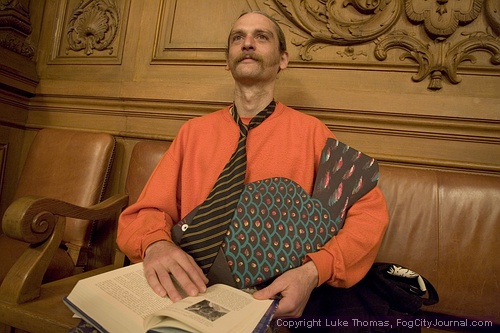 Kaplan with a book and a fish at the back of board chambers.
Deputy Sheriff S. Erdmann, who was standing a few feet away from Kaplan, immediately halted Kaplan.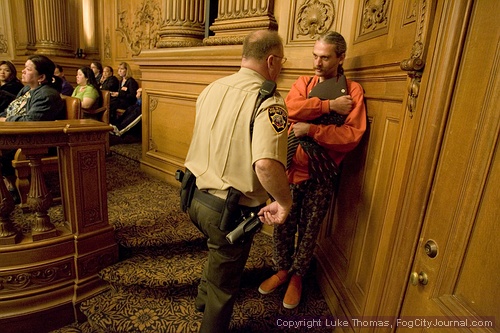 Erdmann intercepts Kaplan.
Following an exchange of words between Erdmann and Kaplan, Erdmann and two deputies detained Kaplan and forcefully ejected him from the meeting.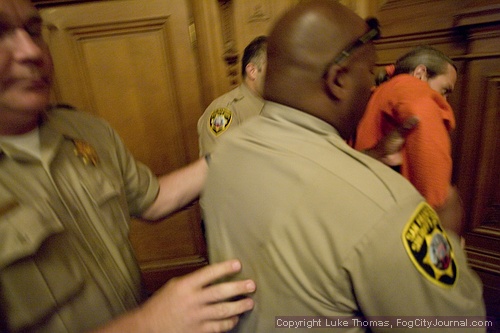 Erdmann did not respond to media inquiries into Kaplan's detainment, and referred questions to Sheriff's Office spokesperson Eileen Hirst.

Hirst told Fog City Journal: "He [Kaplan] was asked if he was aware of a restraining order and that if he came forward he would be in violation of it, and he was not responsive. He continued to come forward and we informed him that if he did he would be arrested on that violation. And he was, in fact, arrested on that violation."
Hirst acknowledged she has not seen the stay away order, and could not comment on media questions related to possible exceptions to the order regarding public comment.
For his part, Kaplan told Fog City Journal from jail: "I stood up to give public comment and immediately Erdmann approached me and said I couldn't give public comment. I asked if Ed Jew could be temporarily removed so that I could provide public comment. Erdmann said no. So I asked if a microphone could be provided at the back of the room. Erdmann said no. Erdmann then said I would be in violation of the court order if I provided public comment and then, with several other deputies, they grabbed hold of me and forced me out of the room."
When asked what he wanted to say during public comment, Kaplan replied: "I wanted to point out that Ammiano's municipal identification card legislation could be used by authorities to identify the holder of the card as being an illegal immigrant and, therefore, deportable."
When asked if he believed his 1st Amendment rights were violated, Kaplan said: "I spoke with my attorney, Zadik Shapiro, and he said my detainment and arrest was a clear violation of my right to free speech."
Defense Attorney Zadik Shapiro did not return calls for comment at the time of publishing.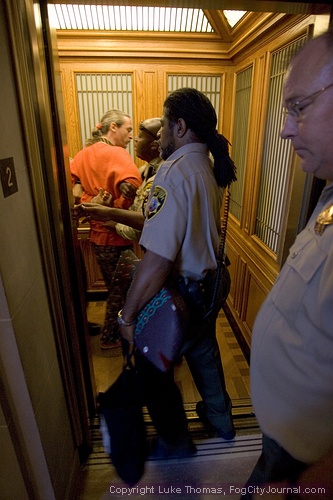 ####