Mayoral candidate arrested
for stalking Supervisor Ed Jew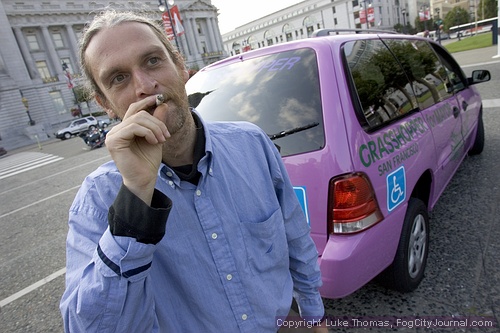 San Francisco mayoral candidate Grasshopper Alec Kaplan was arrested last night
and booked into county jail on felony charges of stalking and threatening a state official.
Photo(s) by Luke Thomas
By Luke Thomas
September 9, 2007, 11:00 a.m.
Mayoral candidate Grasshopper Alec Kaplan was arrested earlier today and booked into county jail on two felony and two misdemeanor charges.
The felony charges include threatening a state official and stalking. The misdemeanor charges include trespassing and using a vehicle for habitation.
Kaplan, who is homeless, was arrested outside Supervisor Ed Jew's Sunset District residence at approximately 2:30 a.m.
According to Jew, Kaplan parked his purple taxicab on Jew's driveway at approximately 1a.m. and was "making a lot of noise and talking to my neighbor."
"My concern is my family, my daughter and my wife - my wife's terrified," Jew told Fog City. "This guy is, like, stalking."
Jew said his wife called the police.
Jew said it wasn't the first time Kaplan spent the night on Jew's property. Jew called police at 6 a.m. on September 2 after discovering Kaplan parked on his property. Jew said Kaplan left before police arrived.
Jew said he filed a police report today stating Kaplan admitted to placing banana peels on Jew's front door and placing a can filled with feces on his doorstep.
"He was parked in my driveway, blocking my garage… this is not the first time," Jew said. "We filed a police report. He actually admitted that he's the one that put the banana peels on the door and put feces in a can and so forth."
"It's unbelievable. My wife is just paranoid of the whole thing and my daughter's just wondering why someone is doing this to us," Jew said.
Kaplan was arrested on two other occasions last week. On Wednesday he was arrested for trespassing at the fourth mayoral debate after being ejected for throwing a tantrum. On Thursday he was arrested during an anti-war protest outside the Phillip Burton Federal Building for blocking entrances to the building.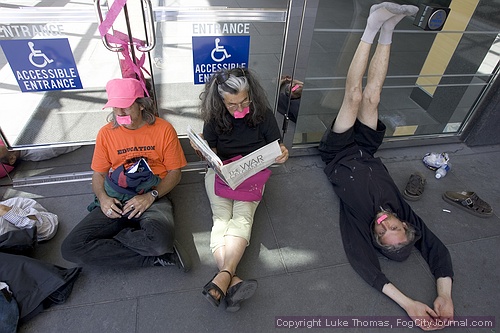 Kaplan blocks an entrance to the Phillip Burton Federal Building August 24.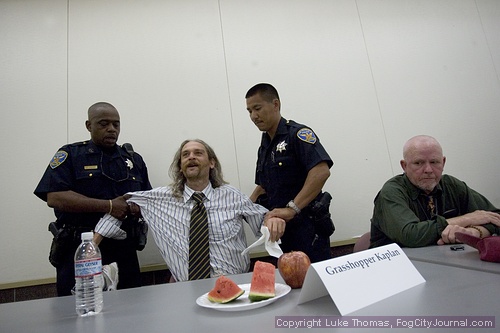 Kaplan is ejected from the fourth mayoral debate.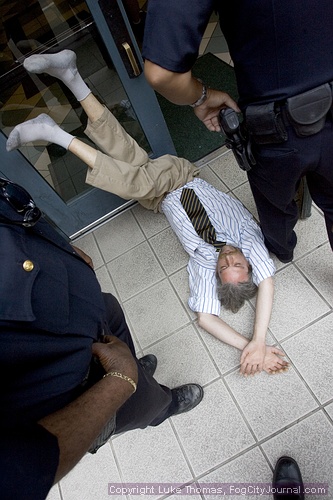 Kaplan uses his trademark blocking tactic
after being ejected from the fourth mayoral debate.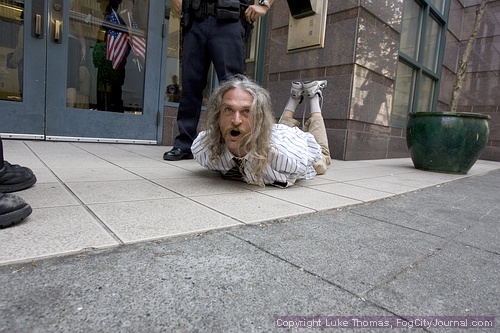 ####