Ed Jew to testify in trespass case
involving Sunset District residence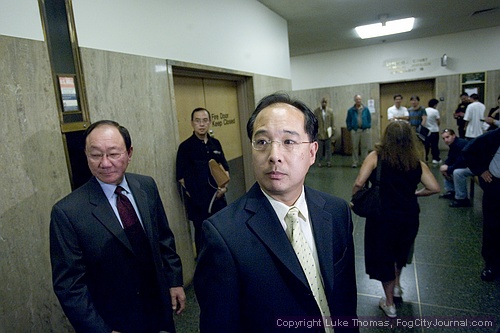 San Francisco Supervisor Ed Jew could be called as a witness to testify in the October 1 trial of mayoral candidate Grasshopper Alec Kaplan. Kaplan pled not guilty Friday to two misdemeanor counts of trespassing at Jew's Sunset District residence.
Photo(s) by Luke Thomas
By Luke Thomas
September 16, 2007, 2:55 p.m.
Embattled Supervisor Ed Jew could be called as a witness to testify in a trespass case involving mayoral candidate Grasshopper Alec Kaplan and Jew's Sunset District residence.
Kaplan, who is homeless and sleeps in his taxicab, was arrested September 9 at 2:30 am after police were summoned to Jew's 28th Avenue home by Jew's wife following an alleged disturbance involving Kaplan.
Upon arrival at the scene police found Kaplan's purple taxicab parked on Jew's driveway.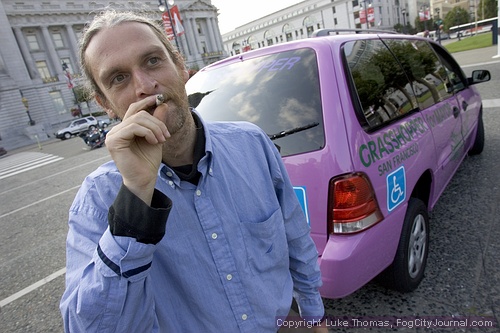 Grasshopper Alec Kaplan
Following his arrest, Kaplan was charged with threatening a state official and stalking - both are felonies - and two counts of misdemeanor trespass. The felony charges were later dropped.
During his arraignment Friday, Kaplan pled not guilty to the tresspassing counts. Superior Court Judge Garrett Wong set a trial date for October 1.
"He's charged with parking his car on Ed Jew's property without Ed Jew's consent," said Zadik Shapiro, Kaplan's defense attorney. "He was investigating as a candidate whether Ed Jew lives at that residence."
Jew, who faces 9 felony charges that allege Jew lied about his true residency in order to run for office and vote in local elections, is also being investigated by federal authorities in connection with a $40,000 cash transaction involving local businessmen who needed help obtaining permits. The City Attorney is also seeking Jew's removal from office.
Asked if Jew would be called as a witness to testify at the upcoming trial, Shapiro said: "I believe they have to call him. He can take the 5th amendment, but that will be up to his attorney."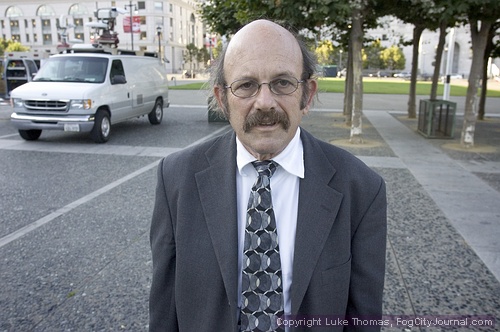 Defense Attorney Zadik Shapiro
Pleading the 5th amendment is the act of refusing to testify under oath in a court of law on the ground that the answers given by the witness could be used as evidence to convict him or her of a criminal offense.
Reached for comment, defense attorney and former prosecutor Randall Knox said putting Jew on the stand could help Jew in his criminal case. For this reason, Knox said, Jew should not invoke the 5th amendment.
"It's not in Ed Jew's interest to take the 5th amendment because I would expect he would want to testify that he lives at 28th Avenue," Knox said.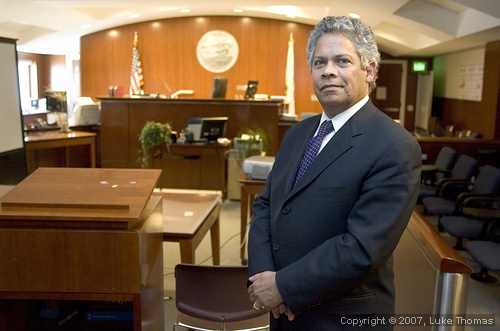 Attorney Randall Knox
Jew, who was present when Kaplan was arrrested, told Fog City: "I am going to consult with my attorney."
Jew's defense counsel, Bill Fazio, could not be reached for comment.
Jew could find himself hopping back and forth between courtrooms. On September 28, jury selection proceedings are expected to begin in the Districty Attorney's criminal case against Jew.
####