- NOW in FOG CITY JOURNAL -
NOTE: For subscribers who cannot read HTML-embedded text, click here
The Interstate 280 park and apartments
If you lived here, you'd be(cough) home by now!
By Daniela Kirshenbaum and Kepa Askenasy
Photos by Kepa Askenasy
November 6, 2006
What a deal on all-new housing - right in San Francisco! Warning: you'll be glad San Francisco General Hospital is just minutes away…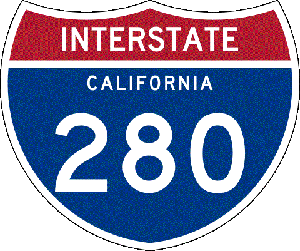 C'mon down to Mission Bay! Affordable units and market-rate condos are now under construction! You won't believe the landscaping, the sports courts, and especially the freeway access - the 4th Street and 6th Street off-ramps will be within a mere few feet from your front door. With that deadly combination of features, you'll be glad San Francisco General Hospital is just minutes away.
Full story, click here
####
Court Jester rides cable car to stars
November 5, 2006
By h. Brown

"Hmmm, gang bangers for Black?"
(Jens observes crack in universe)
We were standing on the corner of 16th and Mission waiting for Krissy Keefer's cable car coach, all loaded with Taiko drums and goodies galore for our 3-hour cruise around sun-drenched San Francisco.
I doubted it possible to top our last ride when we'd crawled around a crowd of 300,000 Halloween revelers, drank fine wine and watched Keefer's well-drilled Dance Brigade chorus drip sweat on Market street surrounded by glaring cops. Now, that was some ride.
But, that was 72 hours before and then is then and now was, as they say, now. My thoughts darted back to that last ride as I lit a cheap cigar and took a nip. Yeah, that was some night. The coolest and sexiest people, most in costume, wandered salaciously around the coach. Vampires and call girls and what looked like one of the Amish brethren
Full story, click here
####
Department of Justice to monitor San Francisco vote
By Elizabeth Daley, Bay City News Service
November 5, 2006
SAN FRANCISCO (BCN) - U.S. Department of Justice officials will be on hand to monitor Election Day proceedings Tuesday in San Francisco for complaints of election fraud and voting rights abuses, U.S. Attorney Kevin Ryan announced.
Assistant U.S. Attorney Michael Li-Ming Wang will be in charge of overseeing Northern California's district elections, according to Ryan.
"Election fraud and voting rights abuses dilute the worth of votes honestly cast,'' Ryan said. "These abuses also corrupt the essence of our representative form of government.
Full story, click here
####
Court Jester looks at foot patrols and Newsom veto
November 4, 2006
By h. Brown
"You call this 'riding roughshod' over the cops?"
or
"Where's Officer Krupke when you need him?"
You know what the most dangerous weapon a good cop carried when I was a kid? It was a silver whistle, attached to a silver chain over his heart. If you ever heard that whistle in the neighborhood where I grew up, everyone came running. Because Murphy was in trouble. And, Murphy (his actual name, and he walked our beat from the time I was born until I went away to the Navy at 18 in '62) ... Murphy was our friend. Murphy was like Leonard Bernstein's, Officer Krupke except Murphy was real.
Full story, click here
####
Newsom foot patrol veto stuns San Francisco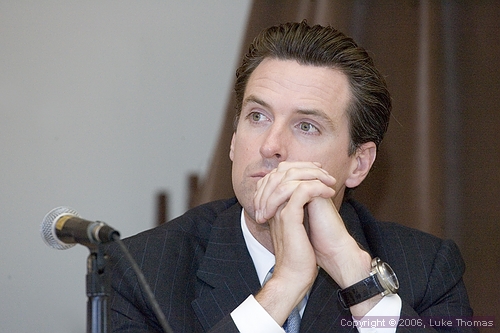 Mayor Gavin Newsom.
File photo: Anti-Gang Summit, 10/23/6.
Photo(s) by Luke Thomas
By Brent Begin, Bay City News Service
November 3, 2006
SAN FRANCISCO (BCN) - Mayor Gavin Newsom stunned San Francisco with a late Friday announcement of his veto of legislation that would have mandated police foot patrols in neighborhoods most impacted by violent crime, calling the plan a move by politicians to set public safety policy.
Full story, click here
####
Letters, letters, letters
Pelosi and San Francisco values
I'm voting No on Prop H
The best solution for the environment is to starve the war machine
Outraged at Newsom's latest folly
Letters, click here
####
Bay Area Weather Forecast

Latest satellite photo courtesy NOAA Satellite Service

Latest radar image courtesy NOAA Satellite Service

Weather, click here
####