- NOW in FOG CITY JOURNAL -
NOTE: For subscribers who cannot read HTML-formatted text, click here
---
Hey, '49ers: Hasta la Vista!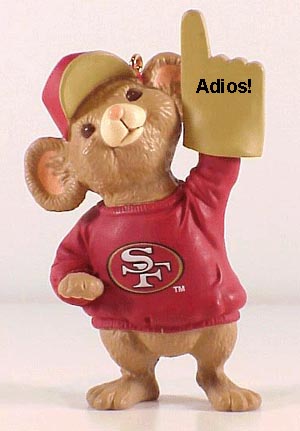 November 9, 2006
Pro sports fans - and detractors - we're not alone! Don't feel bad because one of our teams is in the luggage-packing stage. Pro Sports Angst is everywhere.
We first felt it when the Giants were going to move. Then, the Oakland Raiders were the Los Angeles Raiders, and then the Oakland Raiders again.
Illegal voting practices in select neighborhoods were going to ensure a retail-sports complex at Candlestick. One of our very own precious investigative reporters is threatened with jail after exposing the steroidal baseball players scandal.
Full story, click here
---
VIDEOS OF THE WEEK
The 'infamous' Sarah Daly "F**K YOU!" speech
Chris Daly Victory speech: Saving the Soul of San Francisco
Full story, click here
---
49ers detail plan to move to Santa Clara
By Jason Bennert, Bay City News Service
November 10, 2006
SANTA CLARA (BCN) - San Francisco 49ers co-owner John York said Thursday that infrastructure problems associated with Candlestick Point in San Francisco proved insurmountable and prompted the team to look south at Santa Clara as the site for a new stadium.
The 49ers announced late Wednesday that they are shifting the focus of their site search to Santa Clara, where the team headquarters is located. The team has had discussions this week with Santa Clara officials and with the company that operates the Great America amusement park about building a new stadium on the site of the current amusement park parking lot.
Full story, click here
---
Newsom shocked at likelyhood of 49ers departure
Officials debate legal challenges
By Brent Begin, Bay City News Service
November 10, 2006
SAN FRANCISCO (BCN) - San Francisco Mayor Gavin Newsom expressed his shock Thursday over news that chances of keeping the 49ers in the city are slimmer than completing a Hail Mary pass.
But Newsom also said any plans for team co-owner John York to move the stadium to the city of Santa Clara, significantly hurting the city's 2016 Olympics bid, would meet resistance.
Full story, click here
---
Pilot SFO cargo screening program to expand
to Seattle-Tacoma International Airport

X-ray machines are used to scan passenger luggage at San Francisco International airport. Air cargo, however, is presently not adequately tested for explosives.
A new pilot program, funded by Homeland Security dollars, will help reduce the risk
of undetected explosive laden cargo boarding passenger aircraft.
Photo(s) by Luke Thomas
By Brigid Gaffikin, Bay City News Service
November 10, 2006
A $30 million air cargo-screening pilot program that began operation at San Francisco International Airport in June is set to expand to Seattle's Seattle-Tacoma International Airport, according to the U.S. Department of Homeland Security.
Full story, click here
---
Letters
Sarah's Speech
The "Famous" Sarah Low Daly
Chinese government's "one dog" policy is cruel
Letters, click here
---
Bay Area Weather Forecast

Latest satellite photo courtesy NOAA Satellite Service

Latest radar image courtesy NOAA Satellite Service

Weather, click here
---