- NOW in FOG CITY JOURNAL -
NOTE: For subscribers who cannot read HTML-formatted text, click here
---
Overheard in Fog City
By Luke Thomas
November 27, 2006
- Ma wields gavel as honorary Board President
- Newsom said to be badmouthing Dufty over foot patrol support
- Brown outs anonymous posters
- Fog City Photo of the Week
Full story, click here
---
William and Flora Hewlett Foundation announces
$25 million for Bay Area arts funding
By Emmett Berg, Bay City News Service

November 27, 2006
The William and Flora Hewlett Foundation announced recently the award of $25 million in grants to local performing arts institutions, an increase of about $10 million over grants awarded last year.
2007 marks the 40th year of arts grants by the leading Bay Area philanthropists. The grants are designed to help support new work and arts educational efforts.
Full story, click here
---
Thousands served hearty San Francisco Thanksgiving dinner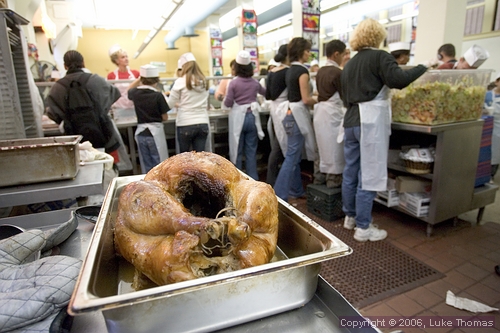 A bronzed Thanksgiving turkey, still sizzling from an oven roasting, awaits a good gobbling from thousands of low-income and homeless San Franciscans in the dining halls
of Glide Memorial United Methodist Church.
Photo(s) by Luke Thomas

By Elizabeth Daley, Bay City News Service

November 23, 2006
SAN FRANCISCO (BCN) - A line has already started to form outside the St. Anthony Dinning Hall at 45 Jones St. as families, seniors and the disabled prepare to 'get their eat on' this Thanksgiving Day.
St. Anthony spokeswoman Lisa O'Neill says the dinning hall is prepared to serve 4,800 pounds of turkey, 250 gallons of juice and 1,250 pounds of yams and mashed potatoes to 3,500 hungry San Franciscans.
Full story, click here
---
Letters
"Moral Responsibility" and Josh Wolf
Fong should stay
Letters, click here

---
Bay Area Weather Forecast

Current satellite photo courtesy NOAA Satellite Service

Current radar image courtesy NOAA Satellite Service

Weather, click here
---