San Francisco Department of Elections reported Monday candidate John Rizzo has surpassed fellow contender Johnnie Carter for the remaining open third seat on the Community College Board.
Rizzo now leads Carter with 292 votes separating the two candidates.
GOOD MORNING, SOMA!
With Jim Meko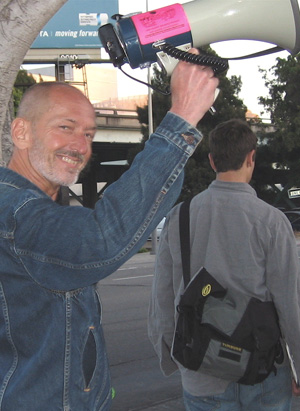 Jim Meko
My HumBug Holiday Meditation
By Jim Meko
November 27, 2006
Thank God that campaign is over.
Class warfare, mayoral meddling, lying local media, hate mail, cynicism, manipulation, scapegoats, polarization, dilettantes run amuck.
Reelected Supervisor Chris Daly, wife Sarah and young Jack Henry are safely ensconsed back East, celebrating Thanksgiving with family ... Jack and Gloria and the Republican relatives. An awesome family. Take some time to heal.
Full story, click here
---
The Metadata Skirmish
By Joe Lynn
November 27, 2006
I'm an old bureaucrat. I was the office manager at the Ethics Commission for over five years and watched first hand how frustrating document disclosure requests can be on bureaucrats. I remember having a major project in production, only to be asked to put it on hold in order to respond to a Sunshine request.
Even though I knew responding to Sunshine requests were part of my duties under the Ordinance, having to set aside my "real" work was frustrating. Many bureaucrats add to this the fear that the disclosure of documents may lead some to question their competency making mischief for them. So it's natural that bureaucrats will be hostile to the Ordinance. To cap things off, we don't educate our civil service about the advantages that come with transparent government business practices. Unable to see the benefits, the drawbacks of transparency are magnified.
Full story, click here
---
Eyewitness testifies in Harris murder trial
By Brent Begin, Bay City News Service

November 28, 2006
SAN FRANCISCO (BCN) - An eyewitness and the first arriving officer both testified Monday for the prosecution in the murder trial of LaShuan Harris, who is accused of willfully throwing her three children in the San Francisco Bay.
Yashpal Singh said he was at the end of San Francisco's Pier 7 when Harris, 24, undressed her 6-year-old son, grabbed him by one foot and a leg, and then swung him over a railing into the chilly current below.
Full story, click here
---
Court allows protections for patients transporting medicinal marijuana
By Julia Cheever, Bay City News Service

November 28, 2006
SAN FRANCISCO (BCN) - The California Supreme Court ruled Monday that legal protections for patients who transport medical marijuana apply retroactively to cases that were underway by 2003.
The ruling, issued in San Francisco, concerns a 2003 state law that clarified California's medical marijuana law, which was passed by state voters in 1996 as the Compassionate Use Act.
Full story, click here
---
Bush signs Animal Terrorism Act into law
By Elizabeth Daley, Bay City News Service

November 28, 2006
Sen. Dianne Feinstein announced Monday President Bush signed into law the Animal Enterprise Terrorism Act, a bill that can potentially criminalize interference with an "animal enterprise," including interference with commercial and academic institutions that may use animals for testing or research.
According to Feinstein's office, universities and research facilities such as the University of California San Francisco campus have been targeted by animal activist groups, causing them to spend more than $2.5 million dollars to increase security at their research facilities.
Full story, click here
---