- NOW in FOG CITY JOURNAL -
NOTE: For subscribers who cannot read HTML-formatted text, click here

---
Hill convicted of 2nd degree murder
with special circumstances
Life without parole sentence sought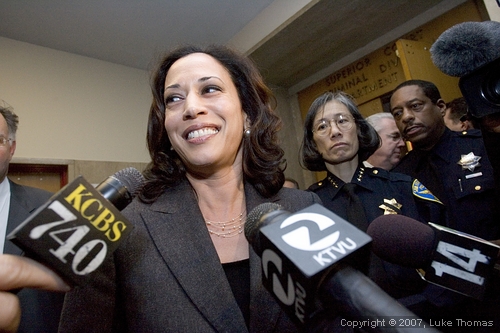 District Attorney Kamala Harris celebrates a jury verdict in the murder trial of David Hill who was convicted today of 2nd degree murder with special circumstances, for the killing of SFPD Officer Isaac Espinoza. The special circumstances enhancement carries with it a sentencing provision of life without the possibility of parole.
Photo(s) by Luke Thomas
By Brent Begin, Bay City News Service

January 4, 2007
SAN FRANCISCO (BCN) - After the initial shock of a lesser conviction for the murder of Isaac Espinoza came down today from a jury, many were relieved to learn that special circumstances could result in life in prison without parole for David Hill, according to the San Francisco district attorney's office.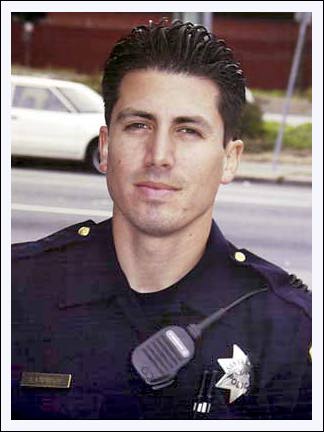 SFPD Officer Isaac Espinoza was killed in the line of duty
when he was shot and killed by David Hill on April 10, 2004.
Photo courtesy SFPD
A Superior Court jury of seven women and five men convicted Hill, 23, of second-degree murder with the special circumstances that he knew he was shooting at a police officer on the evening of April 10, 2004.
Full story, click here
---
Feds jail elderly medical cannabis caregiver
SFPD inspector said to be assisting federal prosecutions
in contravention of City sanctuary status

Stephanie Landa, 60, hugs her son, Max, outside San Francisco's federal building Thursday before turning herself into federal authorities to begin a 41-month prison sentence for cultivating medical cannabis.
Photo(s) by Luke Thomas
By Luke Thomas
January 5, 2007
SAN FRANCISCO - An elderly woman began a 41-month jail sentence in federal prison yesterday after turning herself in to federal authorities.
Stephanie Landa, 60 and a mother, began her sentence at noon following an 11:00 a.m press conference outside the San Francisco federal building.
Full story, click here
---
And in other news...
---
Bay Area Weather Forecast

Current satellite photo courtesy NOAA Satellite Service

Current radar image courtesy NOAA Satellite Service

Weather, click here
---
More Fog City Journal stories, click here.