- NOW in FOG CITY JOURNAL -
NOTE: For subscribers who cannot read HTML-formatted text, click here

---
Overheard in Fog City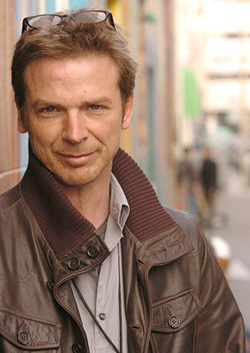 Luke Thomas, Fog City Journal publisher.
Photo by Adam Aufdencamp
By Luke Thomas
February 23, 2007
- Leno makes it officially official - Drum roll please!
- Mayoral candidates champing at the bit, update
- The convenience of confidentiality and the abuse of a good program
All the nitty gritty, click here.
---
The six million dollar mayor:
Why the 2007 mayor's race will be so different
(Part 5 of a 5 part series)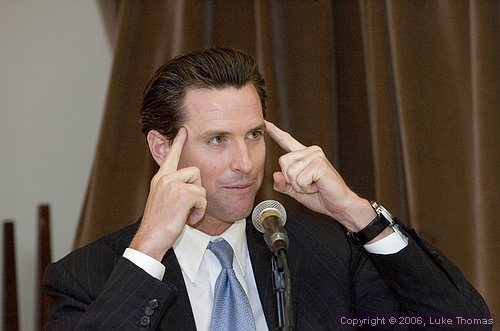 Mayor Gavin Newsom
Photo(s) by Luke Thomas
By Joe Lynn
February 23, 2007
Editor's Note: Part 5 of a 5 part series by elections and ethics expert Joe Lynn. Lynn explains that scandals aren't all that will reduce Mayor Gavin Newsom's campaign fundraising

Well-heeled interests still spend campaign money in San Francisco with no effective check from the Ethics Commission. However, the public now has an unfettered opportunity to demonstrate - again - its distaste for big money in politics.
My analysis suggests that the mayor, due to new laws and fallouts from the scandal, will not be able to raise as much money as he did in 2003, but there are still entities willing and able to spend on independent expenditures as well as on pet ballot measures such as Care Not Cash and Aggressive Panhandling.
Full story, click here.
---
San Francisco 2007 murder count: 19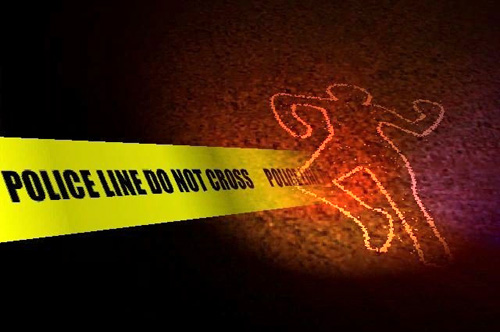 Illustration courtesty KSAX-TV
By Brigid Gaffikin and Brent Begin, Bay City News Service

February 23, 2007
SAN FRANCISCO (BCN) - With 19 murders in San Francisco this year, the city has seen more than twice as many homicides as the same time last year, Sgt. Steve Mannina said.
In addition, the 2007 murder count is significantly higher that of the same period in 2005. At this time in 2006 there had been nine murders and at the same time in 2005, 12 murders, Mannina said.
Full story, click here.
---
Lieber introduces revised spanking bill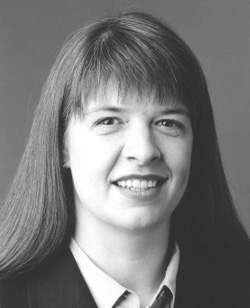 Assembly Speaker pro Tempore Sally Lieber
By Jeremy Lipps, Bay City News Service

February 23, 2007
SACRAMENTO (BCN) - When it comes to disciplining California children, an open hand is in but belts and switches are out, according to a bill introduced Thursday by Democratic San Jose area Assemblywoman Sally Lieber.
Assembly bill 755, designed specifically to protect children from overzealous discipline methods, rules out some traditional forms of discipline like the use of a switch or a belt.
Full story, click here.
---
THE SPEAKER AND THE MAYOR:
Pelosi gives an assist to Newsom
at a "Global Warming" discussion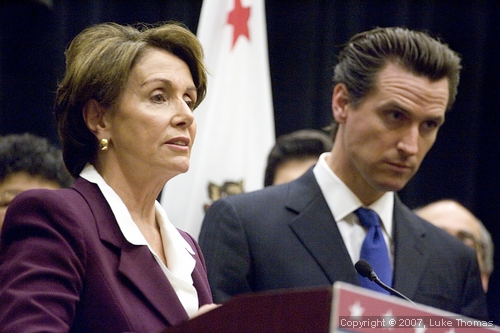 Speaker Nancy Pelosi and Mayor Gavin Newsom
Photo(s) by Luke Thomas

February 21, 2007
Congresswoman Nancy Pelosi breezed into town Wednesday, and her most public foray was to stand with Mayor Gavin Newsom at a podium at a Moscone Center ballroom. Banners, adorned with stars and stripes, read "A New Direction for America."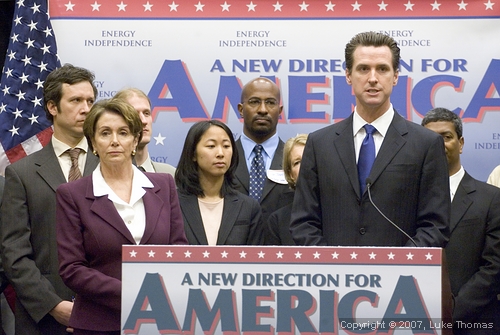 A new direction for America
Full story, click here.
---
And in other news...
- Defendant appears in burning murder of homeless woman
- San Francisco Police evaluating flood of gun violence
---
Letters, letters, letters...
- All About Power
---
Bay Area Weather Forecast

Current satellite photo courtesy NOAA Satellite Service

Weather, click here
---
More Fog City Journal stories, click here.