- NOW in FOG CITY JOURNAL -
NOTE: For subscribers who cannot read HTML-formatted text, click here

---
San Francisco resolution calls on Congress
to secure immediate withdrawal
of U.S. troops from Iraq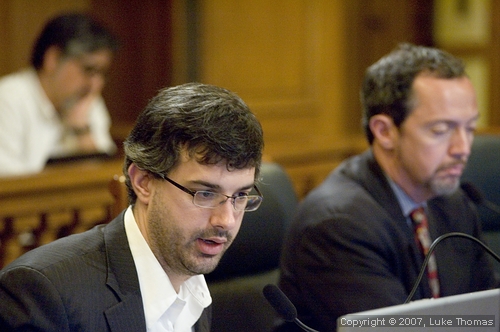 A resolution calling on the immediate withdrawal of U.S. troops from Iraq was heard today in a special meeting of the Budget and Finance Committee. The resolution was authored by Supervisor Chris Daly (left) and co-sponsored by Supervisors Bevan Dufty (right),
Tom Ammiano and Ross Mirkarimi.
Photo(s) by Luke Thomas
By Luke Thomas

March 12, 2007
A resolution calling on Congress to exercise its constitutional authority to revoke the United States' commitment of military forces in Iraq, and to set in motion the immediate withdrawal of U.S. troops from Iraq, was heard in a special meeting of the City of San Francisco Budget and Finance Committee today.
Authored by Supervisor Chris Daly and co-sponsored by Supervisors Tom Ammiano, Bevan Dufty and Ross Mirkarimi, the largely symbolic resolution calls on Congress to "discontinue funding for ongoing military operations" and requests Congress to hold the Bush administration to account for its "total failure in Iraq."
Full story, click here.
---
Family of jogger killed in hit-and-run calls for answers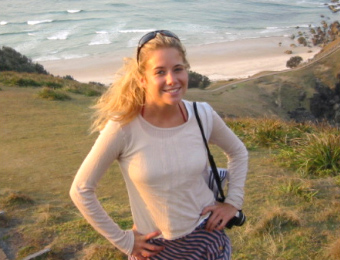 Photo courtesy AshlynDyer.com
By Brent Begin, Bay City News Service

March 13, 2007
SAN FRANCISCO (BCN) - One year after 27-year-old jogger Ashlyn Dyer was killed by a hit and-run driver in San Francisco's Presidio, friends and family continue to suffer their loss and search for the driver responsible.
On the side of a narrow two-lane road where Dyer was killed, mourners left bouquets of lilies, tulips and other bright flowers, along with several orange ribbons, representing her favorite color.
Her father, Bruce Dyer, read a statement in front of the memorial, pleading for new information in the yearlong investigation.
Full story, click here.
---
Supervisors expected to pass Parrot protection law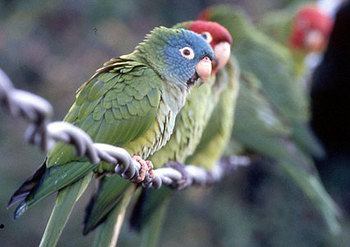 Photo courtesy TakmonaGardner.com
By Tamara Barak, Bay City News Service

March 13, 2007
SAN FRANCISCO (BCN) - The San Francisco Board of Supervisors today is expected to pass legislation protecting the habitat of the famed parrots of Telegraph Hill.
The legislation, proposed by Supervisor Bevan Dufty, was passed 9-1 on its first reading last week, said Boe Hayward, a legislative aide to Dufty.
The birds, longtime local celebrities, gained international fame in Judy Irving's 2003 documentary "The Wild Parrots of Telegraph Hill." The film chronicles the flock's friendship with formerly homeless musician Mark Bittner.
For a list of non-filers, click here.
---
FCJ Quote of the Day

"Every generation of political leaders is confronted by a major and often different challenge. Climate change is a bit of a different type of challenge but a challenge I believe is the biggest long-term threat facing our world."
- Prime Minister Tony Blair, 3/13/7

---
Bay Area Weather Forecast

Current satellite photo courtesy NOAA Satellite Service

Weather, click here
---
More Fog City Journal stories, click here.