- NOW in FOG CITY JOURNAL -
NOTE: For subscribers who cannot read HTML-formatted text, click here

---
Federal agents raid Sunset District meth lab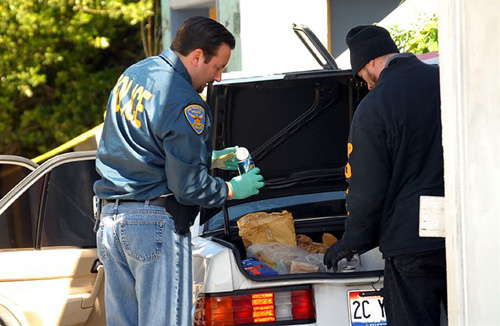 Federal drug enforcement agents examine evidence found at the scene of a methamphetamine lab bust earlier today in the conservative Sunset Distrct
of San Francisco.
Photos by Mark Grissom, Special to Fog City Journal
By Brent Begin, Bay City News Service

March 15, 2007
SAN FRANCISCO (BCN) - Federal drug enforcement agents are still cleansing a home of toxic agents in San Francisco's Sunset district following a raid this morning on a small methamphetamine lab.
According to Drug Enforcement Administration spokeswoman Casey McEnry, the raid began around 9 a.m. in the 1500 block of 45th Avenue.
Full story, click here.
---
Man shot in the back
during Richmond District robbery
By Matt Wynkoop, Bay City News Service

March 16, 2007
SAN FRANCISCO (BCN) - Police report that a man in his 20s is in serious but stable condition at San Francisco General Hospital this morning after he was shot during an attempted robbery in the Richmond District.
According to a San Francisco police operations officer, two armed male suspects attempted to rob the man, who was walking near the intersection of Sixth Avenue and Balboa Street, at around 1:15 a.m. today.
Full story, click here.
---
Permanent injunction issued
against 22 alleged Oakdale Mob gang members
By Julia Cheever, Bay City News Service

March 15, 2007
SAN FRANCISCO (BCN) - A preliminary injunction restricting the activities of 22 alleged gang members in a four-block area of San Francisco was converted to a permanent injunction in Superior Court today.
No one appeared before San Francisco Superior Court Commissioner Susan Kaplan this morning to contest the indefinite continuation of a preliminary injunction issued in November against members of the so-called Oakdale Mob.
Full Story, click here.
---
Group claims rat poison
is killing Golden Gate Park wildlife
By Brent Begin, Bay City News Service

March 16, 2007
SAN FRANCISCO (BCN) - A San Francisco wildlife rehabilitation group plans to release a red-shouldered hawk into the wild this morning following a six-week recovery from what they believe is the secondhand ingestion of rat poison.
The hawk was lucky to survive, according to Jamie Ray with the Rescued Orphan Mammal Program (ROMP), who claims that two hawks and a fox have been found dead near rodent bait boxes in Golden Gate Park's botanical garden.
Full Story, click here.
---
COURT JESTERINGS
With h brown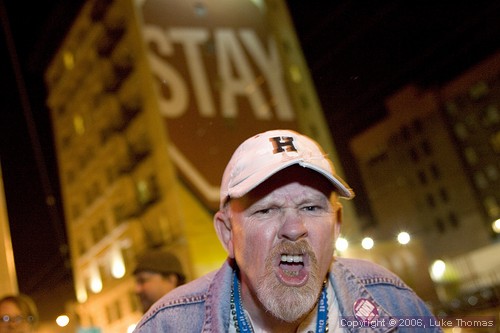 Photo(s) by Luke Thomas
Court Jester reviews Rules Committee hearing
March 16, 2007
"OK. We'll find out later what this is really about."
(Ammiano prefaces vote for Peskin ordinance)
The whole crowd laughed because they were all thinking the same thing: Board prez Aaron Peskin shimmied through another ordinance yesterday that more than doubles the power of the Assessment Appeals Board 2, and extend jurisdiction into Chris Daly's district.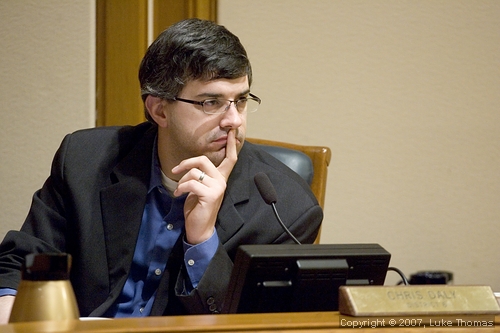 District 6 Supervisor Chris Daly
Ominously, it was Item 13.
Full Story, click here.
---
Schwarzenegger signs legislation
to move California presidential primary to February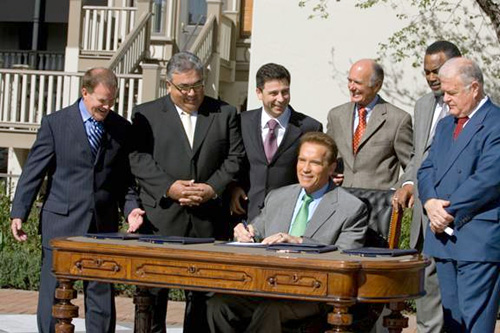 Photo courtesy Office of Governor Arnold Schwarzenegger
From the Office of Governor Arnold Schwarzenegger

March 15, 2007
Governor Arnold Schwarzenegger today signed SB 113 authored by Senator Ron Calderon (D- Montebello) at the Leland Stanford Mansion, which was visited during the first-ever trip by a sitting U.S. President - Rutherford B. Hayes - to California, in 1880. This bill will move California's presidential primary to February, from its current June date.
Full Story, click here.
---
And in other news...
- San Francisco Ethics Commission grossly underfunded by design?
- Regents approve CSU student fee hikes
- Baker's Dozen singer files civil suit against assault suspects
- Asian American Bar Association calls attention to need for bench diversity
- Raich loses medical marijuana appeal
- EVENT: Stop Funding the War!
---
FCJ Quote of the Day

"My name and identity were carelessly and recklessly abused by senior officials in the White House and State Department. I could no longer perform the work for which I had been highly trained."
- Valerie Plame, 3/16/7

---
Bay Area Weather Forecast

Current satellite photo courtesy NOAA Satellite Service

Weather, click here
---
More Fog City Journal stories, click here.