- NOW in FOG CITY JOURNAL -
NOTE: For subscribers who cannot read HTML-formatted text, click here

---
Norouz: San Francisco celebrates Persian New Year
Sal-e no mobarak!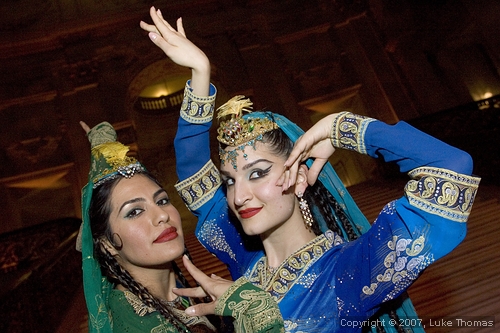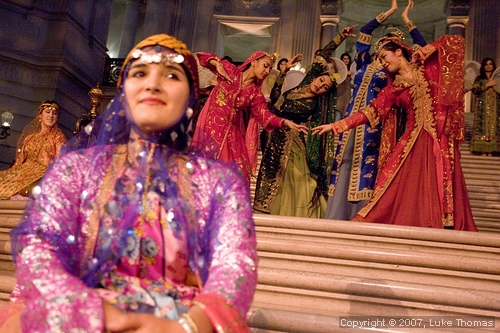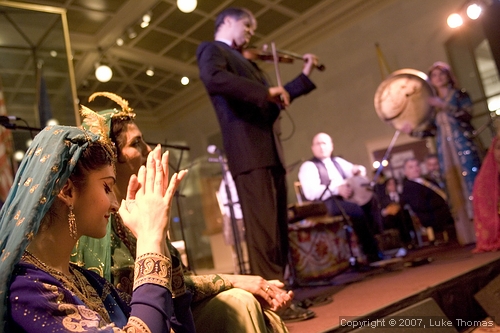 San Francisco City Hall was transformed Friday as several hundred Bay Area Iranian-Americans came to celebrate the Persian New Year, Norouz (year 1386). The event lineup included performances by Ballet Asfaneh, Ostad Nejad of the Nejad World Music Center, Nejad Daf Ensemble, Seemorgh Choral Ensemble, and Bazem Music Ensemble.
Photo(s) by Luke Thomas

March 25, 2007
SAN FRANCISCO - Several hundred well dressed Bay Area Iranian-Americans attended the 2nd annual celebration of the Persian New Year, Friday, matching the equally well-adorned rotunda of San Francisco City Hall.
Full story, click here.
---
COURT JESTERINGS
With h brown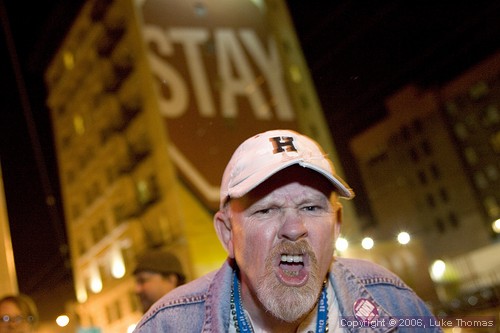 Photo(s) by Luke Thomas
Court Jester reviews Chronicle's chronic fear
of blogosphere
March 25, 2007
Chronicle Death Watch goes 24/7
(barefoot bloggers overrun food critics)
"David Lazarus makes too much money."
(Hearst stockholder)
Wall Street likes blogger model
("What's not to like?")
They work for free. They don't need a parking space. They don't mind sleeping on the floor, or the humiliation of peeing in the sink of a Tenderloin SRO. They don't need high priced editors. They rarely have the funds to use soap or toothpaste, and they rarely sleep. Best of all, they work for free. Did I already mention that?
Full story, click here.
---
San Francisco prosecutors file hate crime charges
in triple murder case
By Brent Begin, Bay City News Service

March 23, 2007
SAN FRANCISCO (BCN) - The San Francisco district attorney's office has added hate crime allegations to a triple-murder case involving a white defendant and three Asian victims.
Joseph Melcher, 25, is accused of killing two people on Oct. 21, one inside a Japantown bar and another outside near Peace Plaza in Japantown.
Full Story, click here.
---
Winners announced
in annual press photography awards
Bay City News Service

March 25, 2007
The San Francisco Bay Area Press Photographers Association presented awards this evening to the winners of its 33th Annual Newspaper and Television News Photography Competition at an awards ceremony in Oakland's Jack London Square.
About 150 news photographers as well as photojournalism students in the greater San Francisco Bay Area from every major newspaper, wire service and television station entered the competition for their photography in 2006.
Full Story, click here.
---
And in other news...
- Oracle sues rival SAP over alleged document theft

- Bottled water controversy on World Water Day
---
FCJ Quotes of the Day


"I believe the agreement reached between Sinn Fein and the DUP - including the unequivocal commitment made by their party executive and reiterated today - to the restoration of political institutions on 8 May marks the beginning of a new era of politics on this island."
-Gerry Adams, Sinn Fein Party, 3/26/7


"After a long and difficult time in our province, I believe that enormous opportunities lie ahead for our province. We must not allow our justified loathing of the horrors and tragedies of the past to become a barrier to creating a better and more stable future for our children."
- Ian Paisley, Democratic Unionist Party, 3/26/7
---
Letters, letters, letters
- Bay Area Press Photographer Awards
- Giant token move for Gavin and PG&E risks real solar policy
Letters, click here.

---
Bay Area Weather Forecast

Current satellite photo courtesy NOAA Satellite Service

Weather, click here
---
More Fog City Journal stories, click here.