- NOW in FOG CITY JOURNAL -
NOTE: For subscribers who cannot read HTML-formatted text, click here.
---
High court affirms constitutionality
of California stem cell research program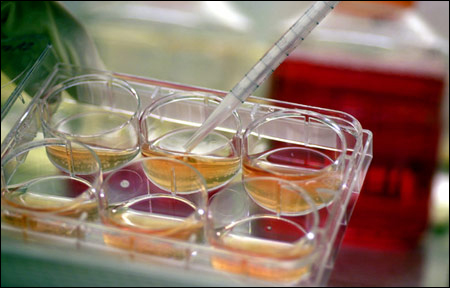 Photo courtesy Harvard University Gazette
By Julia Cheever

May 17, 2007
The California Supreme Court yesterday affirmed the constitutionality of the state's $3 billion voter-approved stem cell research program.
The court, in an order issued at its San Francisco headquarters, refused to take up several groups' appeals of a lower court ruling that upheld the program.
The action means the decision by the Court of Appeal in February is the final state court ruling in the case and that the $3 billion in bonds approved by voters for a 10-year period can now be issued.
Full story, click here.
---
Report claims rampant abuse at homeless shelters
By Tamara Barak

May 16, 2007
Homeless advocates in San Francisco today released a report claiming rampant abuse in city-funded shelters.
The report, called Shelter Shock, was put out by the Coalition on Homelessness organization. It is the result of interviews with 215 shelter residents documenting human rights abuses, said organizing director Jennifer Friedenbach.
According to the survey, 55 percent of respondents said they have experienced some form of abuse while staying at a San Francisco homeless shelter. Verbal abuse was most common, with 44 percent citing it as something they had endured. However, 14 percent said they were victims of physical violence, and 4 percent claimed to have experienced sexual abuse in a city shelter.
Full story, click here.
---
Treasure Island fire guts warehouse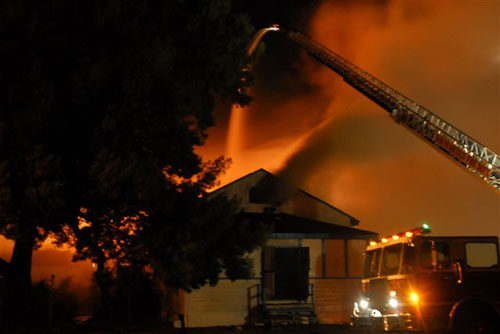 Fire crews battle a three-alarm fire at an abandoned warehouse on Treasure Island.
Photos by Mark Grissom, special to Fog City Journal
By Caitlin Cassady

May 17, 2007
A three-alarm fire in a Treasure Island warehouse was contained around 1 a.m., San Francisco Fire Lt. Ken Smith said this morning.
Fire crews battled the flames for around an hour and 40 minutes, according to Smith, and 130 fire personnel were at the warehouse to help fight the fire. The one-story wood-framed building is located at the intersection of Avenue H and Fifth Avenue.
Full story, click here.
---
Police Commission prepares for historic leadership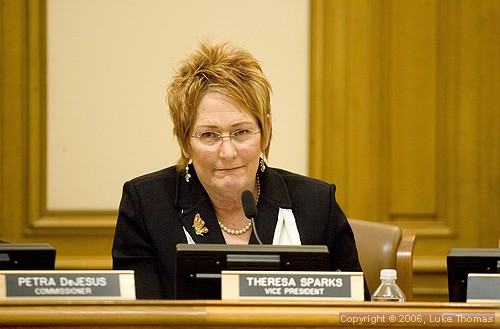 Reformist Theresa Sparks made history May 9 when she was elevated by a 4-3 vote to head the San Francsico's Police Commission. Sparks' elevation marks the first time in U.S. history a transgendered woman will head a big city police commission.
Photo(s) by Luke Thomas
By Tamara Barak

May 17, 2007
As they heard routine reports and cleaned up language in taxi regulations at tonight's meeting, the San Francisco Police Commission showed little hint that it was about to embark on an historic journey.
On June 6, Commissioner Theresa Sparks will take over as president of the civilian oversight body - making her the first transgendered woman to head a city commission in San Francisco.
Sparks, a reformer who is working for more transparency in police matters, was elected 4-3 at the May 9 commission meeting. Sitting President Louise Renne promptly resigned following the vote.
Full story, click here.
---
Fog City I-Team takes on right-wing radio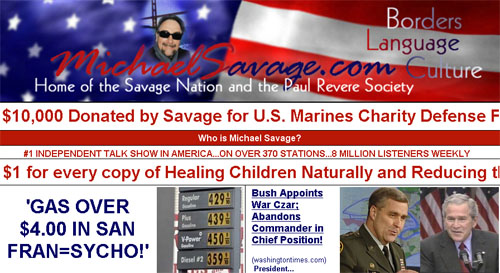 May 17, 2007
Today at 5:30 p.m, Fog City Journal I-Team bloodhound Kepa Askenasy will be interviewed about FCJ's investigation into how Pelosi and other political figures use their public office to personally enrich themselves using Pay-to-Play land grab schemes.
To view the latest Pay-to-Play chart, click here.
If you would like to call in and voice your opinions on the matter, the call-in number is
(800) 449-8255.
---
And in other news...
- Bay to Breakers race offers costumes, contest and more
---
Bay Area Weather Forecast

Current satellite photo courtesy NOAA Satellite Service

Weather, click here
---
More Fog City Journal stories, click here.