- NOW in FOG CITY JOURNAL -
NOTE: For subscribers who cannot read HTML-formatted text, click here.
---
Gonzalez: Keeping the mayor's race door wide open

Former San Francisco Board of Supervisors President Matt Gonzalez.
Photo(s) by Luke Thomas
By Luke Thomas

May 29, 2007
By all accounts, former Board President Matt Gonzalez is still in the running for the 2007 mayor's race. In a recently prepared interview, published in Beyond Chron, Gonzalez does little to lessen his opponents' fear who view Gonzalez' candidacy as the greatest threat to unseating incumbent Mayor Gavin Newsom in November.
What the article clearly says is that Gonzalez is just not ready to be nominated as a candidate at the upcoming June 2nd Progressive Convention.
Full story, click here.
---
The CrackBerry Chronicles
With Elaine Santore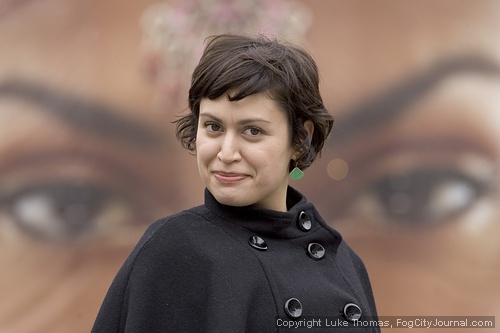 Photo(s) by Luke Thomas
May 29, 2007
- 29th Annual Harvey Milk Club Dinner
- Han Shin Already Forgotten
- CrackBerry Blind Item
All the fun nitty gritty, click here.
---
And in other news...
- San Francisco medical examiner to determine cause of Pittsburg man's death
- Single-engine plane crashes in Napa County after engine failure
- Authorities identify man killed at a Marin County beach
- One dead, two critically injured during Oakland crash
- Two dead after early Monday Palo Alto crash
- Memorial Day weekend drunk driving offenses increased
- Students to dissect 27 crime scenes at second annual Forensic Challenge
- Transit expert to speak at Wednesday public forum in Oakland
News briefs, click here.
---
Letters, letters, letters...
- Is Gavin in bed with PG&E?
Letters, click here.

---
Events
- San Francisco Progressive Convention
Events, click here.
---
Bay Area Weather Forecast

Current satellite photo courtesy NOAA Satellite Service

Weather, click here
---
More Fog City Journal stories, click here.