The CrackBerry Chronicles
With Elaine Santore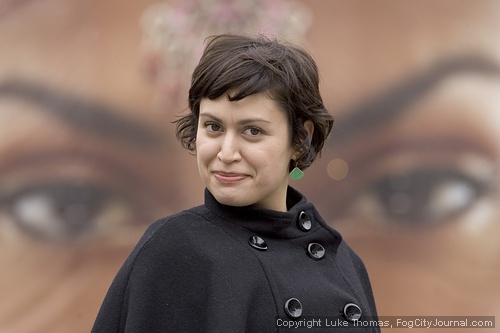 Photo(s) by Luke Thomas
May 29, 2007
29th Annual Harvey Milk Club Dinner
San Francisco's progressive glitterati attended the Harvey Milk Club Annual Dinner Thursday at the Hotel Whitcomb. However, the highlight of my evening came during my encounter with two-year-old celebrity baby Jack Daly. Jack didn't seem to like me too much, until he decided I resembled a cast member from Pirates of the Carribean: At World's End. Maybe I shouldn't have worn so much black eyeliner. The hapa moment was complete when Jack serenaded me with the movie's theme song.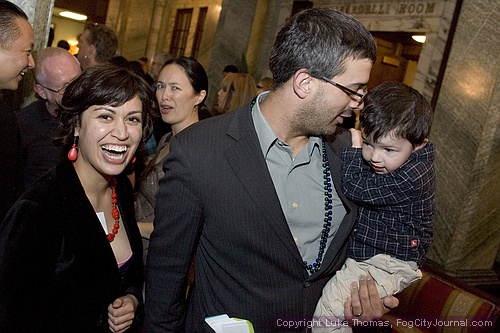 Unfortunately for Jack, Elaine left her pirate outfit at home.
Jack's dad, District 6 Supervisor Chris Daly, was honored with the Bill Kraus HIV/AIDS Award. Presenter Angie Fa said Daly's contributions to the Milk Club on issues such as affordable housing for those living with HIV/AIDS continued in Kraus' legacy of activism and leadership. When Daly took the podium, young Jack showed he was indeed his father's son by saying, "Thanks for your support."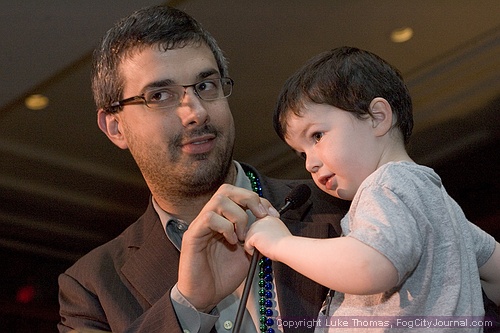 Prince Jack: already pushing Dad out of the spotlight.

Chris Daly to wife Sarah Low: "Our kid is so much cuter than TomKat's."
The Dalys were accompanied by SFUsualSuspect Alex Clemens
and Supervisor Ross "Kafkaesque" Mirkarimi.
After Daly's speech, keynote speaker and presidential candidate Senator Mike Gravel took to the podium. Gravel received national attention for releasing the Pentagon Papers in 1971 while he served as Senator of Alaska. On the Iraq War, Gravel said he would make sure the troops were home by Christmas, and that he's running for president because, "Nobody's ending the war, and I will."
However, I was left to grovel through Sen. Gravel's lengthy speech. The only applause came when Gravel said, "And in closing…" But he didn't close!

Sorry Sen. Gravel, but we don't vote boring. This isn't American Idol.
Somebody should have alerted Sen. Gravel that Queer Cultural Activist Award winners, The Desperate Divas, were waiting anxiously to take to the stage before everybody's buzz wore off. The Desperate Divas dazzled the audience with a fitting tribute to the Summer of Love.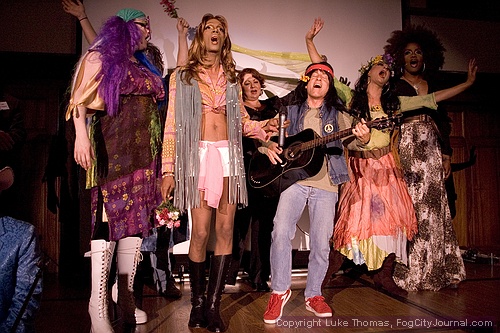 "They're better known for their outfits."
A random gay, on the Desperate Divas' singing ability.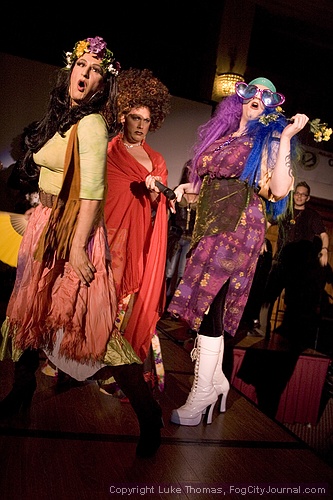 Love the white Britney boots.
Throughout the night, I kept looking at the opposite end of the room to see if Beyond Chron's Paul Hogarth and the Bay Guardian's Steven T. Jones had exchanged words, in lieu of their recent blog war. I love a blog war as much as the next chick (as long as it's not staged), but I hate to see two all-American progs not getting along. So I sent my plus-one over to their tables to arrange a peace-making photo-op.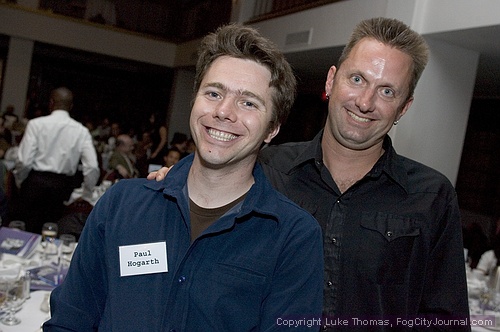 Gentlemen advoscribes Paul Hogarth and Steven Jones bury the hatchet.
Next up for Luke Thomas: Peace in the Middle East. It can happen, y'all!
As Jones said afterwards, "Life's too short." And there is joy once again in Blogville.
District 3 State Senator Carole Migden took to the podium. "This is the closest I've ever come to a model catwalk, and I can tell ya, it's been a helluva stroll." Migden thanked the audience for all the support after news broke of last week's car accident, and her ten-year battle with leukemia. She described going public with her health condition as a "second coming out."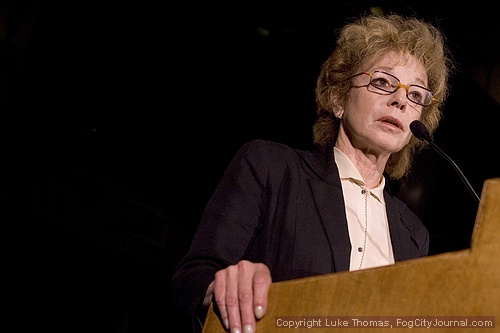 State Senator Carole Migden
Migden emphasized the importance of keeping San Franciscans in the city where they grew up, work, and raise their children. She also spoke passionately about the protecting her constituents from "the threat of Arnold-ism," referring to Governor Arnold Schwarzenegger's regressive policies.
Newly elevated Police Commission President Theresa Sparks was in attendance, and Fog City asked if she would be honored at the dinner. Shortly thereafter, Assemblymember Mark Leno recognized Sparks' history-making appointment in his speech. Leno also mentioned he invited Sparks to Sacramento to be honored as his Woman of the Year.

Police Commission President Theresa Sparks.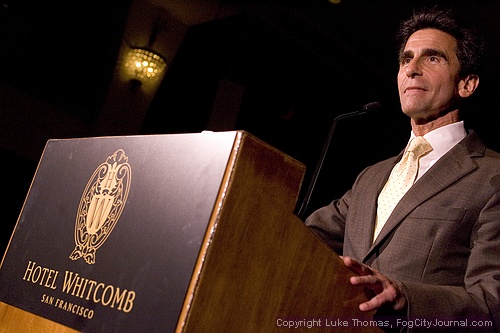 California District 13 Assemblymember, Mark Leno.
Leno will be challenging Migden for her Senate Seat this November, and the room was clearly divided between Leno and Migden supporters. However, the well-documented Migden-Leno feud didn't interfere with anybody's good time. The event was a testament to the vitality of San Francisco's progressive community.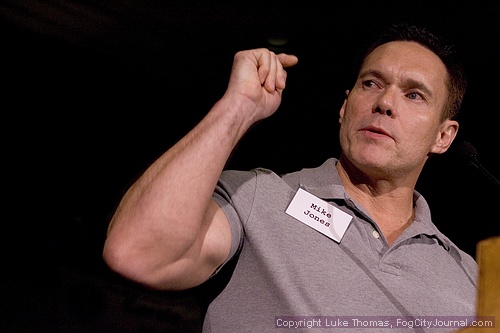 Harry Britt Lifetime Achievement Award winner, Mike Jones. The former male escort
and masseuse made national news after revealing the hypocrisy
of religious leader Ted Haggard.

Harry Britt and Carole Migden.
Noticeably absent: Supervisors Tom Ammiano and Bevan Dufty (aka "Buffy").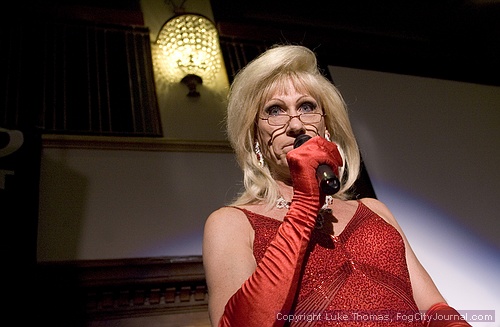 Mistressa of Ceremonies Donna Sachet.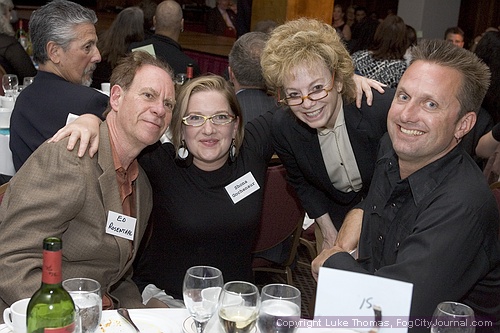 Ed Rosenthal, Cannabis Caucus Chair Shona Gochenaur, Carole Migden,
and Steve Jones.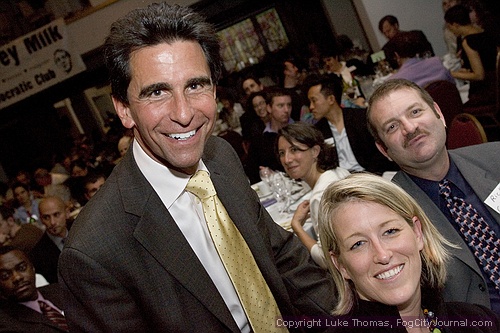 Mark Leno, Alix Rosenthal and Rick Galbreath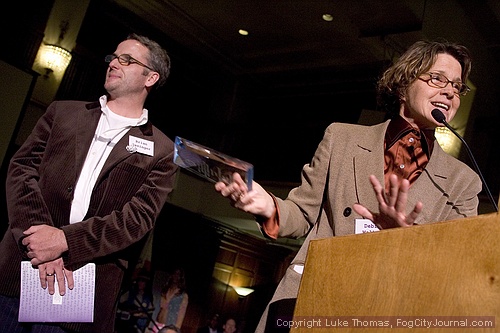 Harvey Milk Club President Brian Basinger,
and Tenant/Housing Caucus Chair Debra Walker.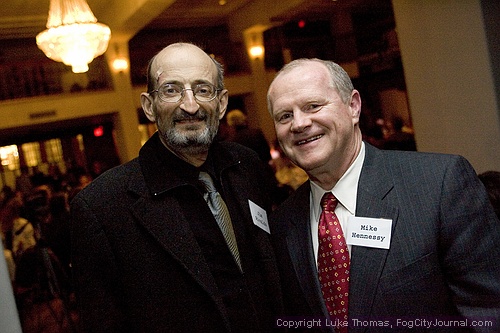 Hennessey Campaign Maestro Jim Rivaldo with Sheriff Michael Hennessey.
Han Shin Already Forgotten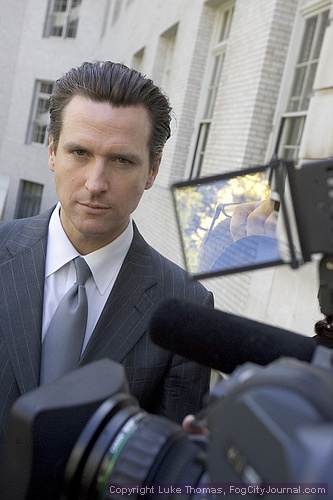 Gavin Newsom is NOT afraid of the streets.
Mayor Gavin Newsom chatted with Fog City Editor, Luke Thomas, on Friday while giving a tour of prospective locations for the Community Justice Courts. With the recorder rolling, Newsom recounted to Thomas a violent incident he experienced while he was walking in the Tenderloin..
Gavin Newsom: "Once a week, I'll walk through it by myself … A lot of people congregate around me and ask me for help. And two guys started getting in a fight, 'cause I was talking to one person. The other guy said, 'Stop talking to the Mayor, I'm gonna talk to him.' And then they kind of shoved each other. One guy turned around, walked away, and I thought, 'All right, fine, looks good.' He came back, pulls out a knife, he comes right back…"
Luke Thomas: "No way!"
Gavin Newsom: "…then attacks the guy. And everyone tackled him. Immediately, everyone scurried away … It was a very real, raw experience, but its one that - a knife fight out on the streets - happens all too often. But it wasn't scary for me. I hardly felt unsafe. I was more worried about the guy that was being attacked. And more worried, frankly, when I came back to the office and talked to security, about his safety that night. 'Cause the guy was threatening him, 'I'm gonna find you at night!'… I kid you not, I couldn't feel more safe because everyone around me was taking care of me. 'Hey man, that's the Mayor! Don't mess with the Mayor'!"
Luke Thomas: "They were willing to take a bullet for you?"
Gavin Newsom: "Truly, because a lot of guys were there who wanted help, and others had gotten help, and said 'Hey man, hey Mayor, what's goin' on, man, good to see ya. Remember me? Remember me?' And all that. It's been a very comfortable place for me because, again, I spend a good amount of time down there."
Luke Thomas: "What was more scary, that incident or Han Shin?"
Gavin Newsom: (Laughs) :That's actually more serious. (Laughs) Trust me, that is more serious. I haven't thought about him in a while."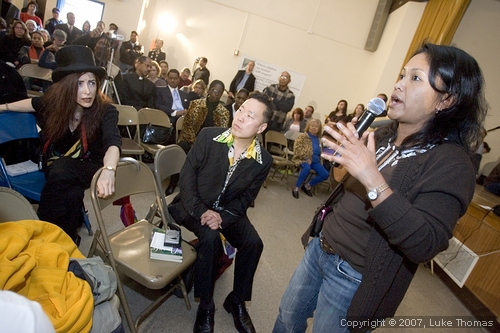 We haven't forgotten about you, Han Shin!
(Shin seated center, sans purple gloves, at the Bayview town hall meeting in February.) Chin up!
CrackBerry Blind Item
Which über indecisive politico got so heated over a campaign leak that he commissioned one of his Kool-Aiders to mediate with the offending publication?
Somebody not on Kool-Aid needs to tell playboy to step out of his youniverse for a second before he loses it in front of everyone, and ends the race before it's begun.
####