Overheard in Fog City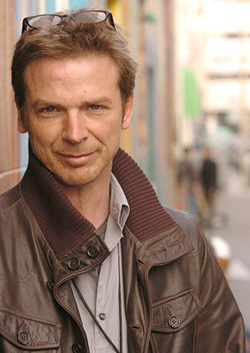 Luke Thomas
FCJ Publisher and Editor-in-Chief
Photo by Adam Aufdencamp
By Luke Thomas
August 15, 2007, 11:32 a.m.
Is Supervisor Ed Jew a hypocrite?
Supervisor Ed Jew, who yesterday cast the loan dissenting vote effectively killing a Supervisor Gerardo Sandoval authored resolution condemning Michael Savage for his racist hate speech, voted in favor of a similar resolution in February condemning racist hate speech from AsianWeek columnist Kenneth Eng.
Not only did Jew vote in favor of the AsianWeek resolution, but he was also a co-sponsor.
The February resolution condemned AsianWeek and Eng for, "the inappropriate and damaging column explicitly encouraging racial discrimination in AsianWeek's February 23, 2006 issue titled, 'Why I hate blacks', January 12, 2007 issue titled 'Why I hate Asians', and November 24, 2006 issue titled "Proof that Whites Inherently Hate Us."
Savage's vitriolic diatribes are no less inappropriate and irresponsible than Eng's verbal diarrhea. Jew, a Chinese-Amercian, recognized Eng's speech for what it was in February, but yesterday turned his back on Latino-Americans.
Now, we all believe the first amendment is a right we all should cherish and uphold, but racist hate speech in the order and magnitude of the type of filth spewed forth by Eng and Savage, is not only unacceptable, it is downright irresponsible and should be condemned by all free-speech-loving Americans, including Jew.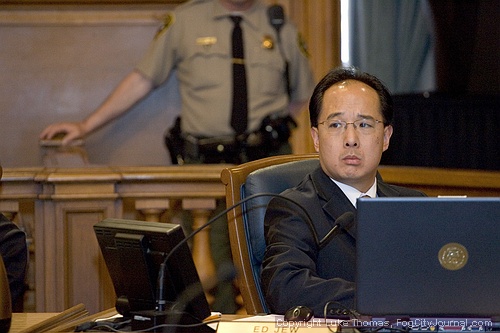 Supervisor Ed Jew
Newsom speaks favorably about Supervisor Chris Daly
Mayor Gavin Newsom was Michael Krasny's guest on KQED's Forum radio show this morning. According to a source, Newsom spoke some favorable words about Supervisor Chris Daly.
Could it be that Newsom and Daly are finally taking the high road, rising above their differences in the interest of serving their constituents on issues they both agree?
The glass is most certainly half-full if you're an optimist.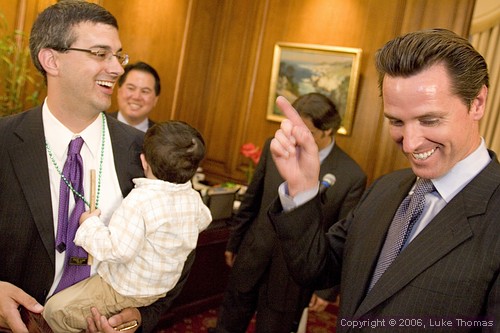 Supervisor Chris Daly and Mayor Gavin Newsom

####