Ethics Commission outlines steps
in Newsom bid to oust Jew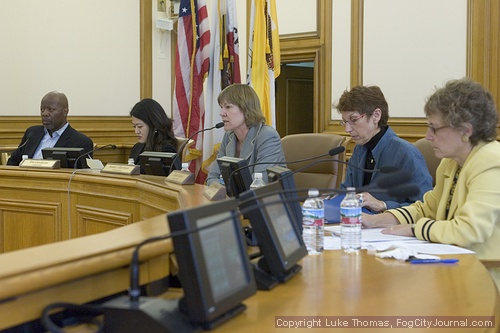 The San Francisco Ethics Commission convenved a special meeting today to consider legal procedures in Mayor Gavin Newsom's bid to oust suspended Supervisor Ed Jew.
Photos by Luke Thomas
By Julia Cheever
October 19, 2007
A San Francisco commission charged with considering Mayor Gavin Newsom's bid to remove embattled Supervisor Ed Jew from office took its first step today in proceeding with the case.
The city Ethics Commission voted to start out by receiving briefs on a claim by Jew's lawyer, Steven Gruel, that the ethics probe should be dismissed because it is allegedly unfair and duplicates other proceedings against the supervisor.
"I feel an obligation to preserve Supervisor Jew's rights," Gruel told the five members of commission during a City Hall meeting. Newsom filed misconduct charges against Jew with the commission on Sept. 25 and suspended him from office until the case is resolved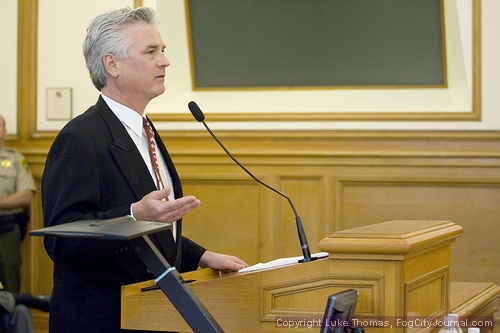 Attorney Steven Gruel
The mayor contends Jew should be ousted because he allegedly lived in Burlingame rather than San Francisco before and after he was elected to represent the city's Sunset District last November.
Jew, 47, the owner of a Chinatown flower shop, has said that while he spent time in Burlingame, he intended a house on 28th Avenue in San Francisco to be his primary residence.
The removal proceeding is one of four cases currently pending against Jew.
The others are a forthcoming civil lawsuit by City Attorney Dennis Herrera, also seeking Jew's removal from office; state criminal charges of lying about his residence; and a federal criminal charge of mail fraud related to alleged extortion.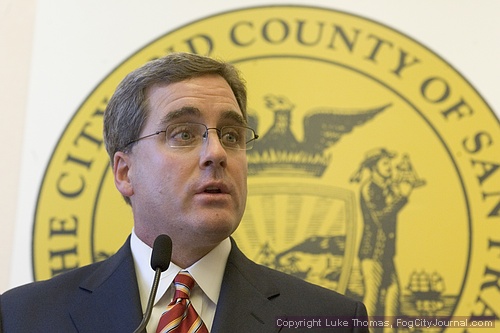 San Francisco City Attorney Dennis Herrera
The misconduct case is governed by the city charter, which provides that the Ethics Commission must hold a hearing on the mayor's request and make a recommendation to the Board of Supervisors. The board will then vote on whether to expel Jew, which can be done only by agreement of nine of 11 supervisors.
But because Jew's case is the first time the commission has considered removal of an elected official since it was established by city voters in 1993, procedures are somewhat unclear.
"There is very little precedent," commission chairperson Susan Harriman said at the start of the hour-long meeting.

Ethics Commission Chair Susan Harriman
The commission ordered lawyers for Jew and the mayor to file briefs at various dates next month on the motion for dismissal of proceedings.
The commissioners decided the next steps after that will be another round of briefs on procedures to be followed and then a third set of briefs and a hearing on the substance of the mayor's charge that Jew didn't live in San Francisco.
Procedural questions include which side has the burden of proof and how evidence should be gathered.
Deputy City Attorney Linda Ross, representing Newsom, proposed to the commission that evidence gathering in the misconduct proceeding and in Herrera's forthcoming civil lawsuit should be combined.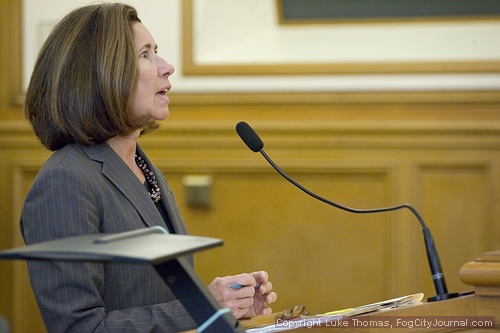 Deputy City Attorney Linda Ross
But Gruel said he will oppose that. He told commissioners that mixing the administrative proceeding with a court case "appears to be a violation of separation of powers."
Future commission hearing dates and briefing deadlines will be set after the first round of briefs is completed. Jew did not attend the commission meeting this afternoon.
After the meeting, city attorney spokesman Matt Dorsey disputed Gruel's claim that the commission probe should be dismissed. He said, "The city charter contemplates this procedure."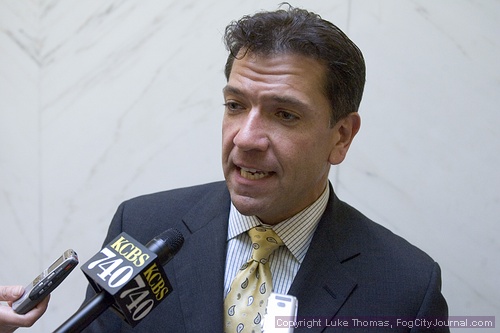 City Attorney spokesperson Matt Dorsey
There were also developments today in each of the three other proceedings against Jew.
In the state criminal case, Jew appeared in San Francisco Superior Court this morning with his new defense attorney, Stuart Hanlon, and was ordered to return on Nov. 5 for setting of a trial date.
Jew faces nine state felony counts of perjury, election code violations, voter fraud and providing false documents related to his residence.
Also this morning, Herrera announced he will go ahead with the civil lawsuit seeking Jew's ouster and said he will do so "as expeditiously as possible." The city attorney received permission from California Attorney General Jerry Brown on Thursday to file the suit.
Finally, in the federal criminal case, prosecution and defense attorneys filed a stipulation today agreeing to delay Jew's next appearance in U.S. District Court in San Francisco from Oct. 24 to Nov. 7.
The hearing will be either a preliminary hearing on a federal criminal complaint or an arraignment on an indictment if one is issued by then.
Jew is federally accused of mail fraud in connection with an alleged scheme to extort a $80,000 bribe from tapioca drink store operators seeking city permits.
The stipulation said the delay is needed to provide more time for defense preparation "in light of the multiple legal proceedings" against Jew and also for discussion of a possible "pre-indictment resolution."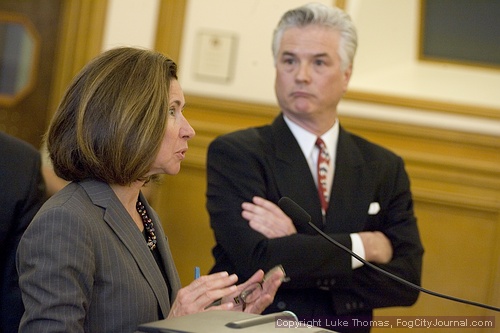 Copyright © 2007 by Bay City News, Inc. -- Republication, Rebroadcast or any other Reuse without the express written consent of Bay City News, Inc. is prohibited.
####