Supervisor Ed Jew rejects plea deal
requiring his resignation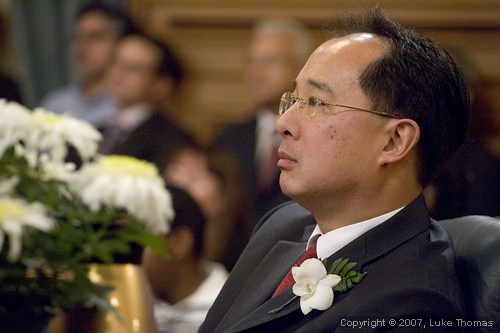 A defiant Supervisor Jew has rejected a plea deal from prosecutors
that calls for his resignation from office.
Photo(s) by Luke Thomas
By Ananda Shorey
September 12, 2007
San Francisco Supervisor Ed Jew is rejecting an offer from prosecutors to settle their case against him that would have made him plead guilty to felony charges, pay a fine, not run for office for 10 years and resign from the Board of Supervisors, his lawyer said this morning.
The deal was offered during a pretrial conference Monday, Jew's attorney Bill Fazio said.
"Ed is basically feeling the biggest consequence he has with going to trial is losing his position," Fazio said. "He faces possible jail time, but the bigger concern is losing his position at the Board of Supervisors."
Jew was arraigned Aug. 20 in San Francisco Superior Court after a judge ruled during a preliminary hearing that the evidence against him was serious enough to stand trial on felony charges.
Prosecutors say Jew falsely claimed residency in San Francisco and lied on official documents leading up to his successful bid for a seat on the San Francisco Board of Supervisors in 2006.
If the San Francisco District Attorney's Office is willing to review their position, Fazio said he is willing to talk.
"The ball is kind of in their court now," Fazio said. Jew had until 5 p.m. today to accept the offer, said Bilen Mesfin, spokeswoman for District Attorney Kamala Harris. Jew's trial is set to begin Sept. 28.
Copyright © 2007 by Bay City News, Inc. -- Republication, Rebroadcast or any other Reuse without the express written consent of Bay City News, Inc. is prohibited.
####