2007, The Struggle Continues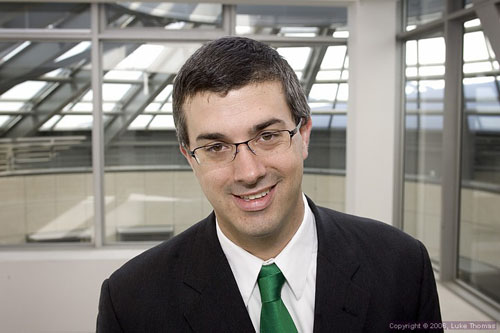 District 6 Supervisor Chris Daly
Photo(s) by Luke Thomas
By Chris Daly, special to Fog City Journal
December 31, 2007
With the close of the year upon us, I figured it was time for The Daly Blog to join the "year in review" fray. As sequel to last year's progressive blockbuster, 2007 probably never could have lived up to the hype. With political hits fast and furious, it was still a banner year for our office's legislation and a solid year overall for progressives at City Hall. And looking ahead, progressives appear to be in the driver's seat going into the 2008 Battle for the Board.
The struggle continues.
Progressive Sizzle, Not Fizzle
It's no secret that Mayor's races necessarily dominate the political landscape in election years and that progressives didn't field a major challenge this year. Our political opponents tried to take advantage of this by declaring the demise of progressive politics in San Francisco. Even progressive commentator Randy Shaw of Beyond Chron parroted the downtown line in his own year in review earlier this month.
It is true that I made a significant effort this year to lay the groundwork for a progressive campaign for Mayor. I never hid the fact that the Progressive Convention was timed to allow a challenger to enter the race early enough to mount a serious run for the seat. My wife, after being lobbied by many Daly for Mayor enthusiasts and increasingly fearful of another Daly campaign, decided to take matters into her own hands and recruited Julian Davis to help her organize and lead the chants of "Run, Ross, Run," as Ross took the stage.
Though the Convention did not draw a big-name challenger into the Mayor's race, it did bring together 15 progressive elected officials, including a majority of both the Board of Supervisors and School Board, and helped set the agenda for future political races and progressives at City Hall.
Progressives share a principled critique of the personality-driven politics practiced by our opponents. We elevate the issues important to everyday people above our own political advancement and personal self-interest. We are right to do so. My decision not to run was one of the most difficult decisions that I've ever made. I will probably always harbor doubt about whether it was the right political decision. There is no question, however, that it was the right decision for my family and for me personally.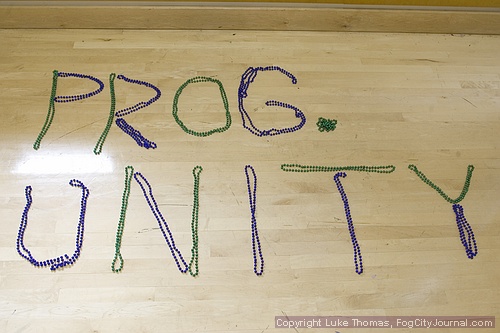 Moving Our Agenda Under the Dome
Not having a big-name challenger didn't stop a slew of major legislative victories at the Board. At year's end, the most prolific progressive legislators -- Aaron Peskin, Jake McGoldrick, Ross Mirkarimi, and myself -- passed 93 ordinances. Tom Ammiano and Gerardo Sandoval added another 19. Meanwhile the rest of the Board could only muster 35 between the 6 of them (including Carmen Chu), despite their direct access to the Administration and City resources.
Of course, these numbers don't speak to the quality or significance of legislative victories. In the more subjective category of substantive policies, I count 15 for progressives and 2 for moderates with Bevan Dufty moving a supplemental appropriation for the Juvenile Probation Department and spearheading a new planning effort for AIDS/HIV services.
- Jake McGoldrick shepherded Healthy Saturdays in Golden Gate Park.
- Peskin gets final credit for the City budget and MUNI Charter reform.
- Sandoval completed a property transfer that delivered $850,000 for affordable housing and authored an appropriation for $5 million for first-time homebuyers.
- Ammiano moved municipal ID cards and Community Choice Aggregation along with Ross Mirkarimi.
- Ross also extended his foot patrol legislation and consolidated the City's workforce development programs.
With Rachel Redondiez and John Avalos doing yeomen's work in our office, we completed the Development Agreement for Trinity Plaza, appropriated over a million dollars for the Geneva Avenue Car Barn and greening projects on Alemany Boulevard, authorized the opening of Mint Plaza, appropriated over $28 million for affordable housing, sent $100,000 for hurricane relief to the coast of Nicaragua, and passed a series of significant campaign reforms.
Our office's significant legislative victories cast a giant shadow on the Chronicle's commemoration of my sudden political fall. It's probably no surprise that none of these legislative accomplishments picked up much Chronicle ink. They blacked out that paid sick days was named as one of the nation's ten best public policies of 2007. (It was #2.) They even buried news of the landmark agreement for development at Trinity Plaza on page B-5!
Unsung Heroine -- Paterna Guintos
That's ok though. The victory at Trinity Plaza was one of those that words could never do justice anyway. I deeply felt this when another of Trinity's unsung heroes passed away two weeks ago.
Shortly after the Trinity victory, Rachel Redondiez and I wrote about some of Trinity's heroes, including Paterna Guintos who had lost her husband, Timoteo, just months earlier. Over the course of the 4-year struggle to save Trinity, Mrs. Guintos would do double duty taking care of her ailing husband and attending countless tenant and City Hall meetings and actions. Mrs. Guintos also fought for equity for her husband and other Filipino World War II veterans, as well as for healthcare and senior services. The bitterness of the victory at Trinity for Mrs. Guintos wasn't limited to the loss of her husband. She also ultimately lost her home at Trinity as she could no longer make the rent with her check alone.
While we were able to keep her in her housing a couple of extra months, Mrs. Guintos moved out of Trinity this summer. Through all of this, she kept up her advocacy and commitment to her neighbors and community. Paterna Guintos passed away this month, but her fighting spirit and "walk with a purpose" will be passed on to a future generation of activists. I will remember Mrs. Guintos's belief in me as a defender of those in need -- one even more resolute than my own belief in myself.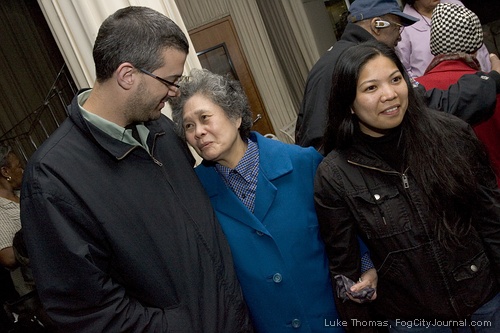 Paterna Guintos (center), RIP, at an April victory party for the tenants of Trinity Plaza.
It Gets Even Better
Progressives are poised for a very strong 2008. The Affordable Housing Charter Amendment is likely to move to the November 2008 ballot. Affordable housing is one of the defining issues for progressives. Along with protecting rent control, building affordable housing is necessary to deliver our progressive vision for San Francisco -- one that truly embraces and protects the diversity of our City. It's also a vision and an issue that is embraced by an overwhelming majority of San Franciscans while being opposed by some of our political foes. This means that it is not just a winner on the ballot, it also serves to differentiate progressives from downtown's moderates. This is going to be important in November of 2008 as the Battle for the Board is on.
The Battle for the Board
The cast of district-based, progressive candidates running for Supervisor next year is especially strong. In 2008 we have the opportunity to bring new progressive ideas, energy and activism to the Board. Some of our brightest stars have already started building their campaign operations in districts across the City. I previously blogged about Eric Quezada in District 9, and Eric Mar, David Chiu, and John Avalos join him as especially strong, district-based progressive candidates.
With the package of campaign reforms that have taken effect, many of our opponents' dirty tricks are neutralized. Independent expenditure committees are required to report their expenditures for mass mailings. Push polls are regulated, and paid signature gatherers need to wear badges identifying them as such. Most importantly, significant improvements have been made to the public financing program for Supervisor.
Participants in the program will now have access to $87,500 in public funds with $52,500 in matching contributions from San Francisco residents. If other candidates and/or independent expenditure committees bust the expenditure ceiling of $140,000 in the race, candidates can continue to access an equal amount of public financing for each qualified dollar raised up to what the opposition spends. This provision will strongly discourage independent expenditures in Supervisor races and will likely prevent what happened in the 2006 District 6 race. As of December 31st, Eric Quezada and John Avalos have already raised the qualifying contributions to participate in this public financing program. Eric Mar is very close and David Chiu will qualify quickly when he begins his operation.
With big money neutralized, a cast of uninspiring downtown characters reminiscent of 2000, and such strong progressive candidates, don't be surprised to see another progressive sweep in the Battle for the Board. With a new progressive majority on the Board, 8 years of experience under our belts, and a lame-duck Mayor, many great things are in store!
I hope that you have a very happy New Year. I am certainly looking forward to it, as the struggle continues to make San Francisco a better place for us all.
####