The CrackBerry Chronicles
With Elaine Santore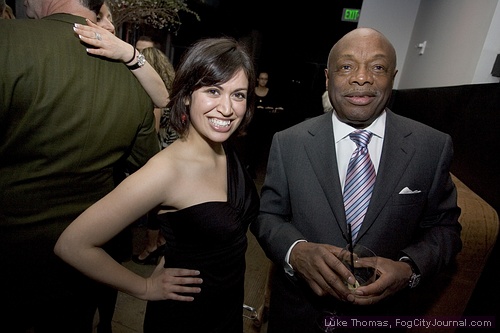 Elaine Santore with former Mayor Willie Brown on the occasion of the first anniversary celebration of Podium. Willie and Elaine have two things in common: Posing shamelessly for pictures and wearing fun hats.
Photo(s) by Luke Thomas
December 21, 2007
Podium celebrates first anniversary in high style
Fog City Journal attended a party at Vessel Tuesday hosted by one of my favorite local political WAGs and socialites, Sonya Molodetskaya. The event celebrated the first anniversary of Sonya's Marina boutique, Podium. Sonya's plus-one, former Mayor Willie Brown, looked ready for a good time.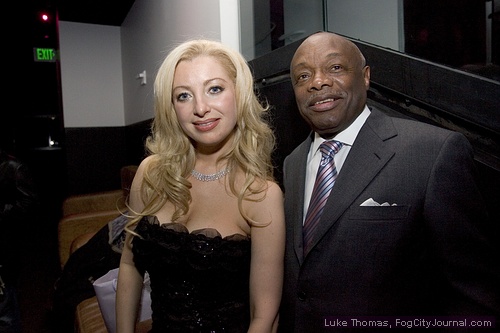 Podium owner Sonya Molodetskaya with unabashed clotheshorse Willie Brown.
The word "podium" means "runway" in Russian, and the walls of Sonya's Chestnut Street shop feature streaming video of fashion shows. Before opening Podium, Sonya worked in retail at Saks Fifth Avenue and Wilkes Bashford. She travels to New York, Los Angeles, Paris, and Moscow to select unique pieces from renowned designers.
Rose Pak, fresh from her trip to China, was ready to dish about all the drama leading up to the trip. Mayor Gavin Newsom canceled his trip last minute without notifying Pak, causing homegirl to seriously lose face in front of her peeps.
"Everybody had a relaxing time because we weren't traveling with a child," Pak quipped to FCJ editor Luke Thomas. Oh, snap!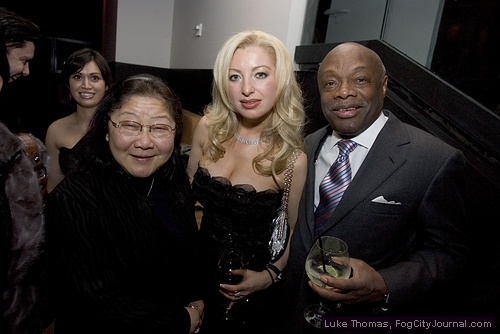 Rose Pak, Sonya Molodetskaya, and Willie Brown.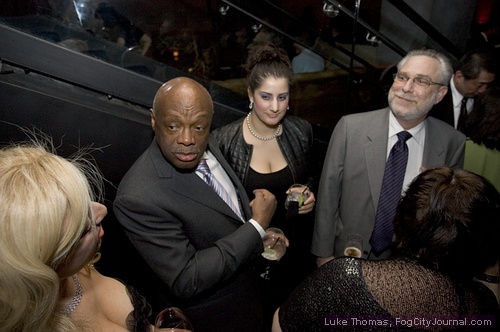 When I first arrived at the party, I caught up with my friend and fellow gossip junkie, Damion Matthews of SFLuxe. We chatted with Sonya for a bit before Damion had to leave for Global Green's Gorgeous & Green party. The work of a gossip columnist is never quite finished.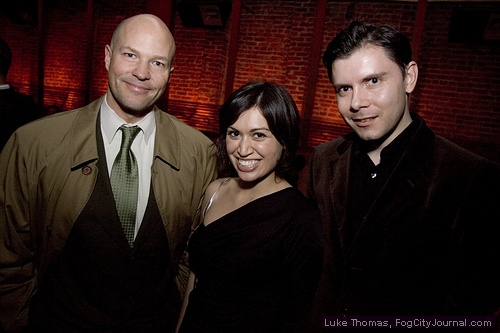 Clementina Cares' Foster Weeks, Elaine Santore and SFLuxe editor Damion Matthews.
Fog City caught up with District 3 State Senate candidate Joe Alioto-Veronese and his wife, Julie. Luke inquired whether or not Willie would be making an endorsement in the D3 race, but Willie stayed mum about the topic.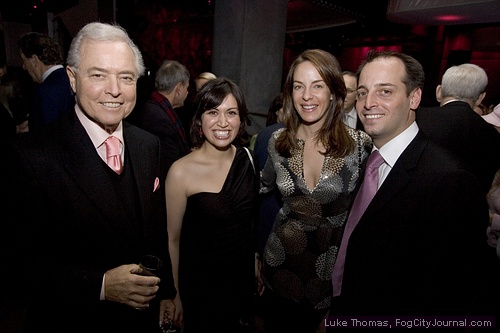 Arnold Laub, Elaine Santore, Julie Veronese and Joe Alioto-Veronese.
Luke was happy to see former Newsom chief-of-staff, Steve Kawa, at the party. Steve had the utmost praise for Luke: "He makes me look ten years younger, twenty pounds thinner, and two feet taller!" I think those slimming qualities only work on men, though.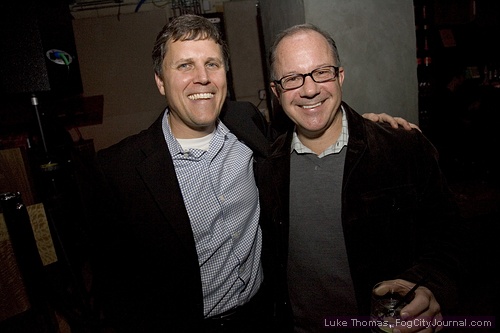 Dan Henkle and Steve Kawa.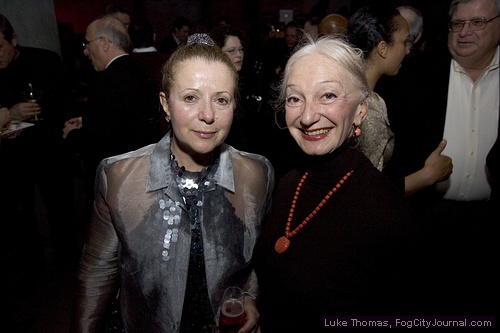 Inna Gourevitch and Galina Frid.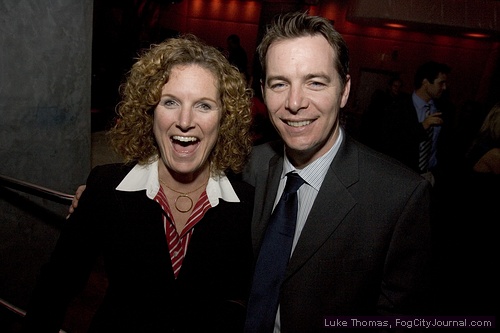 Port Director Monique Moyer with former Willie Brown press secretary P.J. Johnston.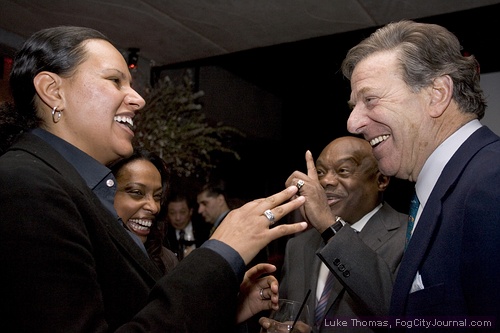 Willie Brown fans, Paul Pelosi and Heather Hiles.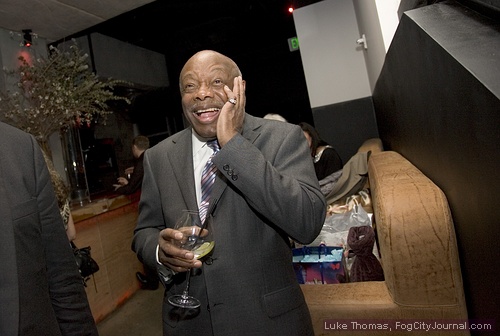 "Willie Brown . . . this is your life!"
Top 10 Playas of 2007
The definition of a playa varies from person to person, but I prefer the definition by Jamie Foxx when he appeared on Inside the Actor's Studio: "A playa is somebody who moves culture. People value their opinion."
While reflecting on all the newsmakers of 2007, most were playas, haters, or both. The people on this list were the people who made my elitist snarky self step back and say, "Wow." Disclaimer: most of the people on this list are either acquaintances or friends of mine.
My choices are by no means scientific or even objective, but I compiled a list of 10 individuals I thought demonstrated some serious game in 2007:
1. Ross Mirkarimi - the Plastic Bag Ban legislation took Ross about 15 minutes to write, but it gave him well over his allotted 15 minutes of fame. Supervisor McDreamy was everywhere this year, working 80-hour weeks, and logging up to six events a night. But all his efforts have paid off: He's beloved by his constituents and he's a shoo-in for re-election.
2. Dan Noyes - the silver fox was all over TV and Gavin Newsom this year, and I loved every minute of it. Sure, he does a little bit a lot of showboating, gets more facials than I do, and borders on the sensational, but who else is preserving the sexy on local TV in this D-list town? Phil Matier? Bitch, please!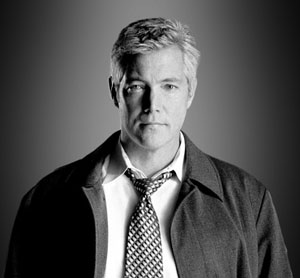 Dan Noyes sporting his new boyish look
3. Sarah Phelan of the San Francisco Bay Guardian - Sarah blew me away with her series of investigative stories on Bay View-Hunter's Point, but she killed me with her blog chronicling her son's deployment to Iraq.
4. Luke Thomas - FCJ's Editor-in-Chief continued his reign as the hardest working man in news this year, and I'm not just saying that because he's my boss. Not only did Luke consistently scoop every major publication in town, but he put up with egomaniacal contributors and fielded angry phone calls/emails from readers and politicians in response to said egomaniacal contributors, and weathered personal and professional setbacks with integrity and grace. About 99 percent of the good shit in my column is the result of Luke's sleuthing, and I don't know where San Francisco politics or I would be without him.
5. Alex Tourk - Alex emerged from this year's biggest scandal more popular than ever. Next up for Alex: Jackie Speier's congressional bid.
6. Sean Elsbernd - Sean had enough zingers, disses, and one-liners this year to rival Supervisors Tom Ammiano and Chris Daly. He called me on my shit over the summer when I said he didn't read my column, because he reads everything. And did I mention that he's got a full bar in his office? Winston Churchill would be proud..
7. Robert Solis - yes, he says a whole lot of nice stuff about me, but he continues to be an inspiration and a prolific writer.
8. Melissa Griffin - another one of my favorite local bloggers. She doesn't update her blog often enough, but her in-depth analyses is always worth the wait.
9. Aaron Peskin - his "Yes on A, No on H" victory served as the progressive's only major victory in 2007.
10. Chris Daly - nobody got hated on in 2007 more than Chris Daly. Sure, he got fired from the Budget and Finance Committee, didn't run for mayor, and the Progressive Convention didn't produce a viable candidate, but Chris' blog and controversial sound bites kept fans and haters RIVETED.


TWDY - Player's Holiday
Final thoughts
How do I summarize the most tumultuous year of my life in one column? I have no idea, so I won't. Even gossip columnists have to keep secrets sometimes.
See y'all in 2008!
XOXO,
Elaine Santore
Fog City Journal Staff Writer, HBIC
####