Mayoral candidate released
from custody following evaluation
Rebooked on felony threat of terrorism charge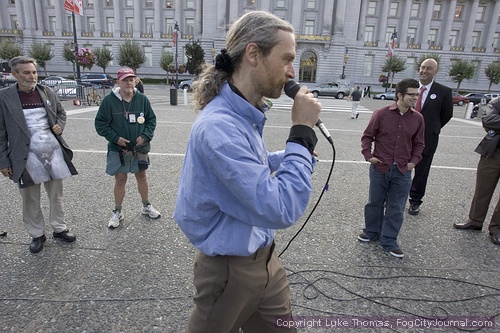 San Francisco mayoral candidate Grasshopper Alec Kaplan was released from custody earlier today following a psychiatric evaluation and agreeing with authorities to stay away from Supervisor Ed Jew.
Photo(s) by Luke Thomas
By Luke Thomas
September 12, 2007, 3:00 p.m. (Updated 3:21 p.m.)
Felony charges of stalking and threatening a state official were dropped against a San Francisco mayoral candidate today.
Grasshopper Alec Kaplan was arrested Sunday outside Supervisor Ed Jew's Sunset District residence at 2:30 a.m after Jew's wife called police following a disturbance.
Kaplan, who has spent three days in custody, was released from San Francisco General Hospital this morning following a psychiatric evaluation and agreeing with authorities to stay away from Jew.
The evaluation prevented Kaplan from appearing in court yesterday to respond to a reduced charge of two counts of misdemeanor trespassing.
"I was released after I agreed to stay away from Ed Jew," Kaplan told Fog City following his release. "I was moved from county jail to San Francisco General after I refused to eat non-vegetarian food. Now I have to go to court to explain my absence and retrieve my impounded taxi."
Kaplan, who is homeless and sleeps in his vehicle, said he has been parking his purple taxicab on the driveway of Jew's Sunset District residence because he believes Jew lives in Burlingame. On at least two occasions Jew has been home when Kaplan has arrived to spend the night. On both occasions, police were summoned.
His arrest Sunday marked the third time in one week Kaplan has been arrested. On September 5 Kaplan was arrested for trespassing after being ejected at the fourth mayoral debate. On September 6 Kaplan was arrested for blocking entrances to the Philip Burton Federal Building during an anti-war protest.
Update 3:21 p.m: Kaplan rearrested and booked on felony threat of terrorism, false imprisonment, and misdemeanor battery charges
Kaplan was rearrested at 2:00 p.m. today just hours after being released from custody. Kaplan told Fog City from jail that he has been rebooked on charges under felony threat of terrorism, felony false imprisonment and misdemeanor battery. The new charges are related to a July 26 incident involving a complaint from a woman who rode in Kaplan's taxicab between San Francisco International Airport and San Francisco.
Kaplan said he was rearrested after he went to 850 Bryant Street to retrieve the ignition key to his impounded taxicab from Lt. Daniel Mahoney.

Strawberry Fields
####