- NOW in FOG CITY JOURNAL -
NOTE: For subscribers who cannot read HTML-formatted text, click here
---
Jew wins in District 4 (4 rounds of IRV)
Daly wins in District 6 (5 rounds of IRV)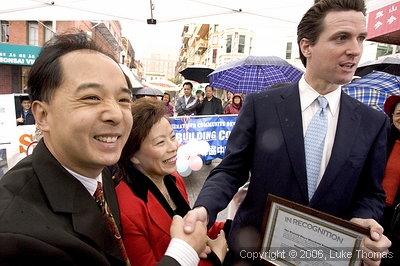 Ed Jew . File photo 2/2/6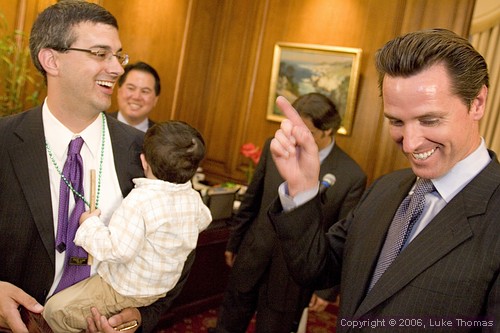 Chris Daly. File photo 7/29/6
Photo(s) by Luke Thomas
November 10, 2006, 4:20 p.m.
District 4:
Jew: 7670 (4 passes) for 52.120%
Ron Dudum: 7046
District 6:
Daly: 7484 (5 passes) for 50.221%
Black: 6248
Full story, click here
---
Daly takes five rounds to finish off Black
Ed Jew comes from behind for stirring victory

District 4 Supervisor elect Ed Jew is congratulated by Supervisor re-elect Chris Daly outside the Department of Elections this afternoon.
Photo(s) by Adam Aufdencamp
November 10, 2006, 4:30 p.m.
As luck would have it, Adam Aufdencamp (Fog City photographer) and I were walking past City Hall at just before 4pm. "Hey, they should be announcing final numbers on the supes' race about now," Adam said.
"Hell, lets go in and cover it," I responded.
Full story, click here
---
Where San Francisco will be one year from now?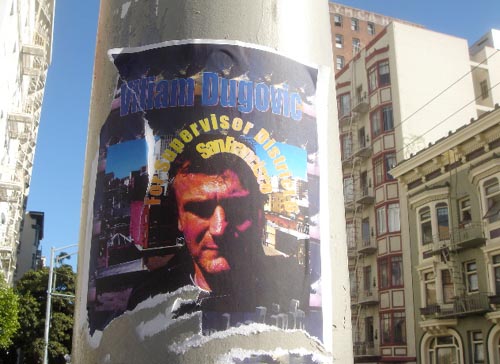 From the office of former District 6 Supervisor candidate Viliam Dugovic
November 10, 2006
I like inform you that I will be starting next monday my own blog.
I had opportunity to see very close politic process in San Francisco, and i thing we all deserve better, better information, better decision!
Full story, click here
---
COURT JESTERINGS
With h brown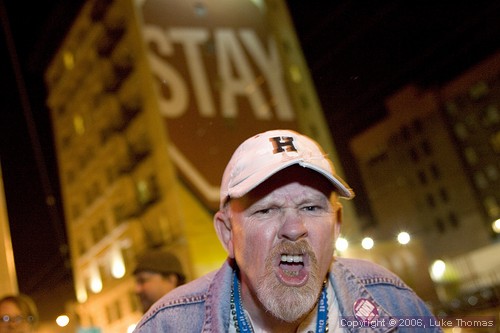 Photo(s) by Luke Thomas
Court Jester loves The Daly Show
The 'You-Tube' Presidency!
Talk about mother-f**king reality TV!
November 10, 2006
By h. Brown
Writing political columns is lots like making sausages; you really don't want to see all the things that go into them. I mean, every day our elected officials spill it out there for us.
Brains and guts and excrement and hair and crushed bones.
And, those of us who cover them, happily blend it all together, add a little coloring to make it uniform, a bit of seasoning to offset the worst undertones and serve it to you with sunny-side-up eggs for breakfast.
Full story, click here
---
Letters
Am I old-fashioned to ask our representatives and their spouses
to be respectful in speech?
Expletive deleted
Letters, click here
---