- NOW in FOG CITY JOURNAL -
NOTE: For subscribers who cannot read HTML-formatted text, click here
---
Binder post-election analysis
District 6 voters chose Daly policy record over style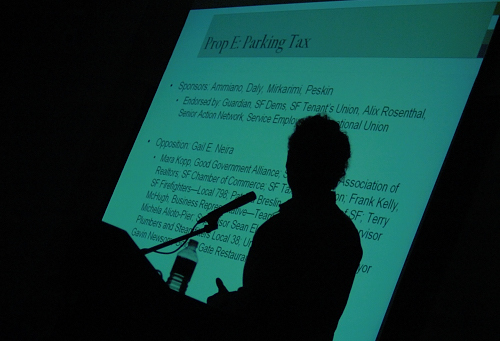 Photo by Adam Aufdencamp
By Greg Dewar
November 9, 2006
Local politicians, political insiders, and members of the general public gathered at SPUR headquarters Wednesday for what has become a post-election ritual in San Francisco - listening to pollster David Binder discuss the results of the November 7th Election and discuss the implications for future races.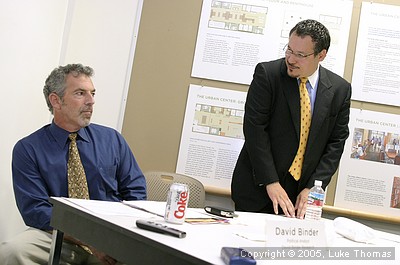 Research methodologist David Binder (left). File photo.
Photo(s) by Luke Thomas
Full story, click here
---
San Francisco judge upholds Anderson injunction against environment-friendly bicycle plan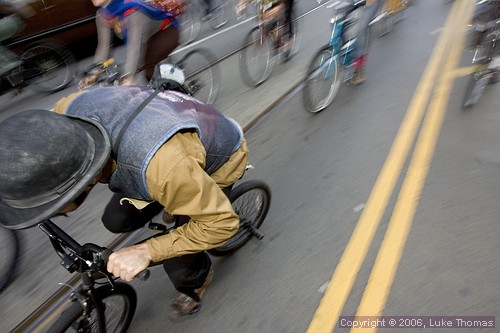 Bicyclists ride along San Francisco's Market Street on the fourteenth anniversary of Critical Mass, an organization dedicated to the promotion of alternative eco-friendly pedal-powered transportation. An injunction, filed by bicycle plan opponent Rob Anderson, was sustained yesterday by California Superior Court judge Peter Busch on the grounds that an environmental impact review is required.
Photo(s) by Luke Thomas
By Brent Begin, Bay City News Service
November 9, 2006
SAN FRANCISCO (BCN) - Proponents of extending San Francisco's network of bike lanes will have to wait for an environmental impact report before moving on with an ambitious bike plan, a Superior Court judge ruled Tuesday.
Full story, click here
---
Reed makes first appearance since landslide victory in San Jose mayor's race
By Jason Bennert, Bay City News Service
November 9, 2006
SAN JOSE (BCN) - San Jose Mayor-elect Chuck Reed, in his first public appearance since his landslide win over Vice Mayor Cindy Chavez, said yesterday he plans to ask the City Council to consider his ethics reform package first thing in January.
Reed briefly addressed the weekly meeting of the San Jose Rotary Club, of which he is a member, and then took questions after the meeting from the large crowd of reporters in attendance.
Full story, click here
---
Bay Area Weather Forecast

Latest satellite photo courtesy NOAA Satellite Service

Latest radar image courtesy NOAA Satellite Service

Weather, click here
---