- NOW in FOG CITY JOURNAL -
NOTE: For subscribers who cannot read HTML-formatted text, click here
---
COURT JESTERINGS
With h brown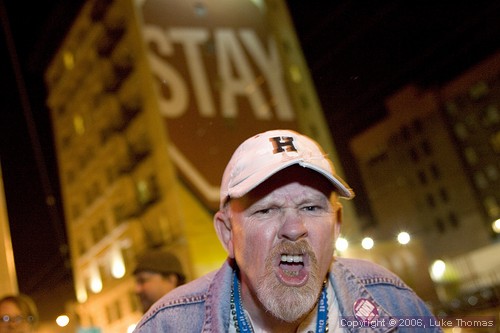 Photo(s) by Luke Thomas

Court Jester interviews OJ
November 21, 2006
"Now I'm after Michael Richards."
(the 'Juice')
OK, I didn't talk to OJ. But, I did talk to Eileen Left and she has some very definite opinions these days. This is a good thing, cause I've just been kinda cruising since the election. Adjusting tourniquets, that kind of thing. Eileen, though, she's been keeping her eye on things.
Eileen: "I want you to 'out' SF Sweetie."
Full story, click here
---
49er Bryant charged with reckless driving, DUI, resisting arrest
By Ari Burack, Bay City News Service
November 21, 2006
SAN MATEO (BCN) - San Francisco 49ers wide receiver Antonio Bryant was arrested Sunday night on charges of reckless driving, driving under the influence and resisting arrest after San Mateo police officers pulled him over for allegedly speeding on U.S. Highway 101, San Mateo police Capt. Kevin Raffaelli said today.
According to police, shortly before midnight Sunday a San Mateo police officer entering northbound U.S. Highway 101 near Whipple Avenue in Redwood City saw a 2005 Lamborghini speed past him "at well over 100 miles per hour,'' Raffaelli said.
Full story, click here
---
California supreme court ruling reaffirms consitutional free speech protections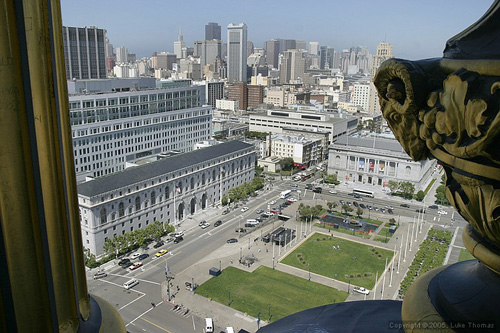 Photo(s) by Luke Thomas
By Julia Cheever, Bay City News Service
November 20, 2006
SAN FRANCISCO (BCN) - The California Supreme Court ruled today that people who use the Internet to post information that originated from another source can't be sued for defamation in the republished information.
The court said unanimously that the federal Communications Decency Act of 1996 protects Internet users from being held liable for information that is republished from another source.
Full story, click here
---
Doctor may appeal California supreme court ruling
By Julia Cheever, Bay City News Service
November 20, 2006
SAN FRANCISCO (BCN) - A lawyer for a Canadian doctor said today his client is considering a U.S. Supreme Court appeal of a California high court ruling barring his libel lawsuit against an activist who posted another person's comment on the Internet.
Christopher Grell, an Oakland attorney representing physician Terry Polevoy, said no decision has been made on whether to seek U.S. Supreme Court review, but said, "We're looking at that right now.
Full story, click here
---
Bay Area Weather Forecast

Latest satellite photo courtesy NOAA Satellite Service

Latest radar image courtesy NOAA Satellite Service

Weather, click here
---