- NOW in FOG CITY JOURNAL -
NOTE: For subscribers who cannot read HTML-formatted text, click here
---
A billion for your thoughts
Why billionaire Ron Burkle's interests should interest you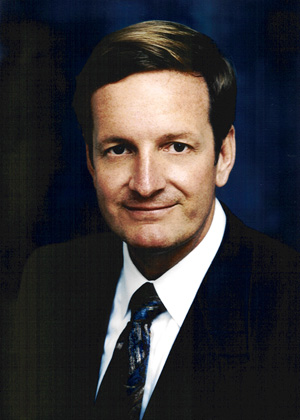 Ron Burkle
Undated photo courtesy www.freerepublic.com
By Daniela Kirshenbaum and Kepa Askenasy, Fog City Journal I-Team
December 1, 2006
Preamble: A billionaire's biggest problem is that a billion dollars aren't enough. In a natural quest for ever-greater sums of money, Billionaire Ron Burkle intends to bankroll Treasure Island development - and maybe gain some hefty media control, too.
Full story, click here
---
COURT JESTERINGS
With h brown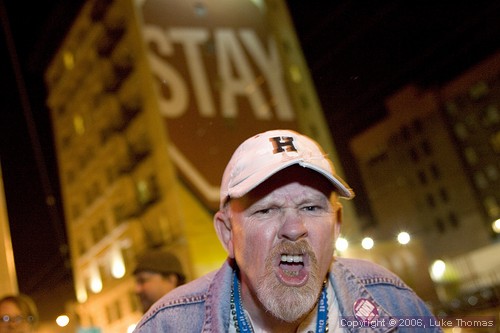 Photo(s) by Luke Thomas

Court Jester looks at Green Party uncivil war
December 1, 2006
"What do you mean, Cat and Nicole and Chuck didn't invite you?"
(Eileen chastizes Keefer)
What will people forgive in their leaders? Just about anything. Priests molest young boys and go free. Mildly retarded presidents start wars for oil and tell their supporters 'hang in there'. A family member murders a cop and the family fills the courtroom at his trial and blames the cop. The local Green Party icon shows his sexist ass to all and his worshipers blame his victim. What the fuck's going on here?
Full story, click here
---
Chief Fong disciplines 35 in SFPD 'Videogate' scandal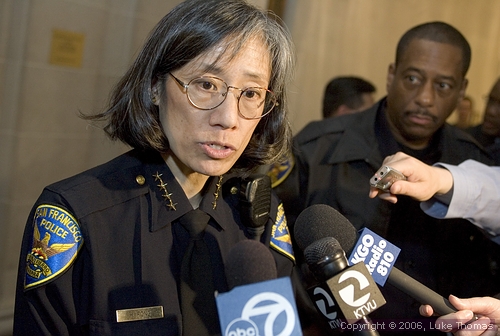 San Francisco Police Chief Heather Fong.
Photo(s) by Luke Thomas
By Brent Begin, Bay City News Service

December 1, 2006
SAN FRANCISCO (BCN) - San Francisco police Chief Heather Fong announced yesterday that 35 officers face disciplinary charges in connection to a series of controversial videos that caused outcry among city leaders.
The announcement culminates an almost yearlong investigation in which 20 Bayview station officers were immediately suspended and then reinstated to administrative positions because of videos that Mayor Gavin Newsom called "outrageous, deplorable and demeaning to the good people that do this (police) work every day."
Full story, click here
---
Business leaders concerned about transportation funding split
By Erica Holt and Jeff Shuttleworth, Bay City News Service

December 1, 2006
As Bay Area counties fight for a piece of the billions in bottleneck-breaking proposition 1B money now up for grabs for corridor congestion relief projects, many local transportation leaders are worried the state agency charged with appropriating the funds could stiff the traffic-crammed nine-county region out of its share.
Full story, click here
---
Prosecution rests in Lashuan Harris triple-murder trial
By Brent Begin, Bay City News Service

December 1, 2006
SAN FRANCISCO (BCN) - The prosecution rested its case yesterday morning in the guilt phase of the Lashuan Harris triple-murder trial in San Francisco Superior Court after calling five witnesses and showing hours of an interview with homicide inspectors.
Testimony took less than three days as Assistant District Attorney Linda Allen laid out a scenario in which Harris took her three children from Oakland to the San Francisco waterfront, treated them to a nice day, took them to the end of Pier 7 and, one by one, undressed them and threw them into the water.
Full story, click here
---
EVENTS
Free San Francisco journalist Josh Wolf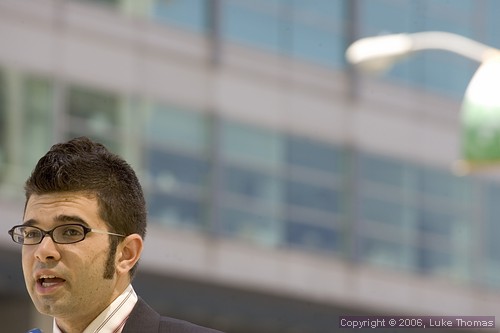 Photo(s) by Luke Thomas
What: Free Josh Wolf Event
When: Thursday, December 7th 2006, 7:30 p.m.
Where: Balazo Gallery, 2183 Mission Street @18th, 415-255-7227
On December 7th journalists, activists, and local leaders will convene to call upon the United States Government to free Josh Wolf from "coercive custody." Josh is a San Francisco free-lance journalist being held for his refusal, based on journalistic principles, to turn over to a federal grand jury his news footage from a July 2005 protest. Free press advocates from around the world have called his incarceration unjust and a grave violation of the freedom of the press.
More event details, click here
---
Bay Area Weather Forecast

Current satellite photo courtesy NOAA Satellite Service

Current radar image courtesy NOAA Satellite Service

Weather, click here
---
More Fog City Journal stories, click here.