- NOW in FOG CITY JOURNAL -
NOTE: For subscribers who cannot read HTML-formatted text, click here

---
Overheard in Fog City
- Matt Gonzalez said to have said he's going to run for Mayor
- School Board shifts to the left with the feminine touch
- Daly throws a party for Jane Kim
- It's Question Time
- Pelosi says no to Bush troop level increase in Iraq
All the nitty gritty, click here
---
Notes from a Big Blue Week in Washington D.C.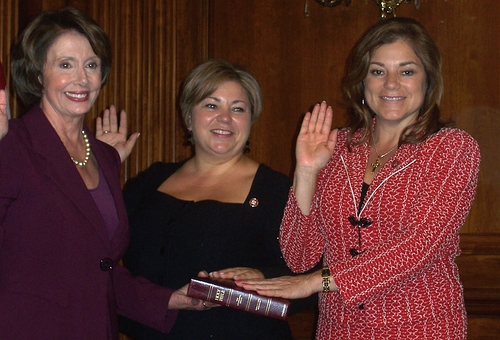 Congresswomen sisters Linda Sanchez and Loretta Sanchez
are sworn in by Speaker Nancy Pelosi.
Photos by Alex Leon and Claudia Cody
By Susan Horsfall and Alicia Becerril

January 7, 2007
Day 1 (January 2nd)
Cell phone rings all day as political types from SF call to announce their arrival: Clem Clarke and brother Jack Howard, Lynn Newhouse Segal, Alicia Becerril, Don Solem, Brennan Newsom et al. A plan is hatched to meet that evening in the bar of famed Mayflower Hotel, where Jack Kennedy held his inaugural party, a lifetime ago at the climax of another big Blue Wave.
Full story, click here
Bay Area Weather Forecast

Current satellite photo courtesy NOAA Satellite Service

Current radar image courtesy NOAA Satellite Service

Weather, click here
---
More Fog City Journal stories, click here.