- NOW in FOG CITY JOURNAL -
NOTE: For subscribers who cannot read HTML-formatted text, click here

---
New details emerge in Baker's Dozen attack
Assailant enlisted in United States Marine Corps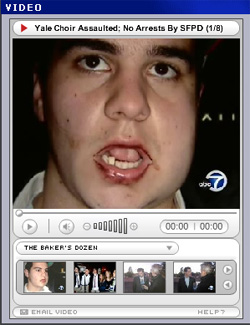 Screenshot courtesy KGO-TVDT
By Luke Thomas

February 13, 2007, 3:45 p.m.
Documents provided to Fog City Journal today paint a different picture of what may have transpired after a New Year's Eve party on Jaunary 1, 2007 when members of the all male cappella singing group, the Baker's Dozen, were brutally attacked by a group of men.
A letter, drafted by attorney Jim Hammer of the law firm Gonzalez and Leigh, addressed to Lt. General Blackman, Commander of the United States Marine Corps, identifies Lance Corporal Marino Peradotto as the assailant who broke the jaw of Hammer's client, Sharya Aziz, Jr.
Full story, click here.
---
San Francisco Bay shark habitat to get $1.5 million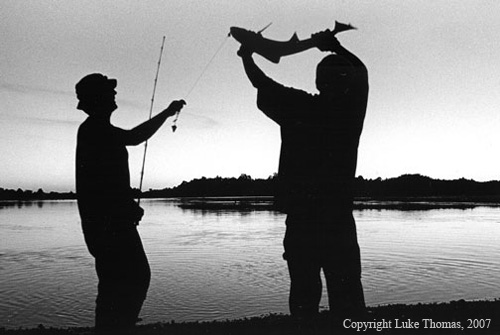 Fisherman near Stinson Beach inadvertantly catch a bottom feading leopard shark. The edible triakis semifasciata was safely returned to the shallow bay unharmed.
Photo(s) by Luke Thomas
By Matt Wynkoop, Bay City News Service

February 14, 2007
The U.S. Attorney's Office announced Tuesday that $1.5 million in funds have been assembled for California leopard shark habitat restoration in the San Francisco Bay.
The announcement comes in the wake of a widespread Federal investigation that led to the July indictment of several members of a San Leandro church who were convicted for spearheading a Bay Area-based international leopard shark poaching operation.
Full story, click here.
---
San Francisco judge to decide on Falun Gong lawsuit
Group alleges city discrimination

Photo(s) by Luke Thomas
By Brent Begin, Bay City News Service

February 13, 2007
SAN FRANCISCO (BCN) - Members of a spiritual practice banned in China will find out Wednesday if their claims that San Francisco is funding a discriminatory parade have any merit.
Falun Gong practitioners in the city claim in a lawsuit that they have consistently been denied entry into the annual Chinese New Year parade based on religious and political discrimination. The group claims that the use of city funds and resources for the popular event implicates the city.
Full story, click here.
---
COURT JESTERINGS
With h brown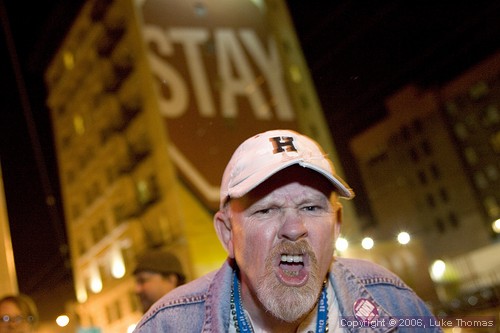 Photo(s) by Luke Thomas
Why Newsom will do Question Time
(and, is Ragone gone?)
February 13, 2007
Yesterday I ran into the Mayor by accident. I was exiting the elevator on the 4th floor at the Hall and here came a small delegation out of the hearing room where the DBI Commission was meeting. Hmmm…
Peskin was out in front and we shook hands as I tried to think of something nasty to write about him today (it's below). Newsom strode with head down behind Peskin and Gav was flanked by ever-ebullient aide, Wade Crowfoot, who did a smiling and playful shadow box with me… and the compact butch-lady whom I can never decide is either a cop or the Director of Policy. Trailing was a frightened looking Miguel Bustos, new Appointments Secretary. Glaringly absent, was recently 'promoted' Press Secretary, Peter Ragone.
Full story, click here.
---
FCJ Quote of the Day


"It would be easier pulling teeth from an elephant than to get information out of DTIS"
- Jake McGoldrick, 2/13/7

---
Events
- Saint Francis and Buddism lecture with Ven. Tenzin Priyadarshi
February 22 at 6:30 p.m.
- Stop Funding the War
March 19
Events, click here.
---
Bay Area Weather Forecast

Current satellite photo courtesy NOAA Satellite Service

Weather, click here
---
More Fog City Journal stories, click here.