- NOW in FOG CITY JOURNAL -
NOTE: For subscribers who cannot read HTML-formatted text, click here

---
Defense attorney admits to BALCO transcripts leak,
agrees to plead guilty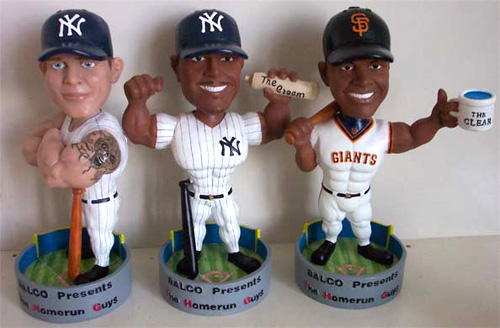 Photo courtesy www.thehomerunguys.com
By Julia Cheever, Bay City News Service

February 15, 2007
SAN FRANCISCO (BCN) - A former lawyer for a Bay Area Laboratory Co-Operative (BALCO) executive admitted in federal court papers yesterday that he leaked grand jury transcripts of testimony by Barry Bonds and other athletes to two San Francisco Chronicle reporters.
Attorney Troy Ellerman, 44, of Woodland, Colo., made the admission in a proposed plea agreement filed in federal court in San Francisco. The pact calls for Ellerman to plead guilty to four felony counts related to the leaking of confidential grand jury testimony in the BALCO sports steroids case to reporters Lance Williams and Mark Fainaru-Wada in 2004. No date has been set for the guilty plea.
Full story, click here.
---
Falun Gong loses legal challenge
of San Francisco discrimination

Photo(s) by Luke Thomas
By Brent Begin, Bay City News Service

February 15, 2007
SAN FRANCISCO (BCN) - A spiritual group banned in China lost a legal battle to march in San Francisco's Chinese New Year Parade after a Superior Court judge stuck with a tentative ruling Wednesday that invalidates their lawsuit.
Members of Falun Gong had been pursuing legal channels to either force the Chinese Chamber of Commerce to allow them in the annual parade or to get the city to stop funding the parade with taxpayer dollars.
Full story, click here.
---
Wolf attorney hopeful of mediation resolution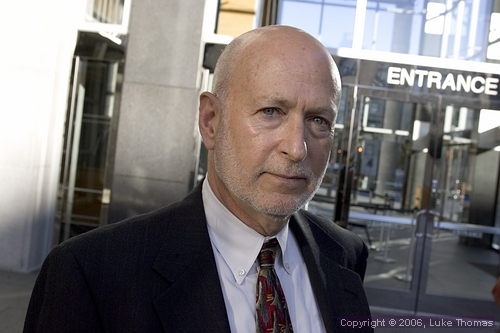 Attorney Dan Siegel
Photo(s) by Luke Thomas
By Julia Cheever, Bay City News Service

February 14, 2007
SAN FRANCISCO (BCN) - A lawyer for a freelance San Francisco journalist who has been in prison for more than five months said today he's hopeful that a federal judge's mediation order will lead to his client's release.
At the same time, defense attorney Dan Siegel said videographer Josh Wolf "is not going to change his position" of refusing to give a federal grand jury a videotape of a 2005 demonstration in San Francisco.
Full story, click here.
---
San Francisco courtroom cleared
in 1971 cop-killing arraignment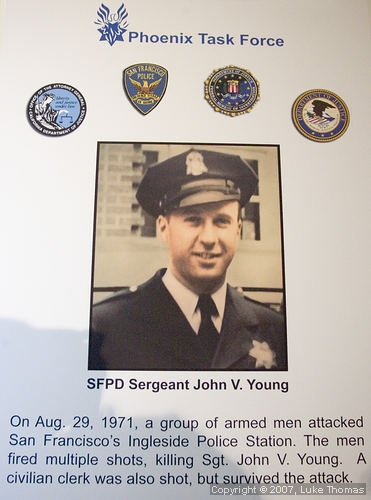 Photo(s) by Luke Thomas
By Brent Begin, Bay City News Service

February 14, 2007
SAN FRANCISCO (BCN) - A judge cleared a San Francisco courtroom this morning after the audience cheered four men accused of conspiracy and murder in a Black Liberation Army attack on the city's police over 35 years ago.
The onlookers, some in wheelchairs and many walking with canes, jammed the courtroom and erupted in applause against Superior Court Judge Donna Alyson Little's orders. Bailiffs escorted the defiant crowd outside the courtroom where they began to chant, "No justice, no peace."
Full story, click here.

---
Event:
Nader, activists, to press Pelosi for end to war
and for accountability to constituents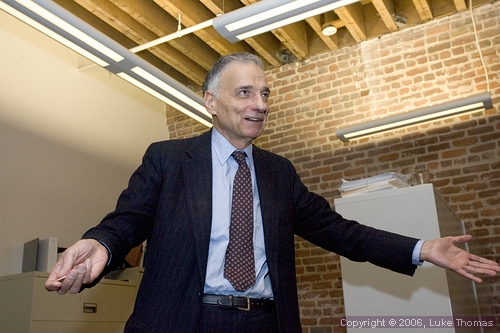 Ralph Nader
Photo(s) by Luke Thomas
What: Nader Press Conference & Visit to Pelosi's Office
When: Thursday, February 15, 2007, 11:00 a.m.
Where: Phillip Burton Federal Building Plaza, 450 Golden Gate Avenue, San Francisco
Ralph Nader along with constituents of Speaker of the House Congresswoman Nancy Pelosi's district will hold a press conference and then visit Pelosi's office. Nader will be pressing Pelosi to use her position as Speaker to end the funding for the war. He will also be announcing the formation of a Pelosi watchdog group.
Details, click here.
---
FCJ Quote of the Day


"You know, I hate gay people, so I let it be known.
I don't like gay people and I don't like to be around gay people"
- Tim Hardaway, 2/14/7
---
Bay Area Weather Forecast

Current satellite photo courtesy NOAA Satellite Service

Weather, click here
---
More Fog City Journal stories, click here.