- NOW in FOG CITY JOURNAL -
NOTE: For subscribers who cannot read HTML-formatted text, click here

---
Prosecution star witness cross-examined
in alleged Department of Building Inspection
corruption case
Fu alleges broad conspiracy

Real estate broker, loan specialist and one time contractor, Tony Fu, is the prosecution star witness in the trial against former Building Inspection Manager Augustine Fallay. On the stand Thursday, Fu alleged a broad conspiracy involving Fallay, Victor Makras, several building inspection department personnel, Mayor Gavin Newsom, Judge Peter Bush, and defense attorney Randall Knox.
Photo(s) by Luke Thomas
By Brent Begin, Bay City News Service

March 30, 2007
SAN FRANCISCO (BCN) - Prosecutors in the trial of a former San Francisco building permit official finished playing secret FBI recordings today that are central to accusations of corruption in parts of the city's building inspection process.
The tapes, recorded over six months beginning in late 2004, are the crux of the district attorney's case against Augustine "Gus" Fallay, a former permit approval manager at the Department of Building Inspection charged with 33 counts of bribery, perjury and insurance fraud.
Full story, click here.
---
City plans GPS tracking of all transit vehicles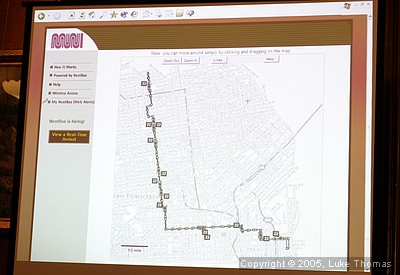 Photo(s) by Luke Thomas
By Tamara Barak, Bay City News Service

March 30, 2007
SAN FRANCISCO (BCN) - Come August, commuters in San Francisco may spend considerably less of their lives waiting for transit.
NextMuni, which pinpoints the location of approaching busses and trains through a global positioning satellite system, plans to include all of the city's transit vehicles in its service.
The NextMuni system, which is provided by Alameda company NextBus.com, started out by tracking only Metro street car lines and the 22-Fillmore trolley bus. On March 15, it added all street cars and electric busses.
Full story, click here.
---
Citizens concerned with police policies
attend police and housing commission meeting
Public housing policing discussed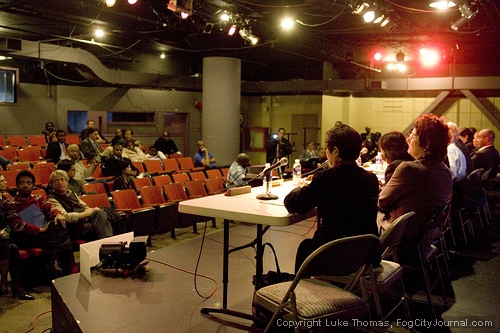 A special meeting of the San Francisco Police Commission was held tonight
at the African American Art and Culture Complex in the Western Addition.
Photo(s) by Luke Thomas
By Brent Begin, Bay City News Service

March 28, 2007
SAN FRANCISCO (BCN) - Several community activists criticized the San Francisco Police Department tonight for their treatment of African Americans at a rare joint meeting of the police and housing authority commissions.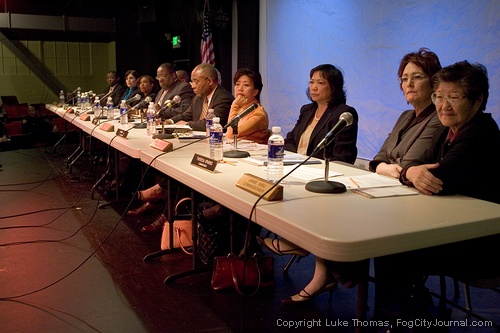 The comments come only days before a city controller's report on alleged racial bias and profiling in the police department is set to be released.
Several speakers made sure to thank the officers who are doing good work in the community -- several mayoral awards were given out at the beginning of the meeting -- but strong words were also exchanged.
Full Story, click here.
---
And in other news...
- California Supreme Court clarifies rules on speedy trial claims
- Judge sentences Down Below Gang members who admitted to murder
- New law would combat abuse of disability placards
---
Letters, letters, letters
- Third fake question time
- Newsom's travelling circus
- With supporters like this...
Letters, click here.

---
Bay Area Weather Forecast

Current satellite photo courtesy NOAA Satellite Service

Weather, click here
---
More Fog City Journal stories, click here.