Jew arraigned, lawyer says he won't resign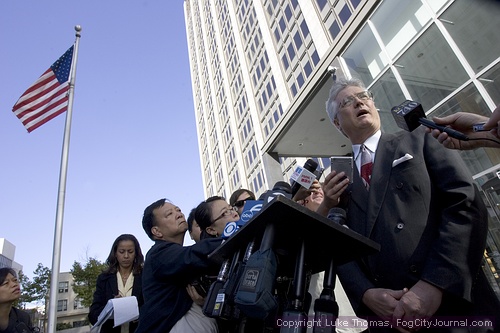 Attorney Steven Gruel takes questions from reporters following embattled Supervisor Ed Jew's arraignment in federal court today. Jew entered a plea of not guilty to a single charge of mail fraud. Jew faces upto 20 years in federal prison if convicted.
Photo(s) by Luke Thomas
By Julia Cheever
September 21, 2007
San Francisco Supervisor Ed Jew pleaded not guilty in federal court today to a charge of fraud in connection with the alleged solicitation of a $40,000 bribe to help tapioca drink store owners obtain permits.
Jew, 47, was charged in a federal complaint Thursday with one count of using the U.S. mail in a scheme to defraud the public of his honest services.
U.S. Magistrate Elizabeth Laporte allowed Jew to go free on bail of a $1 million secured bond, under an agreement reached between prosecutors and Jew's attorney before the arraignment.
Laporte scheduled another hearing for Oct. 2 to consider whether to reduce the bail and set a preliminary hearing for Oct. 11.
Outside of court, defense attorney Steven Gruel said Jew is "determined not to resign" his post as supervisor and maintains his innocence.
"He didn't do it," Gruel said.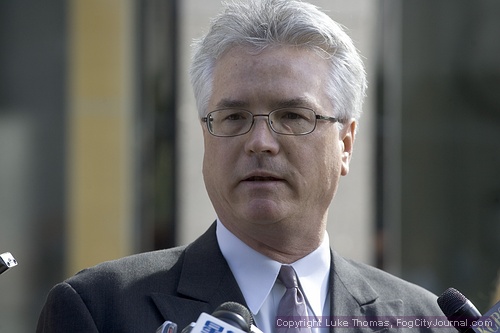 Jew, the owner of a Chinatown flower shop, was elected last year to represent the city's Sunset District.
He faces separate state criminal charges of lying about his residence when he filed candidacy papers and is due to go on trial on those charges in San Francisco Superior Court on Oct. 26.

Supervisor Ed Jew
In a third probe, City Attorney Dennis Herrera is seeking permission from the state attorney general to file a civil lawsuit seeking Jew's removal from office.
On Thursday, Mayor Gavin Newsom called for Jew's resignation, saying that it is "clearly in the best interests of his constituents and our city" for Jew to resign and focus on the civil and criminal proceedings.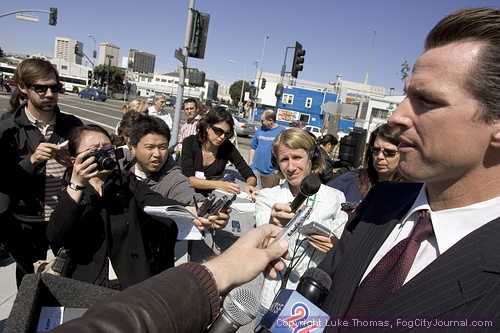 Mayor Gavin Newsom takes questions from reporters following Jew's arraignment. Newsom said he was "concerned that he [Jew] acknowledged receiving cash."
Gruel said he has seen no evidence that Jew can't carry out his duties and said he hopes to persuade Newsom to "stick with the high road" and treat Jew as innocent unless and until he is found guilty.
Gruel said he hopes he, Jew and Bill Fazio, Jew's defense attorney in the state case, will be able to meet with the mayor Monday.
The attorney said he has instructed Jew not to talk to the media.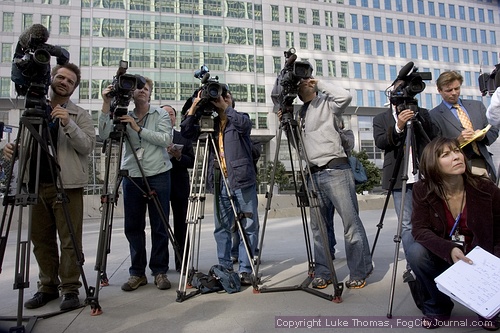 The federal complaint against Jew will be in effect for 20 days, after which it must be either replaced by a grand jury indictment or supported by a preliminary hearing. Since preliminary hearings rarely occur in federal court, it seems likely that prosecutors will seek an indictment by Oct. 11.
Jew is accused in an affidavit filed with the complaint of receiving $40,000 in cash at his flower shop May 7 from representatives of Quickly USA, a Taiwan-based chain that sells tapioca and milk tea beverages.
The affidavit by FBI agent Christopher McDonough alleges that Jew approached the owner of a Quickly store on Irving Street in the Sunset District in March and asked for $20,000 in cash to pay an unnamed consultant to help with a permit needed from the city Planning Department for chain store outlets.
Jew allegedly later agreed to receive $10,000 each from the owners or would-be owners of eight Quickly shops in the city, or a total of $80,000, and received half that amount at the May 7 meeting, the affidavit said.
After the FBI was notified by an unnamed person May 2, the store owner, an employee, a Quickly distributor and two purported would-be owners agreed to have their conversations with Jew and the consultant recorded, the affidavit said. Most of the conversations were in Cantonese.
The affidavit alleges that in the recordings, Jew told the Quickly representatives the consultant would help with paperwork while Jew would be "in the back" and "inside to help you."
Jew allegedly said, "I am the boss" of a key planning official and said, "Right now, I'm helping you from the inside."
On May 18, according to the affidavit, the FBI executed search warrants and interviewed Jew.
Jew initially acknowledged he collected $40,000 from the Quickly representatives and told FBI agents it was on behalf of the consultant and that he had given the consultant the entire amount, according to the affidavit.
After being informed of the recordings, Jew allegedly changed his statement and said he had given only half the money to the consultant and planned to give most of the remaining $20,000 to charity, the affidavit said.
Agents found $10,000 of the money in marked bills in a May 18 search of a house occupied by Jew in Burlingame, the affidavit said.
Gruel declined to comment on the details of the allegations, but said, "My understanding is that there was a contract of some sort and a request for a receipt" and said that information was left out of the affidavit.
The attorney said he expects Jew to post the $1 million bond by using real estate property as collateral.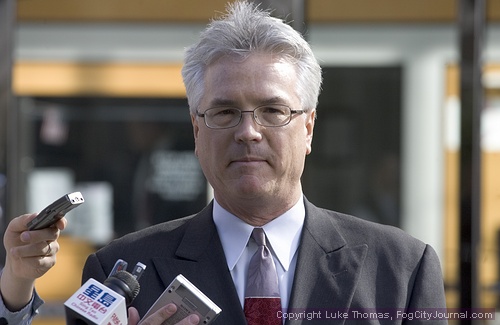 Luke Thomas contributed to this report.
Editor's Note: For a chronology of Supervisor Ed Jew's legal troubles, click here.
Copyright © 2007 by Bay City News, Inc. -- Republication, Rebroadcast or any other Reuse without the express written consent of Bay City News, Inc. is prohibited.
####