The CrackBerry Chronicles
With Elaine Santore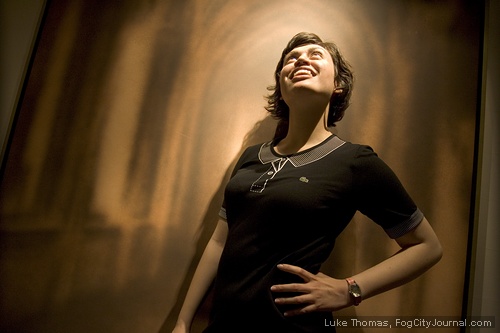 Photo(s) by Luke Thomas
September 21, 2007
Get well soon, Jim Rivaldo!
Fog City Journal is happy to report political consultant Jim Rivaldo has been released from hospital, and is doing much better. Fog City Editor Luke Thomas spoke with Jim's home medical health care provider, Reggie DeRosanf, earlier today.
"Jim's out running errands," DeRosanf said.
That's our Jim. Always on the go, living life to the fullest no matter what life throws at him.
"He has his days," DeRosanf said, "but Jim's a fighter."
He most certainly is. We love seeing Jim at all the best events in town. We send our best wishes to Jim and his loved ones, and we hope to see him soon.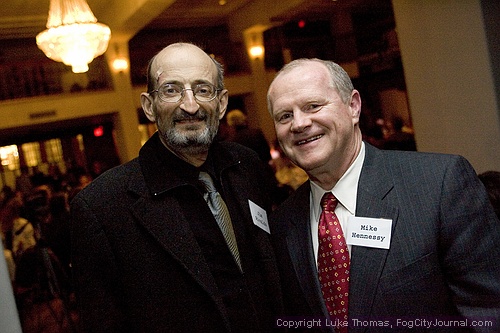 Jim Rivaldo with Sheriff Michael Hennesey at the annual Harvey Milk Club Dinner in May.

Jim Rivaldo with Janet Reilly at the 2007 Progressive Convention
The Cadillac Hotel Turns 100
On Wednesday evening, Luke Thomas and I attended the 100th Birthday Party for the Cadillac Hotel in the Tenderloin. As you may remember, Luke and I covered the first installment of the Concerts at the Cadillac series in July.
The beautiful 1884 Steinway Concert Grand Piano was generously donated by Lee Walkup, brother of the late Patricia Walkup, a former Cadillac volunteer. Lee made an appearance at the party, along with Cadillac hotel owners Kathy and Leroy Looper, Beyond Chron's Randy Shaw and Paul Hogarth.
The Cadillac was the first non-profit owned hotel west of Chicago. Leroy Looper purchased the hotel in 1977, and began a housing program for ex-offenders. Brad Paul presented a slide show depicting the history of the hotel, including photographs of the units before the Loopers remodeled them.
Mayor Gavin Newsom and Supervisor Aaron Peskin showed up, too, but Luke pulled a Beth Spotswood at the Opera (aka took an overextended nap) and missed the photo-op. Newsom, of course, had to jet over to Davies Symphony Hall for the opening gala. With all the hoopla surrounding the letters of resignations fiasco, and calling for Ed Jew's resignation, I guess homeboy needed to unwind at the Symphony. Supervisor Tom Ammiano also came to the party.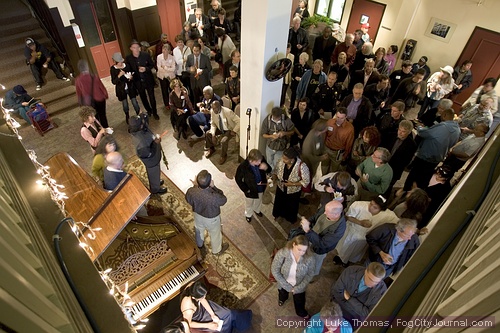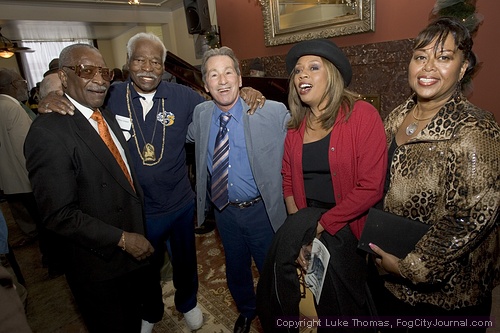 Leroy Looper (second from left) with Supervisor Tom Ammiano and friends.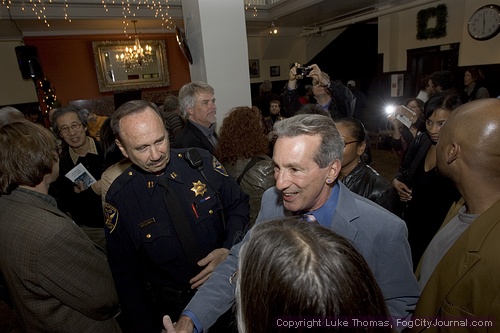 Tenderloin Police Station Captain Gary Jimenez and Supervisor Tom Ammiano
slap some skin.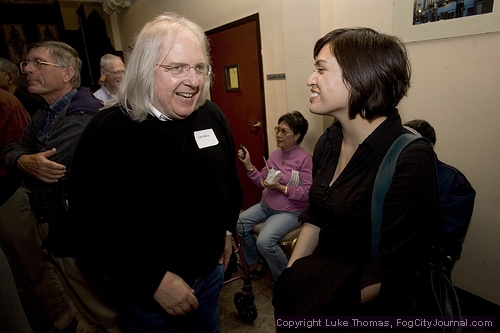 Lee Walkup and Elaine Santore.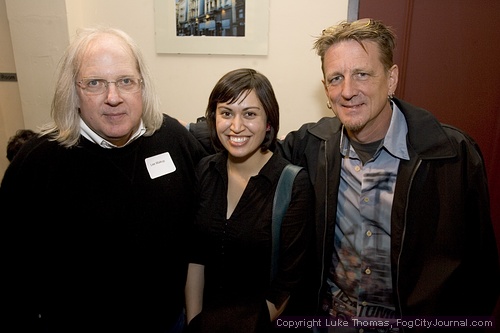 Lee Walkup, Elaine Santore, and Entertainment Commissioner Terrance Alan.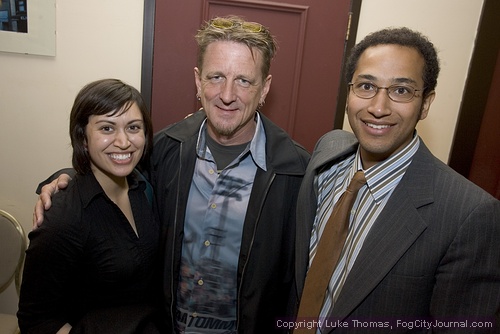 Elaine Santore, Terrance Alan, and Julian Davis.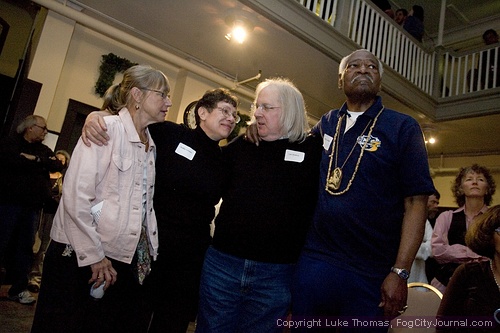 Kathy Looper (second from left), Lee Walkup and Leroy Looper.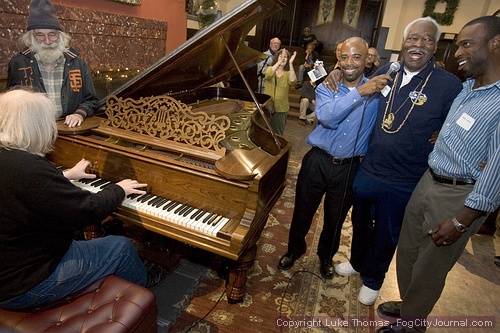 Lee Walkup plays piano while Esan, Leroy, and Malik Looper
sing 'Happy Birthday' to the Cadillac Hotel.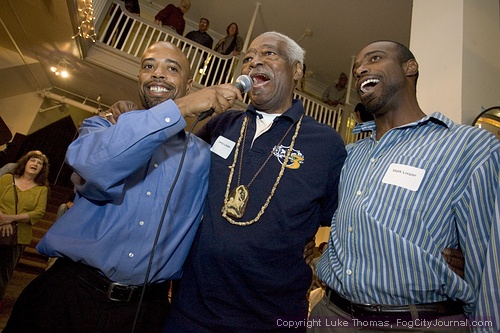 Esan, Leroy, and Malik Looper.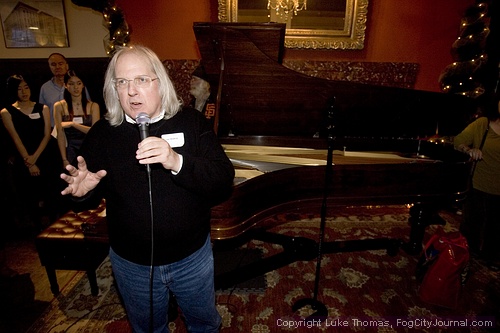 Lee Walkup
What's going on here?
Apparently, while I've been away in Jane Job land, City Hall turned into a showroom for Infinity cars.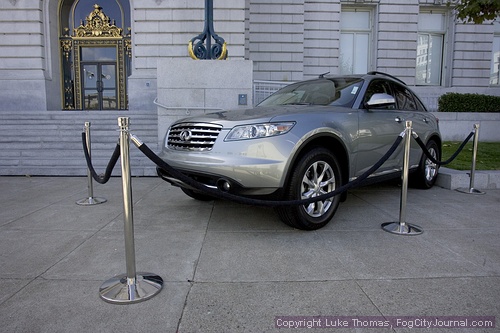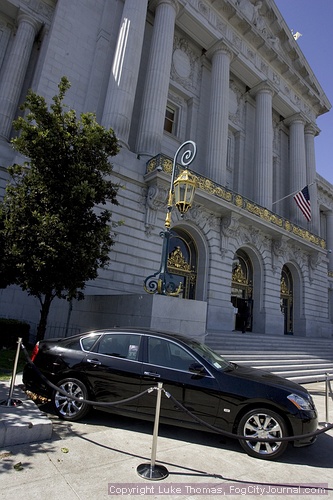 I know the City is for sale, but I didn't think Gavin would resort to selling goods on his front steps. Next we'll see him walking around kicking tires and pushing TrueCoat.
Another addition to Gavin's front yard was mkLotus, a modular home built especially for West Coast Green, the nation's largest green building conference. The conference will be taking place in the Bill Graham Civic Auditorium, and the home will be open for tours through tomorrow.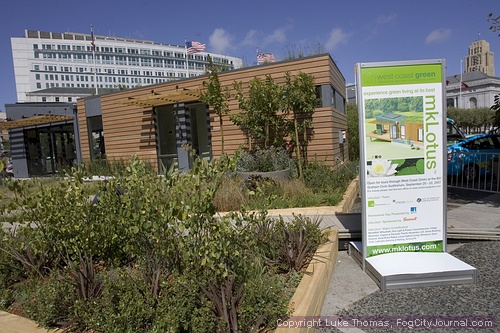 Outside view of the mkLotus.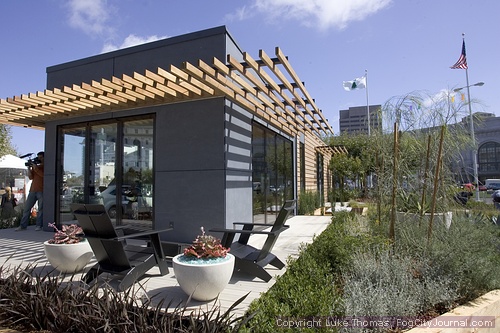 Are they filming a reality show here?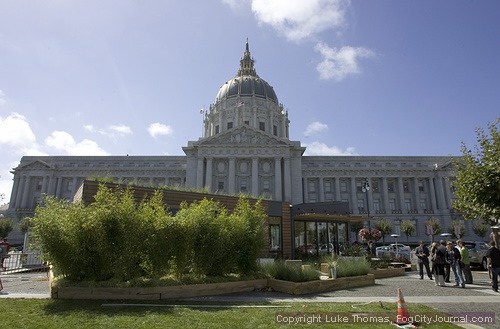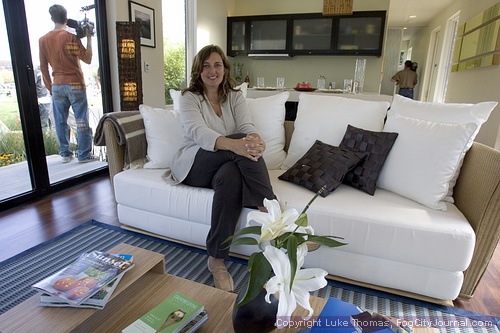 Designer Michelle Kaufman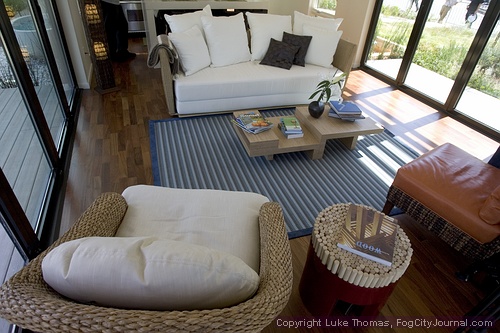 Luke Thomas contributed to this column.

####