The CrackBerry Chronicles
With Elaine Santore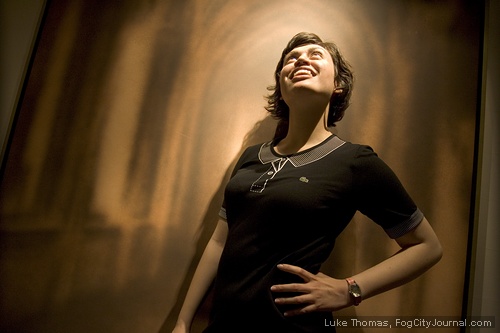 Photo(s) by Luke Thomas
September 25, 2007
Debating in the Wind
I am not sure which way the wind was blowing Friday evening, but I'm sure somebody in City Hall spat into the wind to see if it landed anywhere near the Candidates' Collaborative debate in Alioto Piazza.
As I approached Civic Center, I felt an autumnal chill from several directions. The debate audience looked to be about average sized, but there were more distractions surrounding the debate. The mkLotus home remained open for tours, and curious convention attendees circled the debate area taking snaps of a naked George Davis... only in San Francisco.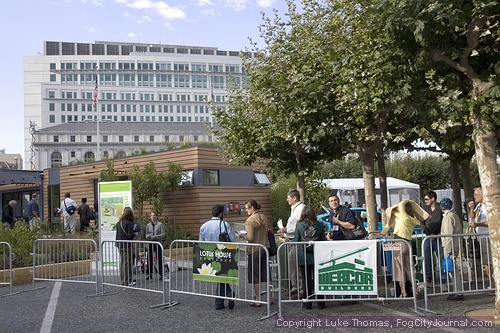 The mkLotus.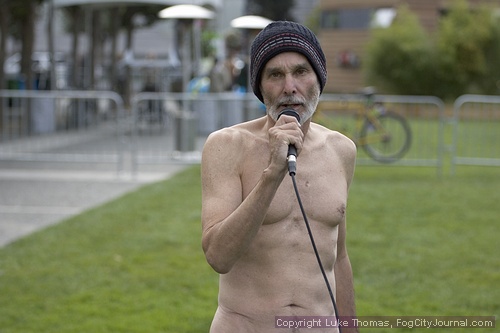 Mayoral candidiate George Davis.
Meanwhile, Mayor Gavin Newsom met with reporters following a Latino Heritage Month event in City Hall. All the questions, however, revolved around embattled Supervisor Ed Jew.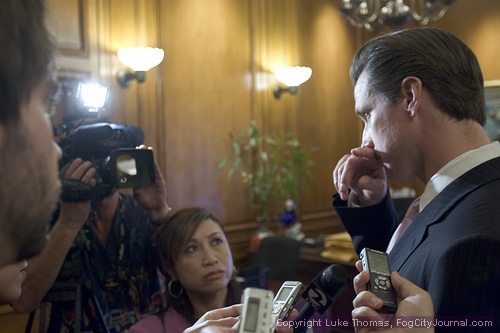 Mayor Gavin Newsom meets with reporters Friday evening.
I suppose I should give you a fashion run-down. Mayoral candidate George Davis spent part of the debate nude, albeit for a knit cap, socks and sneakers. Quasi-write-in-but-not-really candidate, Kenny the Clown, wore pink sunglasses, a purple wig and clown makeup, but only one red shoe. Dr. Ahimsa Porter Sumchai wore a lovely pale yellow suit. Josh Wolf added a blazer to his usual button-down shirt and jeans ensemble.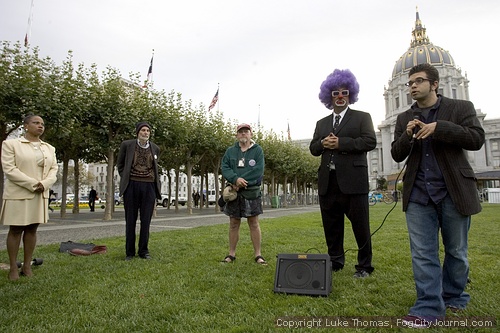 Mayoral candidates Dr. Ahimsa Porter Sumchai, George Davis, h. Brown,
Kenny the Clown and Josh Wolf.
Last but not least, Grasshopper Alec Kaplan embraced pure Technicolor with his bright orange shirt, red sweatpants, orange slip-ons and yellow and black "Impeach Bush" socks. Oh, yeah, Grasshopper also wore a hockey mask which reminded me of Hannibal Lecter.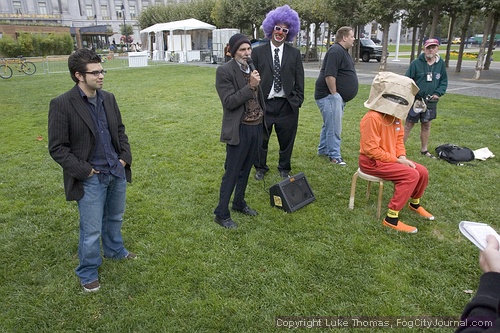 Josh Wolf, George Davis, Kenny the Clown, Jerry Jarvis,
Grasshopper Alec Kaplan and h. Brown.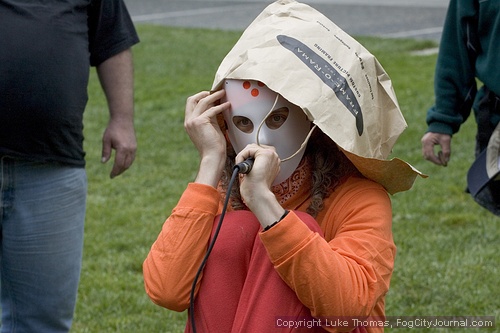 Grasshopper Alec Kaplan
While h. Brown, Grasshopper, George Davis, and Kenny the Clown competed over who could garner the most rubber-neckers (Grasshopper won by a landslide), I caught up with the SF Green Party's John-Marc Chandonia and Erika McDonald, who are expecting a baby in October. As Susan King said, "Yay for Liberals breeding!" Amen to that.

Parents-to-be John-Marc Chandonia and Erika McDonald
share a spot on the grass with Elaine Santore.
The debate moderator from the Bay Area Reporter shut the debate down by 6:00pm, and we joined the rest of our crew in Supervisor Ross Mirkarimi's office.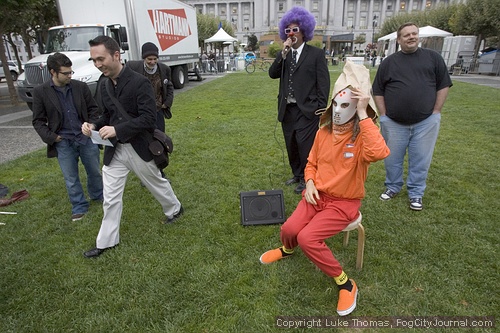 Now to the party
After the debate ended, Luke Thomas, h. Brown, Krissy Keefer and I headed across the street for Supervisor Ross' monthly art party. We ran into Mike Farrah at the front door. Krissy asked Mike if he'd seen Matt Smith's SF Weekly cartoon. Judging by the look on Mike's face, the Mayor's Office wasn't down with Smith's overt cocaine references and rehab jokes.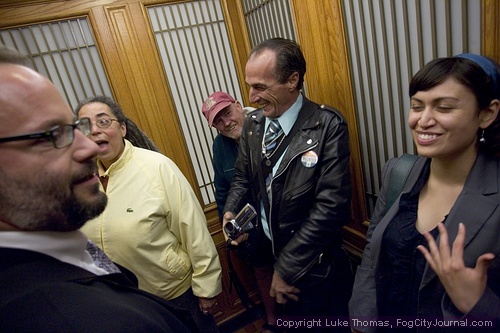 Not an alternate universe: Mike Farrah, h. Brown, Tony DeRenzo, and Elaine Santore.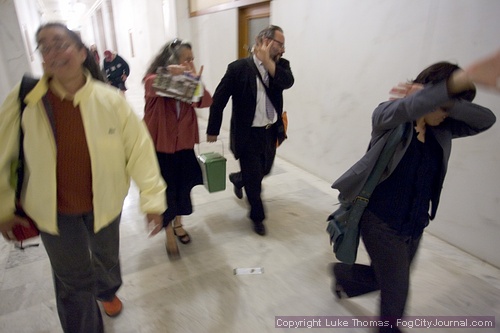 Krissy Keefer, Mike Farrah, and Elaine Santore are tired of paparazzi following them.
September's art show was curated by Korean American Women Artists and Writers Association, KAWAWA.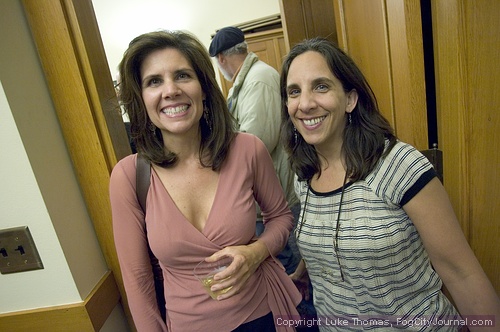 Hope Johnson and Susan Vaughan got the party started.
When I walked in, I was pleasantly surprised to see Andy Blue. The last time I saw Andy, he was hobbling around on crutches at the Progressive Convention. Andy informed me he's now mayoral candidate Quintin Mecke's official campaign manager.
Shortly after, Jeremy showed up with some Quintin for Mayor buttons. Everybody got excited about the buttons, except for h. Brown, who acted like he wasn't impressed but grabbed one, anyway. (FYI: h. liked the button so much he showed it off to some Gonzalez fans in the Mission on Sunday.) Yay for buttons!
And the after party
Somehow, Friday nights always end at the Temple Bar. We invited Ross to come with us, but he politely declined to attend because he's TG (aka Too Good) for the Temple Bar. It's OK, Ross, we still love you. Thank you for being such a gracious host, as usual, and for letting me have the last Reese's Peanut Butter Cup.
Andy met us at the Temple Bar later, as did mayoral candidate Lonnie Holmes. Andy and I debated the merits of my CrackBerry versus his new iPhone. As much as I dislike the iPhone, I had to acknowledge the exceptional picture quality and wireless internet access. Now that Andy's a campaign manager, he must be connected 24/7.
Jeremy, Andy, and I talked the SF blogosphere, and how I only read Matier & Ross to review what was in FCJ last week.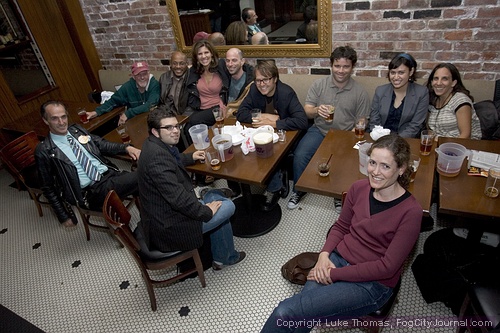 Karen Babbitt, Sue Vaughan, and Marc Salomon were kind enough to take some photos. Luke adapted to modeling surprisingly well, and refrained from railing on about peak oil and petrocollapse. Don't get him started, unless you want to clear the dinner table.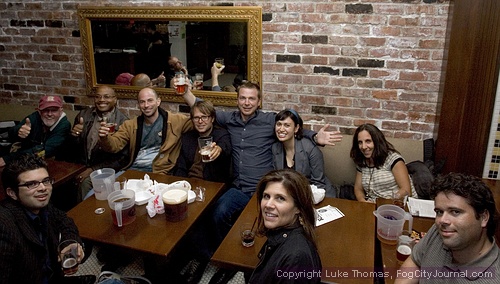 Luke Thomas finally surfaces in a photo. Yay! (Thanks, Karen Babbitt.)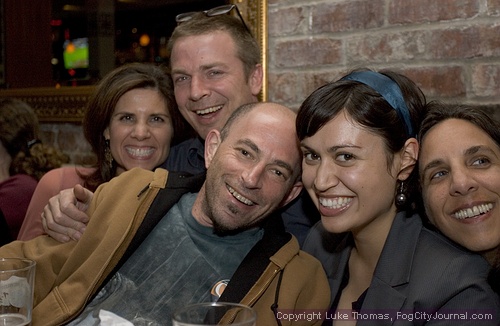 Progressive Dysfunctional Family Portrait: Hope Johnson, Luke Thomas, Marc Salomon, Elaine Santore and Susan Vaughan.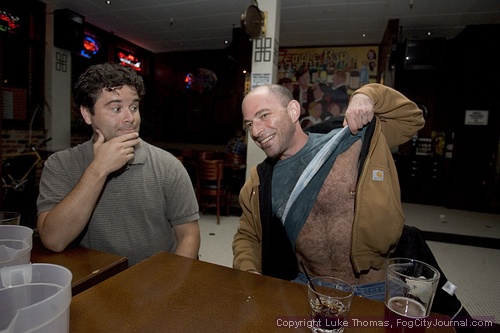 Marc Salomon bares his nipple ring to God and Jeremy.
The star of the debate, Grasshopper Alec Kaplan, made an appearance, to the dismay of Marc Salomon. Where's the love, Salomon?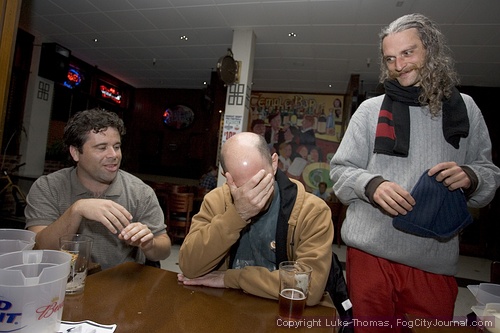 Marc Salomon was thrilled to see Grasshopper Alec Kaplan.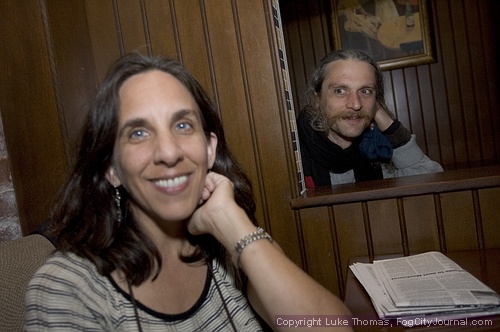 Grasshopper Alec Kaplan admires Susan Vaughan from afar.
Despite the chilly debate and lower turnout, a fun time was had by all. In all seriousness, I feel like an unexpected camaraderie has emerged from these events. Despite feeling like a crowd of misfits, I look forward to seeing everybody on Fridays because I feel like we've truly made the best of a bad situation.
Bonus Grasshopper slideshow
Because Grasshopper is a big ole trainwreck, and I can't look away.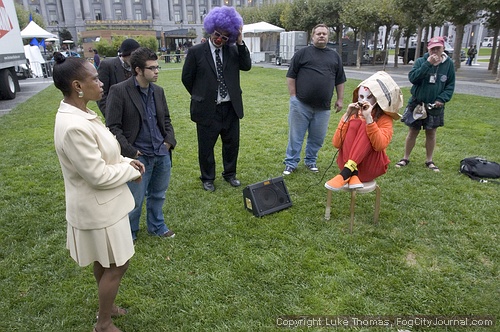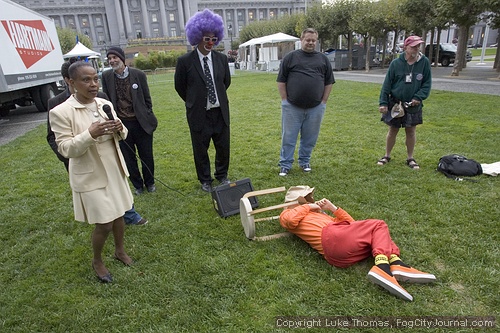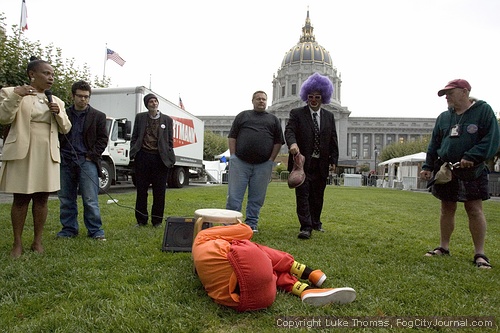 You know you've pushed the envelope when Kenny the Clown and h. Brown
want you to tone it down.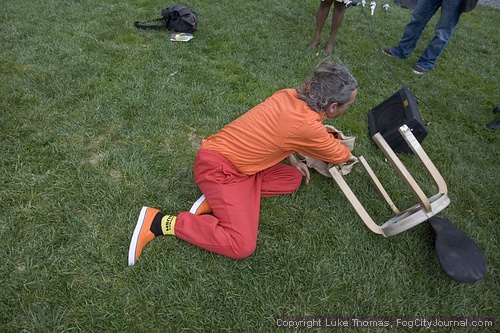 Duh News
Drew Altizer's party pics from last week's Kamalspa event are now on SFLuxe. Check out me and Damion Matthews' "Bloggers Gone Wild" photo at the end of the post.
Sean Penn was spotted at the Timberlake concert in San Jose on Sunday night. I love JT, too, Sean!
For those of you living in a cave, Barneys New York opened in Union Square.

####