- NOW in FOG CITY JOURNAL -
NOTE: For subscribers who cannot read HTML-formatted text, click here
---
San Francisco Assemblymember Ma sworn-in
Submits public safety bill as party whip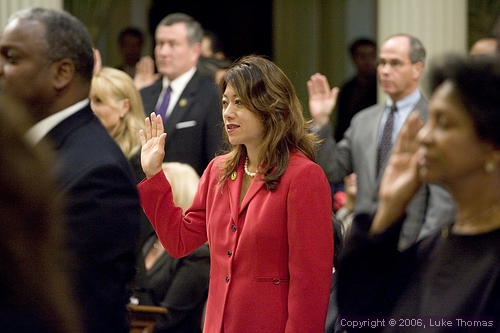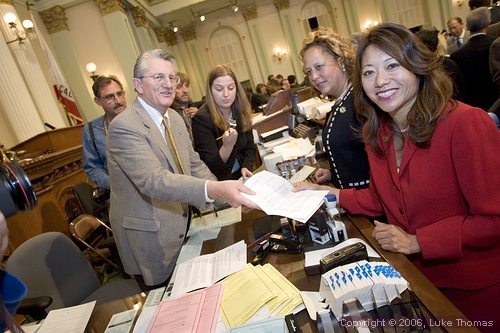 Former San Francisco District 4 Supervisor Fiona Ma was sworn in today as California District 12 Assemblymember. Named Majority Whip, Ma wasted no time in submitting her first bill, AB-23, legislation she introduced to help improve public safety on San Francisco's busiest streets.
Photo(s) by Luke Thomas
December 4, 2006
SACRAMENTO – In a formal ceremony today at the State Capitol, Fiona Ma (D San Francisco) was sworn into office for the 2007-2008 legislative session.
Ma was elected on November 7 to represent the 12th Assembly District, which includes the western half of San Francisco, Daly City, Broadmoor, and Colma. Ma will become the first Asian-American women to represent San Francisco in the state legislature.
Full story, click here
---
Fong reports community policing progress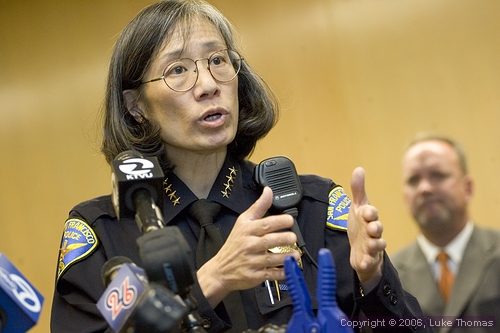 San Francisco Police Chief Heather Fong
Photo(s) by Luke Thomas
By Brent Begin, Bay City News Service

December 5, 2006
SAN FRANCISCO (BCN) - San Francisco police Chief Heather Fong released a 150 page report yesterday summarizing more than a year's worth of efforts to make the department more community friendly.
The report comes a day before the Board of Supervisors is scheduled to look into a foot patrol program in which a veto by Mayor Gavin Newsom was overturned by supervisors.
Full story, click here
---
NAACP calls for probe into possible voter discrimination
By Caitilin McAdoo, Bay City News Service

December 5, 2006
RICHMOND (BCN) - The Richmond branch of the National Association for the Advancement of Colored People has asked the Contra Costa County Elections Department and the state and federal departments of justice to investigate allegations that some minorities in west Contra Costa County faced serious obstacles to casting their votes in the Nov. 7 election.
Long lines and pencil shortages were not the only problems reported in Richmond and North Richmond communities during the recent election.
Full story, click here
---
San Francisco ban abolishing chemicals in baby products challenged
By Elizabeth Daley, Bay City News Service

December 4, 2006
SAN FRANCISCO (BCN) - A pending San Francisco law prohibiting the manufacture, sale and distribution of baby products containing certain possibly harmful chemicals has been stayed after the city was challenged by two separate lawsuits filed by retailers, manufacturers and chemists.
The law was supposed to have gone into effect Dec. 1, according to city attorney spokesman Matt Dorsey. The lawsuits are set to be heard Jan. 8.
Full story, click here
---
San Jose Mayor-elect taps Cortese for Vice Mayor
By Jason Bennert, Bay City News Service

December 4, 2006
SAN JOSE (BCN) - San Jose Mayor-elect Chuck Reed today announced his selection of City Councilman David Cortese, one of his opponents in this year's mayoral election, as his vice mayor.
Cortese came in fourth place with 16 percent of the vote in June's mayoral primary election. Reed got the most votes in June and trounced current Vice Mayor Cindy Chavez by 20 points in last month's runoff election.
Full story, click here
---
EVENTS
Free San Francisco journalist Josh Wolf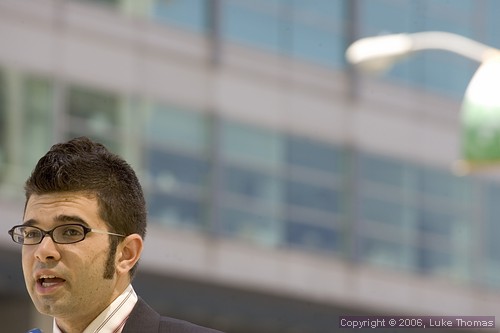 Photo(s) by Luke Thomas
What: Free Josh Wolf Event
When: Thursday, December 7th 2006, 7:30 p.m.
Where: Balazo Gallery, 2183 Mission Street @18th, 415-255-7227
On December 7th journalists, activists, and local leaders will convene to call upon the United States Government to free Josh Wolf from "coercive custody." Josh is a San Francisco free-lance journalist being held for his refusal, based on journalistic principles, to turn over to a federal grand jury his news footage from a July 2005 protest. Free press advocates from around the world have called his incarceration unjust and a grave violation of the freedom of the press.
More event details, click here
---
Bay Area Weather Forecast

Current satellite photo courtesy NOAA Satellite Service

Current radar image courtesy NOAA Satellite Service

Weather, click here
---
More Fog City Journal stories, click here.