- NOW in FOG CITY JOURNAL -
NOTE: For subscribers who cannot read HTML-formatted text, click here

---
Overheard in Fog City
- Gunfight at the O.K. corral?
- Hall gets settlement just in time for possible mayoral challenge
- The 700-mile mistake
- Calling all chickens, where's Waldo?
The nitty gritty, click here.
---
San Francisco supervisors move
to restore 49ers stadium negotiations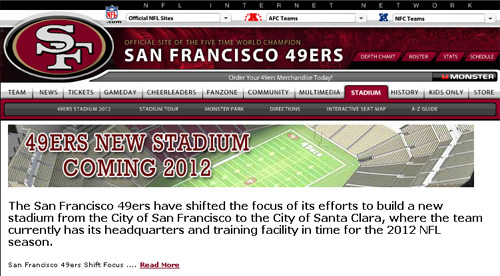 Screenshot courtesy 49ers.com
By Ari Barak, Bay City News Service

January 22, 2007
SAN FRANCISCO (BCN) - Two San Francisco supervisors plan this week to call for stepped up efforts to keep a new stadium project for the San Francisco 49ers in the city, said an aide to Board of Supervisors President Aaron Peskin.
Full story, click here.
Bay Area Weather Forecast

Current satellite photo courtesy NOAA Satellite Service

Weather, click here
---
More Fog City Journal stories, click here.